CONTACT
Kacee Kirschvink
504-576-4132
kkirsch@entergy.com
Entergy Donates More Than $2.1 Million to Power to Care Fund
09/03/2015

BATON ROUGE, La. -- Unexpected medical bills, loss of a job or other economic hardships can be difficult for anyone. But for senior citizens and disabled citizens, it can be devastating.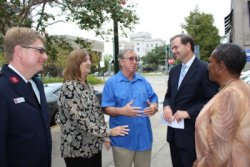 Thanking Entergy Capt Brett Meredith, Tangipoa residents Donald & Beryl Clement, Phillip May and Linda Vaughn from Baton Rouge.
Entergy understands and is committed to improving communities and helping customers in times of need. That's why Entergy Louisiana LLC and Entergy Gulf States Louisiana L.L.C. have teamed with customers, employees, stakeholders, the Salvation Army and statewide Councils on Aging to provide the Power to Care.
This year, that commitment amounted to $2,173,641 and was presented to agencies for distribution on Wednesday. The money will be distributed through local councils on aging and Salvation Army locations to be used to help qualifying customers pay their utility bills.
"Many of our disabled and elderly people struggle every day. They have to make decisions whether they can pay their medical bills, buy food or buy medicine," said Phillip May, president and CEO of Entergy Louisiana and Entergy Gulf States Louisiana. "Entergy understands that some citizens have trouble making ends meet. Power to Care supports Entergy's commitment to helping our communities and empowering our customers."
Two recipients of Power to Care funds were on hand for the check presentation and had a chance to give personal thanks for the assistance.
"I would like to say, 'Thank you, Entergy and the Agency on Aging.' It was a big help on me," said customer Linda Vaughn from Baton Rouge.
Capt. Brett Meredith, a commanding officer of the Greater Baton Rouge Salvation Army, said the funds will help the various agencies reach more citizens in need. "We're grateful that we have companies like Entergy that care that much about citizens in our communities, that we're able to make a difference and help people with their Entergy bills, so that they take care of the other needs and their families."
The Capital Area Agency on Aging said it appreciates the opportunity to partner with Entergy to make lives better in the state. "It has been an honor to be one of the ones to accept the Entergy applications," said Diane Gray, CAAA's Aging and Disability Resource Center Intake Specialist. "It is great to be able to help people, especially the elderly and the ones with disabilities."
The Power to Care program is funded by contributions from customers, employees, shareholders and matching funds from Entergy.
A Power to Care charity golf tournament is held each year to raise money as well. This year's golf tournament is scheduled for Nov. 9, 2015 at the University Club of Baton Rouge. Cost is $750 per four-person team, and various levels of sponsorship are available with prices ranging from $500 to $20,000.
For more information on Power to Care visit http://www.entergy-louisiana.com/your_home/help.aspx
Entergy's Louisiana utility companies provide electric service to more than one million customers through the operating companies Entergy Louisiana, LLC and Entergy Gulf States Louisiana, L.L.C. and natural gas service to nearly 93,000 customers in the greater Baton Rouge area through Entergy Gulf States Louisiana. With operations in southern, central and northeastern Louisiana, the companies are subsidiaries of Entergy Corporation.
-30-
entergylouisiana.com
facebook.com/EntergyLA
Twitter: @EntergyLA
###