CONTACT
Charlotte J. Cavell
(504) 576-4132
ccavell@entergy.com
Entergy Thanks Linemen for Commitment to Safety and Excellence; Company honors its line workers on National Lineman Appreciation Day
04/18/2016

NEW ORLEANS – Entergy marks a special day today, April 18, as the company honors its thousands of frontline workers on National Lineman Appreciation Day. The designation was established by the U.S. Senate in 2013 in recognition of those who work tirelessly to keep the lights on in our communities.
"We have a motto at Entergy that simply says, 'We power life,'" said Charles Rice, president and CEO of Entergy New Orleans. "It's one we believe in, but also one we know we wouldn't be able to live by if not for the highly skilled workforce that tends to the many facets of our electrical system every day."
Along with contract line workers, Entergy New Orleans linemen safely construct, operate and maintain equipment and lines that deliver electricity to more than 197,000 Orleans Parish electric customers.
"Our linemen work hard to ensure customers have the power they need to run their lives, families and businesses," said Rice. "Whether it's a hurricane, a severe storm front or proactive line maintenance, our linemen are out there. We thank all of them not only for their commitment to safety but also for their commitment to excellence."
To participate in honoring line workers and their families, use the hashtag #thankalineman in social media.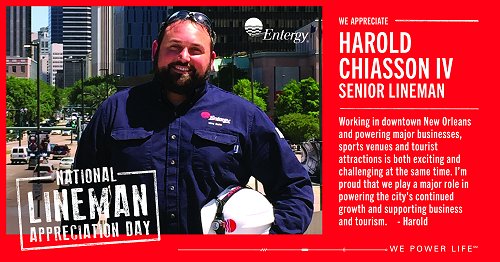 Entergy New Orleans, Inc. is an electric and gas utility that serves Louisiana's Orleans Parish. The company provides electricity to more than 197,000 customers and natural gas to more than 105,000 customers. Entergy New Orleans is a subsidiary of Entergy Corporation.
Entergy Corporation is an integrated energy company engaged primarily in electric power production and retail distribution operations. Entergy owns and operates power plants with approximately 30,000 megawatts of electric generating capacity, including nearly 10,000 megawatts of nuclear power. Entergy delivers electricity to 2.8 million utility customers in Arkansas, Louisiana, Mississippi and Texas. Entergy has annual revenues of approximately $11.5 billion and more than 13,000 employees.
-30-
entergyneworleans.com
facebook.com/EntergyNOLA
Twitter: @EntergyNOLA
###