CONTACT
Michael Burns
(504) 576-4132
mburns@entergy.com
Power Restoration Continues Tonight
04/28/2015

Entergy Redeploying Manpower to Hardest Hit Areas

NEW ORLEANS, La. – Power has been restored to the vast majority of customers affected by Monday's violent storms, and all customers outside of the hardest hit areas should have power restored by Wednesday night.
As of 8 p.m. Tuesday, power had been restored to approximately 133,000 of the 176,000 customers who lost electricity when a violent storm system moved across the state Monday, including virtually all customers in New Orleans.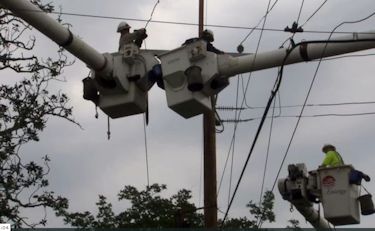 Power should be restored to all customers who can accept it by Wednesday with the exception of the hard-hit sections of Baton Rouge and Labadieville. Residents with damage to customer-owned equipment -- such as the meter base, external breaker box or weather head -- will need an electrician to make repairs before power can be restored to their property.
"Additional damage was discovered through our scouting process Tuesday in the Baton Rouge and Labadieville areas, but crews that have completed restoration in their region will move to the more heavily damaged areas to provide additional assistance," said Dennis Dawsey, vice president of customer service. "We expect to have power restored to most customers in those areas by Wednesday night, although restoration work may extend into Thursday in the most heavily damaged sections."
The storm system, which spawned tornadoes and winds gusting at hurricane force, downed nearly 800 line spans, broke 300 cross-arms, and damaged some 320 utility poles and 195 transformers.
 The heaviest damage was reported in East Baton Rouge, Assumption, Lafourche and Tangipahoa parishes.
Where to get info
Customers are encouraged to download Entergy's mobile app at http://entergyapp.com/ to access outage maps and information. In addition, storm-preparedness tips and online services are available to customers through "Entergy Storm Center," "myAccount" and "View Outages." Through myAccount, customers can sign up to send and receive text information about power outages at their homes and businesses through their cellphones. Registration is easy.
Entergy reminds customers to stay away from downed power lines. Report them by calling 1-800-9OUTAGE. For real-time progress on restoration work see the View Outages feature at entergy.com.
Entergy's Louisiana utility companies provide electric service to more than one million customers through the operating companies Entergy Louisiana, LLC and Entergy Gulf States Louisiana, L.L.C. and natural gas service to nearly 93,000 customers in the greater Baton Rouge area through Entergy Gulf States Louisiana. With operations in southern, central and northeastern Louisiana, the companies are subsidiaries of Entergy Corporation.
Entergy New Orleans, Inc. is an electric and gas utility that serves Louisiana's Orleans Parish. The company provides electricity to more than 171,000 customers and natural gas to some 105,000 customers. Entergy New Orleans is a subsidiary of Entergy Corporation.
Entergy Corporation is an integrated energy company engaged primarily in electric power production and retail distribution operations. Entergy owns and operates power plants with approximately 30,000 megawatts of electric generating capacity, including nearly 10,000 megawatts of nuclear power, making it one of the nation's leading nuclear generators. Entergy delivers electricity to 2.8 million utility customers in Arkansas, Louisiana, Mississippi and Texas. Entergy has annual revenues of more than $12 billion and approximately 13,000 employees.
 

-30-
entergylouisiana.com
facebook.com/EntergyLA
Twitter: @EntergyLA
 
entergyneworleans.com
facebook.com/EntergyNOLA
Twitter: @EntergyNOLA
###