Insights > Arkansas Winter Storm Outages Down to Near 2,000, Restoration Work Continues
Arkansas Winter Storm Outages Down to Near 2,000, Restoration Work Continues
01/16/2022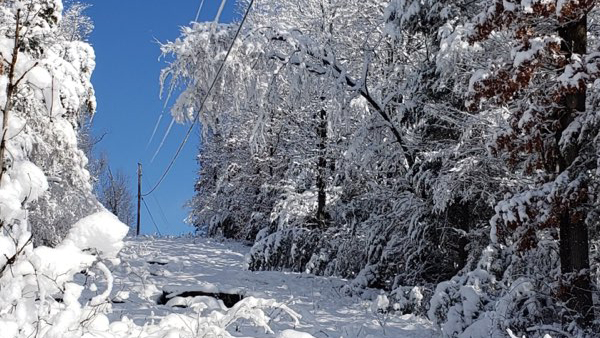 Just over 2,000 Entergy Arkansas customers remain without power following a winter storm Saturday. This is down from 6,194 outages at the peak at 4 p.m. yesterday.
Most outages are in the Harrison/Flippin area, though more than 200 instances of damaged electrical equipment range from Green Forest to Mountain View. Most outages are the result of heavy, wet snow causing trees and limbs to lean or fall onto power lines.
Because the terrain is rugged and covered in snow, scouting the trouble has been a challenge. Scouting damage is always the first step in storm restoration, followed by line crews repairing what the scouts found to be broken. Scouting reports are essential to creating work plans that prioritize safety for those working in dangerous conditions.
We have brought in 245 additional line workers to help the local crews restore power. Some of those are contractors, some are Entergy Arkansas lineworkers from other parts of the state.
While we will continue working to restore power throughout today, we estimate about 1,800 cases will carry over into tomorrow. We expect to have almost all back on by 10 p.m. tomorrow night, though a handful of especially difficult cases may carry over into Tuesday.
Because our View Outages system has been experiencing technical difficulties today, we are leaning more heavily on text notifications to communicate with customers whose power is out.
We apologize for the technical glitches in our outage information system today. We know it's important for customers to know what to expect, and we're working on getting the system back to normal working order.  
---