Insights > Cavin Scores Points at Work, in the Community to Win Honor at Saints Game
Cavin Scores Points at Work, in the Community to Win Honor at Saints Game
12/18/2018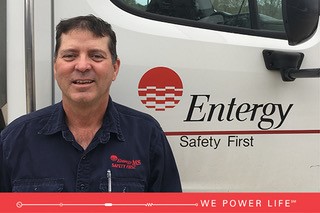 If the lights go out in Woodville, it's a safe bet as to who will come out to save the day. Carl Ray Cavin is the first responder and only serviceman in the Wilkinson County town. You can bet, too, that the 1,000 or so people who live there know who exactly who it is that helps keep their lights on.
"Carl Ray has a great rapport with our customers," said his supervisor, Travis Leggett. "They know him by first name and they all respect him. Local politicians all speak highly of him too, and he's very safety conscious."
Cavin's reputation for keeping customers satisfied, his safety record and his involvement in his community have earned him the honor of being Entergy's Lineman of the Game at the December 23rd matchup between the New Orleans Saints and the Pittsburgh Steelers. He'll be recognized during the game in front of 70,000-plus fans, and he'll get the VIP treatment. And for a Saints fan like Cavin, it's a good time to go—the team has an NFL-best 12-2 record, they are the current #1 seed in the NFC and the games have been, well, electric!
It will be Cavin's first time to attend an NFL game, and he is looking forward to it as well as spending a couple of days in the Crescent City.
He also has a couple of Saints-related predictions. "Saints by two touchdowns over the Steelers," he says. "And a 2019 Super Bowl match-up between the New Orleans Saints and the Kansas City Chiefs."
It's what every Who Dat wants for the holidays, right?
---