Insights > Celebrate Safely
Celebrate Safely
07/02/2018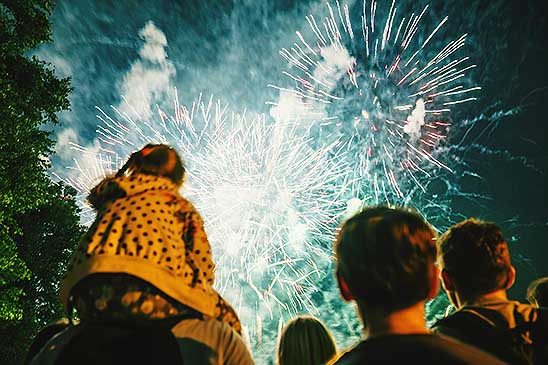 While you spend time this Independence Day with your family and friends on the water, downtown for a parade or in the park for a spectacular display of pyrotechnics, we encourage you to celebrate safely. 
We typically celebrate birthdays by blowing out a few candles paired with a sugary confection, but thousands will celebrate our country's birthday this week with a combination of fireworks and a visit to the emergency room. According to the U.S. Consumer Product Safety Commission, on average, 280 people go to the emergency room every day with fireworks-related injuries in the month around the Fourth of July holiday. 
The safest way to enjoy fireworks is to attend a public display conducted by trained professionals. However, if you decide to put on your own show, follow these safety tips: 
Make sure fireworks are legal in your area before buying or using them.
Keep a bucket of water or a garden hose handy in case of fire.
Light fireworks one at a time, then move back quickly.
Never try to re-light or pick up fireworks that did not fully ignite.
Never allow children to play with or ignite fireworks.
Remember - Sparklers burn at temperatures up to 2,000 degrees – hot enough to cause a third degree burn.
Bring your pets inside. Loud noises and bright lights are frightening, which can cause them to run away.
Use television or radio sounds to mute the loud noises. This will help pets stay calm and comforted.
While fireworks may be the obvious danger this holiday, you'll likely be having fun in the sun with delicious barbeque or celebrating on the water. Remember to: 
Wear sunscreen while sporting your red, white and blue.
Hydrate, hydrate, hydrate.
Keep children and pets away from the grill area if cooking outside.
Place your grill well away from your home, deck railings and out from under eaves and overhanging branches.
Keep your grill clean by removing grease buildup.
Never leave your grill unattended.
While on the water, always wear a life jacket.
Make sure your boat is properly equipped and that all required equipment is functioning properly.
Boating and alcohol do not mix. Along with decreasing the operator's ability to make good judgments, the consumption of alcohol negatively affects the ability of passengers to respond in case of an emergency.
Keep a sharp lookout for other boats, bad weather or anything unusual.
For more safety tips, visit the website of the Consumer Product Safety Commission. 
---