Insights > Clinton High School Students Get Engineering Insight into Continental Tire
Clinton High School Students Get Engineering Insight into Continental Tire
05/05/2016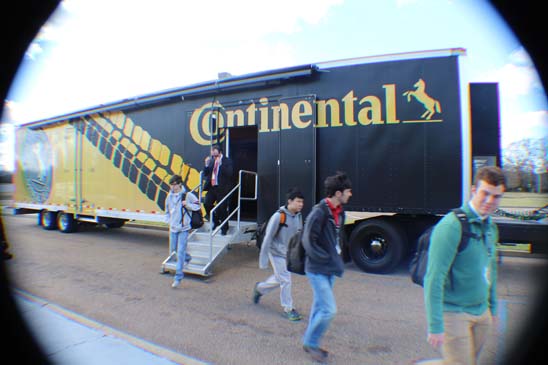 Guest Author: Sharon Smith
When Clinton High School sophomore Ashlee Penick was asked if she wanted to see the large trailer parked outside the high school on February 8, she readily agreed.
As part of the engineering program in the Clinton Public School District, she would have an opportunity to see some real-world engineering applications. As she and a classmate stepped aboard the truck, they were greeted by the driver with a "cool accent," who asked if they would like a tour. The nice and knowledgeable man gave them a tour of the truck and answered their questions. The truck belonged to Continental Tire, and it was parked at the high school as part of a press conference to announce the $1.45 billion Continental Tire plant that is coming to Hinds County. And that truck driver was Paul Williams, the executive vice president of Continental Tire and one of its highest-ranking officials.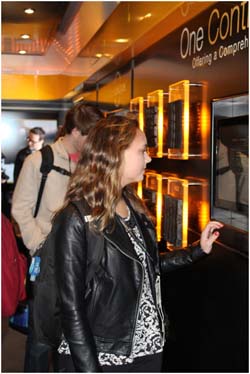 Photo by Robert Chapman
Continental Tire is the fourth-largest tire manufacturer in the world, and the plant in Hinds County eventually will employ 2,500 people with an average salary of $40,000. Mississippi Governor Phil Bryant and the Mississippi Development Authority have been working with Continental Tire for two years to secure the deal, and Mississippi beat out 11 states and two countries to bring in the plant and contribute another business to the growing Southern automobile corridor. Construction on the plant is set to begin in 2018, and the first tire is expected in October 2019. Industrial tires will be produced first, with the possibility of passenger and off-road vehicle tires in the future.
During the 2016 legislative session, the Mississippi Legislature signed a $263 million incentive package through the Mississippi Major Economic Impact Authority. The state Public Service Commission voted 3-0 to allow Entergy Mississippi, Inc. to offer a special electrical rate to Continental.
"Entergy is proud to have played a part in recruiting Continental Tire to Mississippi," said Haley Fisackerly, Entergy Mississippi president and CEO. "As a Top 10 Economic Development Utility, we're committed to powering the growth of Mississippi. It took the forethought and cooperation of many Mississippians to bring the Continental Tire project to fruition."
One of Entergy's strategic imperatives is to aggressively grow the utility business. One of the best ways to do that is to attract a large employer like Continental Tire. This is not only the largest economic development announcement for central Mississippi in decades, it is also one of the largest projects of its kind in North America.
"Bringing businesses to the state brings value to our four stakeholders," said Ed Gardner, Entergy Mississippi director of business and economic development. "Meeting the company's need for highly reliable service and offering competitive pricing, Entergy Mississippi played a big part in bringing Continental to Hinds County. Entergy employees from Economic Development, Regulatory, Legal, Public Affairs, Business Development and Transmission were instrumental in the process."
---