Insights > Electrifying the Grid: Entergy's 2018 All-Star Linemen
Electrifying the Grid: Entergy's 2018 All-Star Linemen
01/30/2019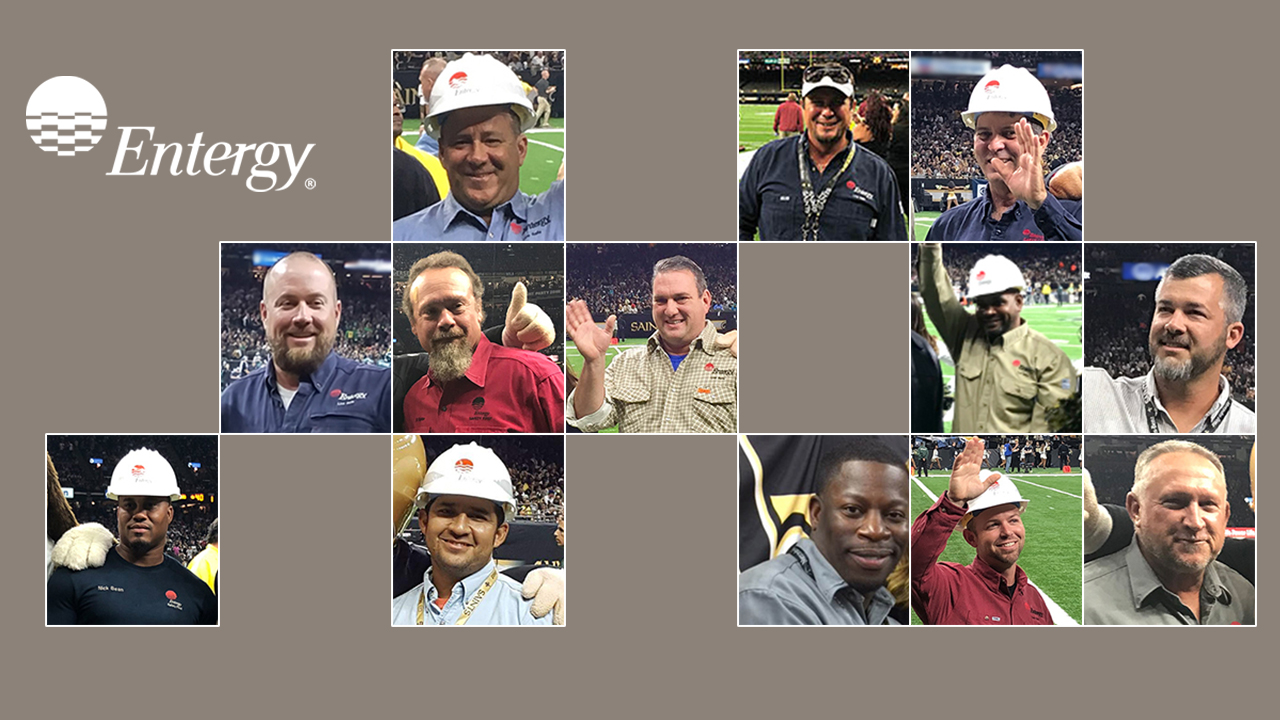 How are linemen at a power company and linemen on a football team alike?
They're both responsible for powering through the lines – one to electrify the grid and the other to electrify the gridiron.
One of the more electrifying football teams this past season was the New Orleans Saints, which powered through the regular season with a 13-3 record and advanced through the playoffs to the NFC Championship game where they unfortunately lost in overtime to the Los Angeles Rams. Throughout the regular season and the playoffs, Entergy--as a patron saint of the team-- honored its own "lineman of the game" in a sideline presentation at games played in the Superdome.
This year, 13 Entergy field workers were recognized for their commitment and dedication to Entergy, our customers, their communities and above all, safety.
With the annual NFL Honors and Super Bowl LIII fast approaching, here's our all-star line-up from the 2018 season:
OFFENSE
These are the guys who work tirelessly to prevent outages before they occur, powering life for our customers and communities.
Carl Ray Cavin
Serviceman
Entergy Mississippi
29 years of service

Andy Eldridge
Senior Lineman
Entergy Louisiana
15 years of service

Brian Garnett
Senior Lineman
Entergy New Orleans
18 years of service

Heath Holland
Journeyman Serviceman
Entergy Arkansas
13 years of service

Alvin Sullivan
1st Class Serviceman
Entergy Texas
30 years of service
DEFENSE
No matter how good the offense, you also need a good defense. These are the men who came to the rescue when the power went out—whether at home or away assisting others who've been impacted by major storms.
Chad Aucoin
Lineman
Entergy Louisiana
37 years of service

Robert Foster
Journeyman/Lineman
Entergy Texas
28 years of service

Nick Parker
Lineman 1st Class
Entergy Mississippi
7 years of service

Aaron Ramos
Lineman
Entergy Arkansas
3 years of service
SPECIAL TEAMS
It takes more than linemen to power the grid. Our special team this year included a substation mechanic and a couple of linemen who "made the playoffs." And, as in past years, a gas pipeman was honored for a job well done.
Jonathan Busceme
Texas Transmission
Substation Mechanic
5 years of service

Frank Nata
Pipeman
Entergy New Orleans
15 years of service

Cedric Rasberry
Senior Lineman
Entergy Arkansas
11 years

Eric Schayot
Lineman Entergy
New Orleans
14 Years
 All in all, they make a winning team!
---