Insights > Entergy Arkansas storm restoration update – 8/8/22, 9 p.m.
Entergy Arkansas storm restoration update – 8/8/22, 9 p.m.
08/08/2022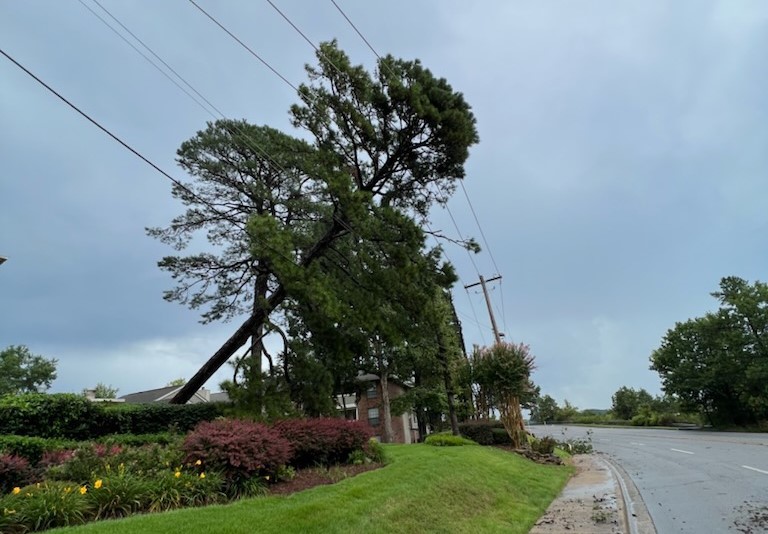 Thunderstorms with strong winds and lightning knocked out power to thousands of Entergy Arkansas customers this afternoon, with a peak of 23,000 outages. The hardest hit areas were Little Rock, Hot Springs and Pine Bluff, with many downed trees and limbs on power lines, broken poles and substation equipment damages.
More than 12,000 customers have been restored and most of those left without power will be restored by 10 p.m. tonight, although some may carry over to Tuesday at noon due to more severe damages. Those who will have later restoration times have been notified and are primarily located in Little Rock, with a few customers in Hot Springs.
Crews are working to assess damages and restore power to all our customers as quickly and safely as possible. For the most timely and current information, view the Outage Map online, within the myEntergy app, and/or sign up for texts alerts.
While crews work to restore power, Entergy Arkansas urges customers to keep safety first.
Here are some tips to keep you safe while we restore your power:
If lines are dangling or have fallen, stay away from them. Don't touch a downed line, because it may be energized. Call 1-800-ENTERGY to report any downed lines or use the myEntergy app.
Do not trim trees or remove debris on or near downed power lines. Only power company crews or their contractors should remove trees or limbs touching power lines. Again, stay away from downed power lines.
When using personal generators, qualified electricians should hook them up. Also, main breakers should be opened to avoid feeding power back into Entergy's lines and possibly injuring linemen.
Sign up for text alerts by texting REG to 36778 and have your account number and ZIP code handy. The registration pattern is as follows including spaces: REG (account number) (ZIP code). Once registered, text OUT to 36778 to report an outage.
Thank you for your patience as Entergy crews are working as quickly as possible to safely restore power to all customers.
---