Insights > Entergy Donates $500,000 to Campaign for Children's of Mississippi
Entergy Donates $500,000 to Campaign for Children's of Mississippi
12/12/2018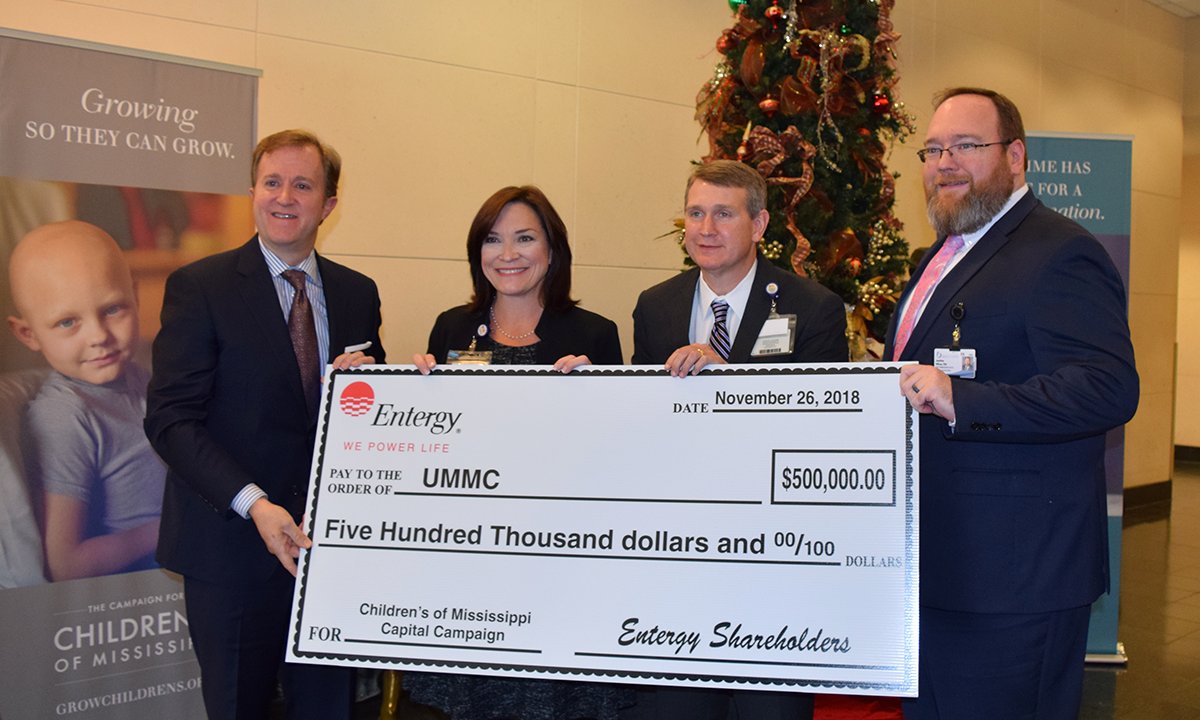 Entergy Mississippi President and CEO Haley Fisackerly presented the check to UMMC representatives Dr. Mary Taylor, Guy Giesecke and Jonathan Wilson on Nov 26.
The neonatal intensive care unit at the University of Mississippi Medical Center cares for some of our state's most vulnerable citizens. The unit was built to handle about 30 babies but routinely offers care for three times that many patients.
Having outgrown the facility, UMMC turned to community partners and private donors to help fund the Campaign for Children's of Mississippi, a $100 million pediatric expansion. Entergy responded with a $500,000 gift from our shareholders.
Now under construction, the expansion is adjacent to the state's only children's hospital, Batson Children's Hospital, and will include 88 private neonatal intensive care rooms. Additional space for pediatric intensive care and for surgery, a department that is quickly outgrowing its space at Batson, is also included in the plans.
"We strive to contribute to a society that is healthy, educated, environmentally safe and productive," said Haley Fisackerly, president and CEO of Entergy Mississippi. "Having the care that's needed right here in Mississippi is important to parents, and it's important to Entergy."
More than just added space and equipment, the expansion will make a real difference for young patients and their families.

"We are caring for the state's smallest and most medically fragile newborns and are seeing outcomes similar to the nation's top children's hospitals," said Dr. Mary Taylor, Suzan B. Thames Chair, professor and chair of pediatrics at UMMC. "But we are achieving these results in a hospital that we've outgrown. This expansion will provide us with a state-of-the-art facility that will match the skills of our expert caregivers."

When Batson patients need imaging such as CT scans and MRIs, they travel inside the hospital about a quarter of a mile to an imaging center designed for adults. In the new layout, a pediatric imaging center will be inside the children's hospital and will be kid-friendly.
An outpatient specialty clinic will be close by, putting experts in pediatric disciplines including cardiology, neurology, urology, endocrinology, gastroenterology and orthopaedics in one location on the UMMC campus.

"Children's of Mississippi works to touch the lives of all of children in the state and help them reach their full potential," said Giesecke, CEO of Children's, an organization that includes Batson as well as clinics around the state. "Entergy's gift will help us provide Mississippi's children the best of care close to home."
---