Insights > Entergy National Engineers Week Spotlight: Grand Gulf's Christopher Burns
Entergy National Engineers Week Spotlight: Grand Gulf's Christopher Burns
02/24/2016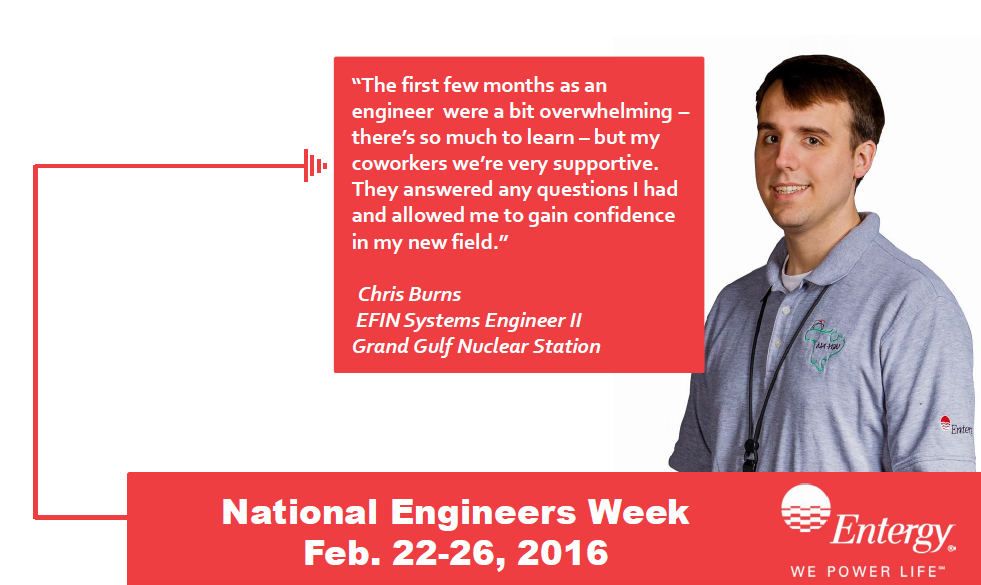 Christopher Burns is a fix it now systems engineer II at Grand Gulf Nuclear Station. He's been an engineer for four and a half years. He is a proud graduate of Mississippi State University and resides in Clinton, Mississippi with his wife, Elizabeth.
His father inspired him to become an engineer
From a young age, I enjoyed classes that focused on science, technology, engineering and math. I continued my STEM education in high school and wanted to explore STEM-related opportunities in college. After considering my options, my father is who inspired me to focus on engineering. He is an engineer as well, and discussions about his professional experiences peaked my interest in the engineering field.   
The support of coworkers is imperative as an engineer
I began my engineering career at Grand Gulf Nuclear Station. The first few months were a bit overwhelming – there's so much to learn – but my coworkers we're very supportive. They answered any questions I had and allowed me to gain confidence in my new field. Now I am the one providing support to newly hired engineers. It's important to understand that we're all a team – and it's our responsibility to help one another when we need it.
Engineers are technical experts at nuclear plants
Engineering is the technical authority in the organization. Improvements are continually made and engineering reviews the documentation associated with those improvements to ensure that every aspect is technically sound so the plant runs safely, securely and reliably.
Being a nuclear engineer offers unique experiences
I have several reasons why I love my job – one is the people I work with. As I stated earlier, Grand Gulf employees are willing to help each other out, and that makes a huge difference in our day to day responsibilities.  Also, I really enjoy seeing the inside of the plant during refueling outages. Within my first year here, I was able to witness and help with some major work during an extended power uprate and refueling outage that allowed Grand Gulf to become one of the largest single units in the United States. It's definitely a unique experience being a nuclear engineer
---