Insights > Entergy Louisiana Crew Praised for Putting It On the Line to Help Trooper
Entergy Louisiana Crew Praised for Putting It On the Line to Help Trooper
07/14/2017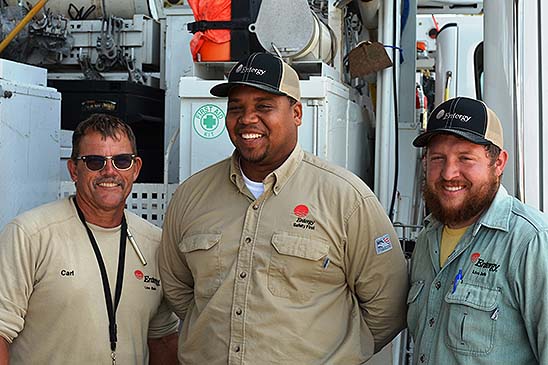 The truck had barely slowed to a stop when Kasdan Oliver jumped into action.
Within seconds, the Entergy Louisiana lineman helped a state trooper subdue and handcuff a suspect who had been struggling with the officer on the side of a Houma road.
"Once I put my 285 pounds on him, he wasn't going anywhere," the 6-foot-2-inch Oliver said. "I put my knee on his back and grabbed his arm, and the trooper was able to put the handcuffs on him."
It all began as Oliver and fellow linemen Carl Prejean and Dustin Ledet were driving back from a job. 
Prejean saw the flashing lights of Trooper Justin Leonard's vehicle. Prejean did the safe thing – changing lanes to put distance between the Entergy truck and Leonard, who had pulled a car over on the side of the road.
That's when the three men saw Leonard struggling with a man as he tried to handcuff him.
"I said 'The trooper is fighting with that guy. We need to help that trooper,'" Prejean said.  
That's all Oliver needed to hear. Once Prejean pulled the truck over, Oliver bolted out of the door and helped the trooper restrain and handcuff the suspect.
The action was over in seconds, ending just as other troopers and deputies arrived in response to Leonard's call for backup. So Oliver, Prejean and Ledet quietly got back in their truck and continued on their way.
But their actions drew high praise from Leonard and his commander, Capt. Frank Besson.
"Quite often troopers work by themselves on these roadways, and it's a great feeling to know we can depend on people like your guys with Entergy who are going to stop and be willing to put themselves out there to help us out," Besson said.
"Especially with what's going on in the world today, it's not often you see people who are willing to help out law enforcement," he added.
Leonard said, "They went out of their way when they didn't have to. You don't see that too much nowadays, so I just thought they needed a little bit of recognition."
Besson said, "You never know how things are going to turn out, so we are very appreciative of your employees stopping and assisting the trooper with this guy."
A combination of family ties and doing the right thing motivated the Entergy crew that day.
Prejean has relatives, including a nephew, who are troopers at Troop C in Gray, just outside of Houma.
"When I saw the trooper struggling, I saw he was a young guy, and my first thought was it was my nephew," Prejean said.
"I just knew the trooper needed help," said Oliver, whose mother worked for the Assumption Parish Sheriff's Office. "I just ran out there and took over as if I'd done it before."
---