Insights > Entergy Mississippi Proud to be a Part of the Continental Tire Recruiting Team
Entergy Mississippi Proud to be a Part of the Continental Tire Recruiting Team
02/09/2016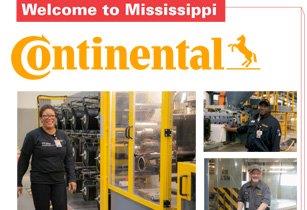 Think the only job a utility has is to keep the lights on? Think again.
One of the best ways a utility can grow its business and the communities it serves is by attracting large employers to the area. Employers like Nissan and Nucor Steel. Entergy Mississippi was part of the recruiting team that attracted these two major employers to the state, among others, and now we can add Continental Tire to the list.
By collaborating with community partners to attract Continental Tire, the world's fourth largest tire manufacturer, Entergy Mississippi has helped bring a $1.45 billion investment to Hinds County. This is one of the largest economic development announcements for central Mississippi in decades, and is also one of the largest projects of its kind in North America. The plant will create 2,500 new jobs with an average salary of $40,000.
Mississippi beat out 11 states and two countries for this investment. Many factors played a part: the availability of reliable, affordable electrical service; proximity to Interstate 20, adjacent rail and an abundant workforce. The state also offered a very good incentive package.
Entergy Mississippi played an instrumental part in bringing Continental to Hinds County because the company has an energy-intensive operation. We were able to provide an electric service solution that meets the company's needs for highly reliable service along with very competitive pricing.
We're proud to have played a part in recruiting Continental Tire, and as a top 10 Economic Development Utility, we're committed to powering the growth of Mississippi.
---