Insights > Entergy Rolls in "Lights on Wheels" to Aid in Texas Restoration Efforts
Entergy Rolls in "Lights on Wheels" to Aid in Texas Restoration Efforts
09/06/2017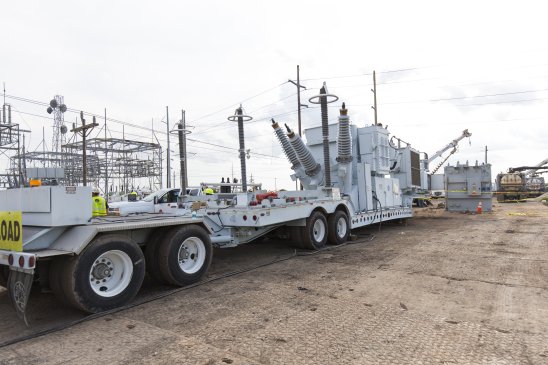 Utility workers are some of the first to respond in the wake of any storm, and Entergy's response to Hurricane Harvey has been no different. The trucks and crews you see on the street are just part of restoration efforts. Behind the scenes, in our offices, out in remote areas and anywhere equipment is located, there's an army of Entergy employees working to repair damage, replace equipment and implement creative solutions so we can get the lights back on for customers as quickly and safely as possible. With 17 of our substations affected by water, five of which sustained severe damage, we've drawn on all of our available resources to execute the complex technical and logistical effort to restore power to Entergy Texas customers.
One of those solutions is mobile substations. Earlier this week, Entergy began setting up several of these self-contained "lights on wheels" as temporary solutions to power communities with the most severely damaged substations. The mobile units help provide power to our customers so we can focus on repairing and rebuilding our facilities. They are customized pieces of equipment and to be effective, they must match transmission and distribution voltage of lines in an area.
The typical mobile substation is as long as two 18-wheelers and weighs 88 tons – that's as much as a passenger-filled Boeing 727 airplane. They're proven, effective and can be used for long periods of time. But they still take time to deploy. These units are not like generators that can just be plugged in to work. Set up can take several days while crews make connections, lay foundation mats on saturated grounds, build transmission lines and match voltages. In addition, as power is restored to new areas, we may need to reconfigure, causing additional temporary outages.
Getting Help From our Friends
Bringing in mobile units from afar is unique, but necessary due to the amount of damage and number of customers affected by this storm. We were adequately equipped with mobile substations for normal maintenance and emergency outage conditions in Texas, but it wasn't enough to accommodate the conditions we're facing as we work to restore power to customers. Thankfully, some friends in the business came to our aid.
When we asked for other companies to help, many came forward, but any old mobile substation wouldn't do. We need units that meet our specific size and voltage needs. In addition to two units from Entergy Mississippi and Entergy Louisiana, our friends at Cleco, Oncor and Washington St. Tammany Electric Cooperative loaned us their mobile substations and their technical expertise to get the units running. As our contact at one of these partners said, "after Katrina, we know what it means to get help and felt like it was time to give back. It doesn't matter if it is a co-operative or an investor owned or an industrial partner. We're glad to help." Another wrote, "As our system was spared from the aftermath of Hurricane Harvey, we are pleased to be able to assist our partner and industry peer in Entergy.  These are the times which make our industry special."
And we appreciate their generosity. These loaners will help power customers in Jefferson, Orange and Hardin counties until permanent repairs can be made to affected Entergy substations.
Always, Safety First
Making this alternate solution come to life required tremendous effort and coordination by our teams. We were able to identify the right resources, work with partner agencies and mobilize quickly and safely. We're finding ways to get things done, despite the conditions we're facing in the field.
A mobile substation is a unique sight, no matter where it's encountered. Several of these units will be placed in semi-public areas, so motorists might spot the huge equipment in an open field or a vacant private parking lot. As with any large piece of electrical equipment, safety is a primary concern. Temporary fencing will surround the mobile substations, and no one other than qualified workers should pass these barriers. If you want to help keep the lights on and keep yourself safe, please respect the barriers, and let these mobile substations and the crews supporting them do their jobs safely. 
---