Insights > Entergy Texas Donates $20,000 to Montgomery County Food Bank
Entergy Texas Donates $20,000 to Montgomery County Food Bank
05/10/2021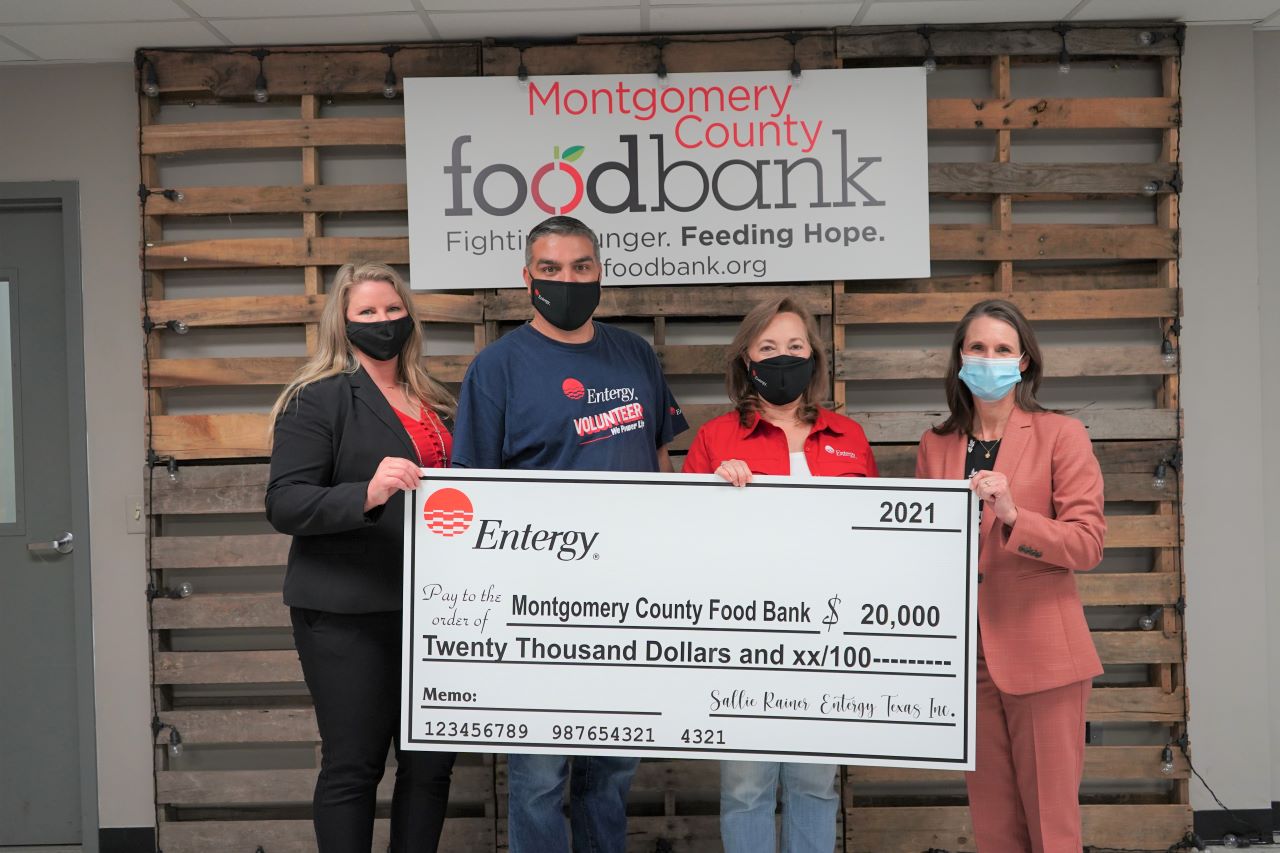 A devastating year of storms and the COVID-19 pandemic have taken a toll on residents across southeast Texas. Since the onset of COVID-19, food banks across the nation have seen a significant increase of those in need. In response, the Montgomery County Food Bank is working with community partners and adding more food pantries. In 2020, the number of households served by the food bank increased more than 100%. The food bank also faced a decline in the number of volunteers. In July 2020, Texas National Guard stepped in to fill the gaps, helping receive donations, loading and unloading boxes, and preparing products for distribution.
As part of Entergy Texas's long-standing partnership with the Montgomery County Food Bank, employees recently volunteered their time and presented a check for $20,000 to support the Montgomery County Food Bank's work in the community. 
Employees took time to sort food boxes and personal care items. In total, efforts resulted in 2,460 pounds of sorted personal care items and 4,893 pounds of sorted food which is equivalent to 4,077 meals.
"Every dollar donated to Montgomery County Food Bank allows us to provide five meals to those in need," said Kristine Marlow, president and CEO of the Montgomery County Food Bank. "Entergy's donation of $20,000 will provide an amazing 100,000 meals to seniors, children and families in need in Montgomery County."
The Montgomery County Food Bank also administers a number of programs in the region, including serving the community partner food pantries, mobile markets, senior distributions, school distributions, nutritional education, and green initiatives like their Produce Rescue Center.
Marlow says that the recovery efforts are a marathon, not a sprint and there will be long-lasting effects on the community for months and years to come, and the food bank will be there to serve neighbors in need.
---