Insights > Entergy Texas Hurricane Nicholas Update – 9/14/21 @ 9 p.m.
Entergy Texas Hurricane Nicholas Update – 9/14/21 @ 9 p.m.
09/14/2021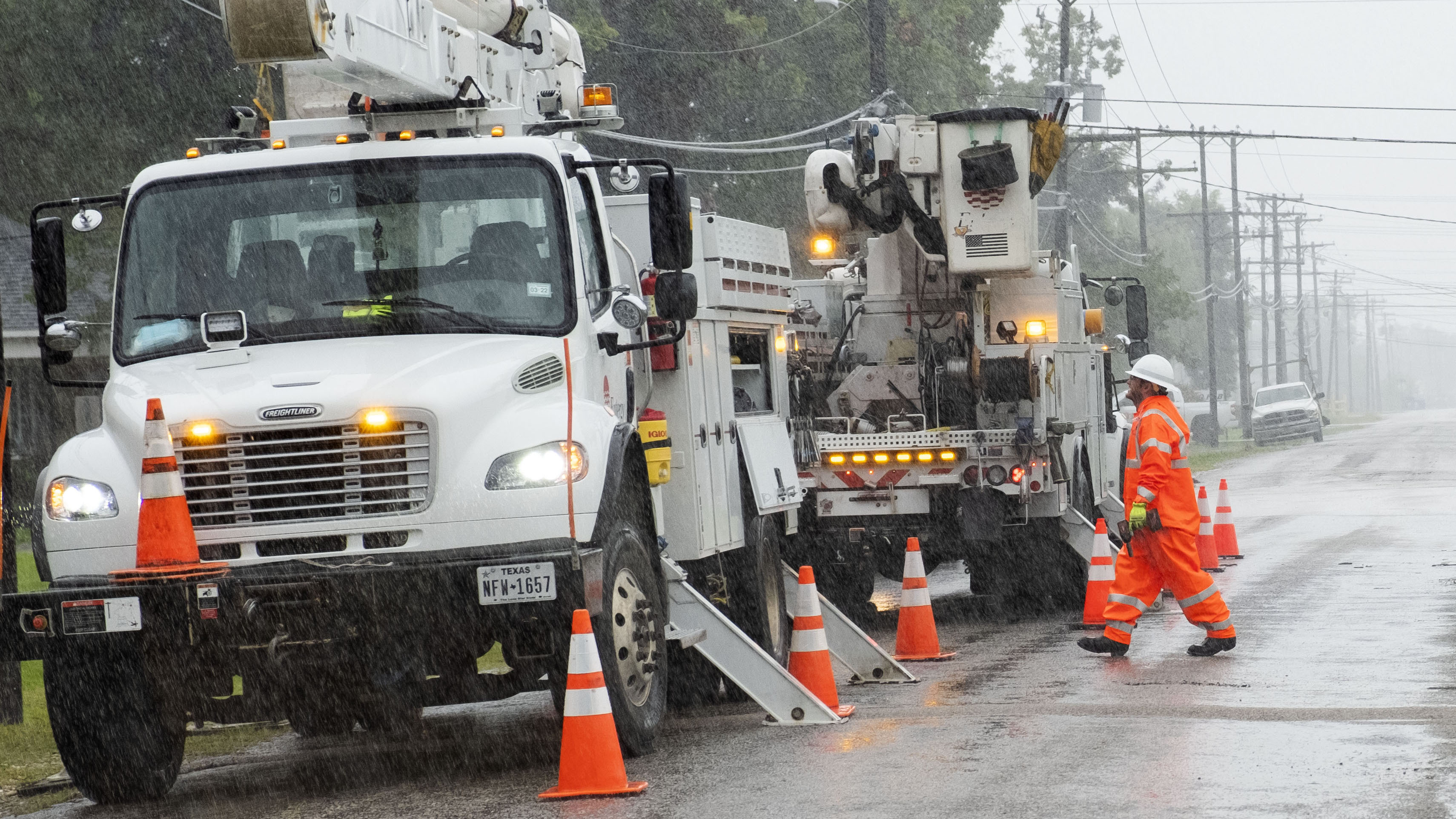 As of 8:30 p.m., Entergy Texas has restored 95% of outages.
During challenging work conditions, crews have restored power to over 13,300 customers from a peak count of 14,000 customers at 9:15 a.m.  Entergy Texas expects to restore the remaining customers in areas that have experienced extensive damage and that can safely take power by late afternoon on Wednesday, 9/15.
Estimated Restoration Times:
Area

Customers Out

Estimated Restoration Time

(no later than)

New Caney Network (includes Huffman, Porter, Roman Forest, Woodbranch, and surrounding areas)

94

  9/15/21 4:00 PM

Beaumont Network (includes Bevil Oaks, China, Nome, and surrounding areas)

67

  9/15/21 4:00 PM

Port Arthur Network (includes Groves, Nederland, Port Neches, Taylor Landing and surrounding areas)

175

  9/15/21 4:00 PM

Winnie Network (includes Anahuac, Bolivar Peninsula, and surrounding areas)

88

  9/15/21 4:00 PM
All other areas have returned to normal operations.
Estimated restoration times could change based on further damage assessment. Please visit our View Outages Map to keep up to date.
Outage Viewer map information:
Green lines indicate that the line segment is energized, or power is flowing. Red lines indicate that the line segment is de-energized, or no power is flowing.
It's important to note that while the main line may be energized, the map doesn't show power flow all the way to the home. There could be damage or other issues between the energized line and the home such as transformers, down wires from the pole to the home, or damage with the meter or within the location itself.  The map relies on software to predict the location of outages; actual outages may vary from those predicted.
If you are aware of an inconsistency between the reported status and power availability at a location, please report your outage by texting OUT to 36778, use myEntergy or the Entergy mobile app, or dial 1-800-9OUTAGE and use the automated system or speak with a representative.
For details on how to prepare for storms, updates, and other important tips, visit entergy.com/stormcenter, where you can also sign up for text messages and download the Entergy app.  And follow us on Facebook and Twitter.
For the safety of our crews and your individual safety, please stay away from their work zones.  If you need to report a problem with your service or get bill payment help, we're just a phone call away:  1-800-ENTERGY.
Restoration process
Here's how we approach things at this stage to restore your power safely and quickly:

Essential services such as hospitals, nursing homes, fire and police departments, and water systems are at the head of the restoration list, along with our equipment that supplies electricity to large numbers of customers.
Next, we will concentrate our resources on getting the greatest number of customers back the fastest.
We can't use our bucket trucks until sustained winds are less than 30 mph, but we can still begin restoring service to customers by closing circuit breakers, rerouting power and other actions.
You may see trucks, other vehicles and workers lined up while we process them into our system, taking inventory of equipment and personnel and giving a complete safety orientation.
Repairs begin with major lines to the substations, then to the lines and equipment serving neighborhoods, businesses, and homes.
Service lines to individual homes and businesses will be restored last because fewer customers are involved, and in the case of fewer outages spread over larger areas, it often takes more time to get power back on for them.
Significant flooding and other accessibility challenges due to the storm will affect our ability to reach some areas of our territory and could delay restoration in those communities.
When restoration starts, keep in mind that if you don't see us working near you, we may be working on another part of the electrical system that you can't see but must be repaired to get power to you.

Following a storm, we deploy scouts to assess damage.
As safety is always the highest of priorities, and as we assess the damage, we'll begin restoring service where it is deemed safe to do so.
Our employees are our greatest assets; we will keep our workers safe during a storm response.

Keeping our workers safe from worsening weather conditions may limit our ability to restore service as quickly as we'd all like.
We are committed to keeping our employees safe and sheltered during dangerous periods caused by high winds, flooding and other severe storm conditions.

Facing severe weather can be extremely challenging; we're committed to minimizing the effects of a bad storm.

Weather forecasts and computer models based on knowledge from past storms are used to predict the estimated number of customers without power and the number of days needed to restore power.
Power is restored faster in areas with less damage. Some of the hardest-hit areas may take longer, which should be factored into your personal storm plan. Remember, safety first.
Once the storm passes, we can fully assess the damage and will have more information to share.
Safety is our number one priority
As with any weather event, please be mindful of the following safety tips:
Live wires can be deadly. Stay away from downed power lines. Call 1-800-9OUTAGE or 1-800-968-8243 to report downed or dangling power lines, poles or other damaged equipment.
Do not trim trees or remove debris on or near downed power lines. Only power company crews or their contractors should remove trees or limbs touching power lines.
Keep away from the immediate areas where crews are working. There is always the danger of moving equipment and the possibility of construction materials or limbs or overhead wires falling to the ground.
If you plan on using a generator for temporary power, get a licensed electrician and disconnect from the utility electric system before hooking up to your home main electric panel. 
Do not run a generator in a confined space without adequate ventilation.
Avoid using candles or other flammable devices to light your home. 
Check on others that could be susceptible to extreme temperatures.
Try to stay off the roads in affected areas. More traffic in bad weather leads to more accidents, including more injuries and fatalities as well as accidents that can damage electrical poles and other equipment, creating outages and impeding the ability of crews to access and repair damage and slowing restoration. First responders also need to be able to access roads in order to safely assist people in emergency situations.
We want to keep you informed and in control so here is the best way to get information about outages in addition to the View Outage application:

Download our app for your smartphone at entergy.com/app or visit entergystormcenter.com to stay informed on our restoration progress. Android users who have difficulty accessing the app on their smartphones can get information from the mobile version of our site at entergy.com.
Text alerts – Customers can register for outage text alerts through myEntergy. Be sure to update your notification preferences to participate in text alerts. Customers also can sign up for text messages about storm and restoration efforts by texting REG to 36778.
Follow us on Twitter.com/EntergyTX or Facebook.com/EntergyTX.
Follow updates from your local news media, like radio, television, and newspapers.
---