Insights > Entergy Texas Continues Harvey Restoration
Entergy Texas Continues Harvey Restoration
09/01/2017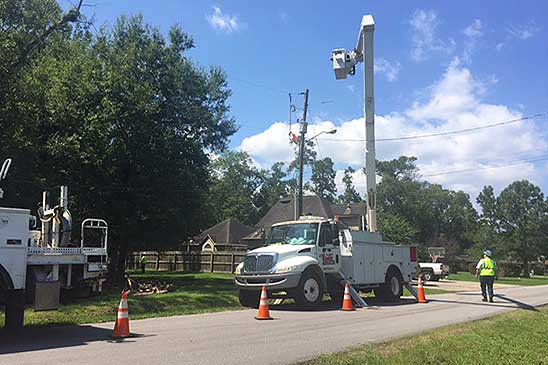 Entergy has restored more than 200,000 outages caused by multiple landfalls Harvey made since its arrival one week ago. The storm has now caused outages in all of our service territories with its sweep through Arkansas and Mississippi over the last 24 hours.
The most significant outages remain in southeast Texas, where sustained flooding has made many areas inaccessible and is preventing us from quickly and safely restoring power in a timeframe customers may have come to expect from their experience in previous storms.
Flooding is significantly impacting Entergy's ability to restore power to customers in some areas, and flooding is expected to continue for several days.  Several substations which distribute electric service to many customers over large areas are experiencing outages due to flooding, restoration of these locations is also being hampered as workers are unable to access these areas. When flood waters recede and it is safe to do so, Entergy workers will assess damage and begin restoration.
At 9 a.m., 61,079 Entergy Texas customers were without power. Currently, there are approximately 7,000 customers that are without power and are unable to be restored at this time due to high water. Entergy has restored 200,000 outages since Harvey began impacting our area on Friday. Our crews continue to safely restore power as quickly as possible.
East Region
Jefferson County
Beaumont
There are currently 9,295 customers out in Beaumont and the surrounding areas, down from a high of 15,100 Tuesday morning. Nearly half of the customers without power are currently inaccessible due to flooding. Although progress has been slowed high flood waters, workers have been able to assess damage in most areas and begin restoring customers.  
As of today (September 1), 90 percent of assessments are complete. Additional workers have arrived in Beaumont, with more expected to arrive throughout today. Damage assessments are underway at Bevil Oaks Substation again today.  Amelia Substation is now accessible and workers can begin assessing and making repairs. North Major Drive to Highway 105 as well as the Amelia areas are fed by this substation, which has been out of service due to flood waters. 
There are still several broken poles and key electric service equipment out of service that will continue to be worked on today throughout the area. Workers will be near the 16th Street area today repairing a broken pole and damaged equipment. South County areas of Fannett and La Belle as well as Bevil Oaks, Pinewood, Countrywood and Northwest Forest continue to remain inaccessible due to flooding. Entergy's Beaumont Service Center continues to operate despite water supply conditions in the city.
Port Arthur, Mid-County
There are currently 3,283 customers without power in the Port Arthur and Mid-County areas. This is down from a total of 6,317 at this time yesterday. More than half of the remaining outages are inaccessible due to flooding, including Sabine Pass, which is still not accessible due to a road closure. Workers have restored power to a large portion of the area that was unaffected by flood waters. However new isolated outages continue to be reported.
Workers have restored power to 4,010 outages in Port Arthur in the Gulfway Dr. area between Memorial and Twin City Highway - Stadium Rd. Yesterday afternoon, after flood waters receded, workers restored power to all 119 customers in the Taylor Landing area. Workers are currently working on an outage in the downtown Port Arthur area that will result in 408 customers being restored today.
Workers are currently working on an outage in the Foster Heights section of Groves that serves the area near Monroe and Twin City Highway, along Main St. Those 151 customers are expected to have power today. Entergy workers continue to work isolated outages throughout the Port Arthur, Groves, Nederland, Port Neches and Port Acres areas that are not flooded. In addition to the normal workforce, additional workers are in place and are assisting in the restoration efforts. Additional scouts were also brought in and are currently assisting in assessing damages. As the flood waters recede, these assessments are being  expanded to cover larger areas. Airboats have arrived and will be used to access areas that are not reachable by truck.
Liberty County
Dayton, Liberty
There are currently 1,184 customers without power in the Dayton area. Approximately 197 of these outages are inaccessible due to flooding, and 778 customers are affected due to a substation that has been knocked out of service from rising flood waters. The 778 customers affected by the substation outage are in the south Liberty area, off of Hwy 563 from Hankamer to Liberty.
This morning 211 customers in Ames lost power on MLK Street, and crews are preparing to investigate the cause of the outage and restore power. Last night, 55 customers lost power and were restored after car struck a broken pole. Hwy 1409 and the Day Lake Rd Subdivision are flooded and inaccessible. Hwy 90 between Liberty and Dayton has been shut down due to flooding, and there is no access to the areas on the other side of the Trinity River. The underground portion of the Lockshire subdivision with 95 customers remains out of power due to flooding. There are 3 areas in Daisetta that are inaccessible due to high water including CR 2017, CR 2011 and CR 185.
Crews scouted the Hwy 563 area in a high water vehicle yesterday and will be using boats and high water vehicles repairing as much damage as is possible today. Most of the customers in this area will not be able to receive power until the substation has been restored. Entergy plans to conduct a walk down of the flooded areas to completely assess the area and begin the restoration process. Workers will be in the Lochshire subdivision today assessing damage and restoring service to those customers who can safely receive power. Workers will also be in the area assessing other known flooded areas and restoring power where they are able to safely do so.
Cleveland
There are currently 165 customers without power in the Cleveland area. Customers in the area off Highway 1725 have been fully restored. A small number of customers are without power in the Splendora area and should be restored today. 
Workers are currently working in the Romayor area off Highway 787. There are approximately 10 workers in North Cleveland working today in and around the Shaw area to repair damaged power lines, and power is expected to be restored late today. Restoration has been impeded by high water in the area around Plum Grove. It is expected that all customers in the Cleveland area who can safely take power will be restored today (September 1). 
Orange County
Orange, Vidor, Bridge City
There are approximately 30,065 customers without power in the Orange County area. Damage in these areas includes broken poles, damaged transformers, power lines down, damaged transmission lines and trees on power lines. The McLewis substation in Orange was restored yesterday, providing power from Mauriceville to Hwy 12 down to Orange at IH-10, restoring a large amount of residential customers as well as hotels on IH-10. Three substations remain out due to transmission lines being damaged. Some areas impacted by the substation outages include downtown, old town, Lamar and Front Street, as well as 16th Street.
In the Vidor area, approximately 85 percent of customers are now out since last night after losing most of the transmission power lines serving the substations. In addition, some of the substations that had 2 feet of water are now under 6 feet of water.
Significant progress was made assessing damage yesterday. Workers are performing aerial inspects of transmission lines in the Vidor area to identify areas requiring repairs. In Orange, we'll also be scouting flooded and in accessible areas by helicopter and boat. With water receding, workers will be focused on restoring power to substations and the Front St. main water pumps, as well as the water plants and water treatment facilities. Additional crews will be scouting for areas where water has receded and it is safe to restore power.
Hardin County, Tyler County
Silsbee, Woodville, Lumberton
Currently, there are 14,991 customers without power in Silsbee, Woodville and the surrounding areas. A transmission power line went down overnight, resulting in outages of six substations, providing power to approximately 9,000 customers. Workers tried to reroute power from those substations but that was unsuccessful so new transmission equipment is being flown in at daylight and installed, which should restore power to those customers.
Chambers County
Winnie, Anahuac
There are currently 376 customers without power in the Winnie area. Today workers will be working to restore power in Hankamer, Anahuac, Winnie on Highway 65 and FM 1410, Crystal Beach and High Island areas. There will be air patrol of the Big Hill, Smith Point, Oak Island, and Hamshire areas.  In the Anahuac area, a tree has fallen damaging a service line causing outages near I-10. 
West Region
Montgomery County
Conroe
Six customers remain without power in the Conroe and surrounding areas, and new outages are being assessed.  Restoration is now complete for all customers who can safely take power.
New Caney
There are 362 customers currently without power in the New Caney area. Roman Forrest is 95 percent restored, with the remaining 5 percent still inaccessible due to high water conditions. The Sorters subdivision is 90 percent restored and Kings Colony is 95 percent restored. Workers will continue working to repair damages in those areas today. The Wood Branch subdivision is 100 percent restored, and 90 percent of the FM1485 east area has been restored, with 10 percent still inaccessible due to high water conditions. Today, workers plan to reassess the isolated areas previously inaccessible due to high water, with plans to restore power to any areas that are accessible.
The Woodlands
There are 14 customers without power in The Woodlands and South Montgomery County areas. The remaining outages in The Woodlands area are due to inaccessibility or equipment that was damaged by or is submerged from the floods. While water on one street may have receded, the equipment that is causing the outage that needs to be repaired may be in an area that is still not accessible. Customers may also see crews in their area who then move on. These crews are scouts who determine what type of equipment and crew will be needed to make repairs.
Places inaccessible due to flooding include areas off I-45 and 242 and southern parts of The Woodlands around Tanglebrush. Workers are currently making repairs, as well as scouting for areas where water has receded enough to begin work. Customers are without power between Gosling and Tangle Brush, near Hickory Hollow, due to flooded equipment. There are additional customers out along Research Forest, near the CB&I campus. Crews are en route to assess. Some remaining customers who were flooded need to have customer-side equipment inspected before power can be restored.    
A few commercial customers are without power in South Conroe at I-45 and the San Jacinto River, due to submerged poles that are completely inaccessible until water recedes. This area will take the longest to fully restore and restoration time will be provided once a full assessment can be made.  
Walker County
Huntsville
There are currently 1,449 customers out in the Huntsville area due to a transmission power line outage that occurred overnight. Workers are assessing the damage this morning and will make repairs today. 
Grimes County
Navasota
All customers in the Navasota area are 100 percent restored. Workers from this area have moved to assist restoration efforts in other impacted areas.
Entergy has brought additional restoration workers to Texas. As with most restoration efforts, Entergy is focusing on restoring power to essential services first, and then the effort will focus on restoring service to areas where the greatest numbers can be restored fastest. This is how we approach things at this stage:
Essential services such as hospitals, nursing homes, fire and police departments, and water systems are at the head of the restoration list, along with our equipment that supplies electricity to large numbers of customers.
Then we will concentrate our resources on getting the greatest number of customers back the fastest.
We cannot use our bucket trucks until sustained winds are less than 30 mph, but we can still begin restoring service to customers by closing circuit breakers, rerouting power and other actions.
As with any weather event, please be mindful of the following safety tips:
Live wires can be deadly. Stay away from downed power lines. Call 1-800-9OUTAGE or 1-800-968-8243 to report downed or dangling power lines, poles or other damaged equipment.
Do not trim trees or remove debris on or near downed power lines. Only power company crews or their contractors should remove trees or limbs touching power lines.
Keep away from the immediate areas where crews are working. There is always the danger of moving equipment and the possibility of construction materials, limbs, or overhead wires falling to the ground.
If you plan on using a generator for temporary power, get a licensed electrician and disconnect from the utility electric system before hooking up to your home main electric panel.
Do not run a generator in a confined space without adequate ventilation.
Avoid using candles or other flammable devices to warm your home.
Try to stay off the roads. More traffic in bad weather leads to more accidents, including more injuries and fatalities as well as accidents that can damage electrical poles and other equipment, creating outages and impeding the ability of crews to access and repair damage and slowing restoration.
Imminent flooding or evacuation:
Before leaving, prepare your home by turning off your electricity at the main fuse or breaker and your water at the main valve. Also check for and secure objects that could cause damage if blown by high winds.
When power is restored, look for electrical system damage. If you see sparks or broken or frayed wires, or notice the smell of hot insulation, turn off the electricity at either the main fuse box or circuit breaker. You may need a licensed electrician to assess your equipment and assure safety.
If it looks as though water may enter your home, it's a good idea to open the main breaker in your electrical breaker box in order to cut off power.
After a flood:
Did the water level rise above your electrical outlets but stop below the electric meter?
If you are present when Entergy workers arrive:
We will advise you to turn off your main breaker and have repairs made. You will then need to turn your main breaker back on.
For your safety, we suggest a qualified electrician inspect electrical equipment inside of the facility or home, even if your city or parish does not require inspection. If the breaker is turned on before such inspections, you may cause personal injury or property damage. 
For customers with property damage:
If your property has any water damage, please turn off the electricity at either the main fuse box or circuit breaker.
Call a licensed electrician for advice when necessary.
Don't step in water to get to the fuse box or circuit breaker.
A licensed electrician may need to inspect your property's electric wiring before we can restore power to a home or business that has water damage from rain or flood waters.
For customers without property damage:
Property owners without storm damage should still be cautious.
Look for electrical system damage after power is restored. If you see sparks, broken or frayed wires, or the smell of hot insulation is noticeable, turn off the electricity at either the main fuse box or circuit breaker.
We want to keep you informed and in control. Here is the best way to get information about outages in addition to the View Outage application:
---