Insights > Football, fun and family—it's what's on tap this weekend for Entergy's Lineman of the Game!
Football, fun and family—it's what's on tap this weekend for Entergy's Lineman of the Game!
10/26/2017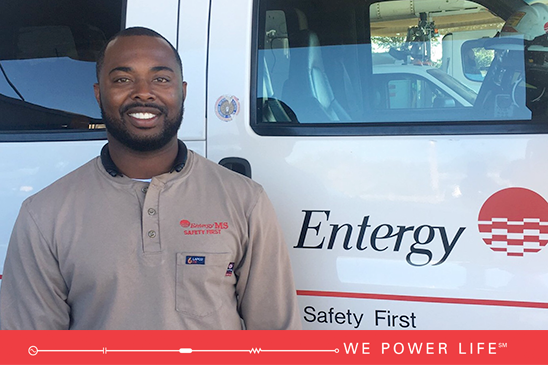 Coming off a four-game winning streak, the New Orleans Saints are red-hot and ready to take on the Chicago Bears at home in the 'dome this Sunday, October 29, and Entergy Mississippi's Keith Gordon will be right there cheering them on!
And the Saints--along with some 70,000 fans--will be cheering on Gordon, who will represent Entergy as Lineman of the Game.
"Keith is committed to safety and is dedicated to Entergy's core values," said Robbin Jeter, Entergy Mississippi vice president of customer service. "He's a very good employee who produces quality work, consistently responds to the needs of our customers and is highly regarded by his peers. He is very deserving of this honor."
Gordon, a cable splicer, is responsible for the maintenance and repair of the underground facilities in downtown Jackson. When he's not testing and repairing network protectors or repairing and installing network cables, Gordon is very involved in the Masons and the Shriners, and is the treasurer of the local IBEW. He and his wife, Bridgette, also stay very involved with their three children.
"Our son, Kadarious, attends Jackson State University and is a member of the Sonic Boom of the South marching band; our son, Kaleb, plays quarterback on Terry High's football team and our daughter, Khloe, attends Bolton Edwards Middle School," said Gordon.
Gordon will be taking his wife with him to the game.
"I'm a fan of the NFL, and I really enjoy football—it's my favorite sport," he said, noting that he's a member of the Terry Bulldog Touchdown Club. "This will be my first NFL game and I'm really looking forward to the live NFL experience."
Mike Crowder, Entergy Mississippi senior manager of operations and safety, will join Gordon on-field during the game to thank him for helping Entergy power lives!
---