Insights > Halter Steers Nuclear Towards Regulatory Excellence, Encourages Women, Girls to Pursue Dreams
Halter Steers Nuclear Towards Regulatory Excellence, Encourages Women, Girls to Pursue Dreams
02/11/2021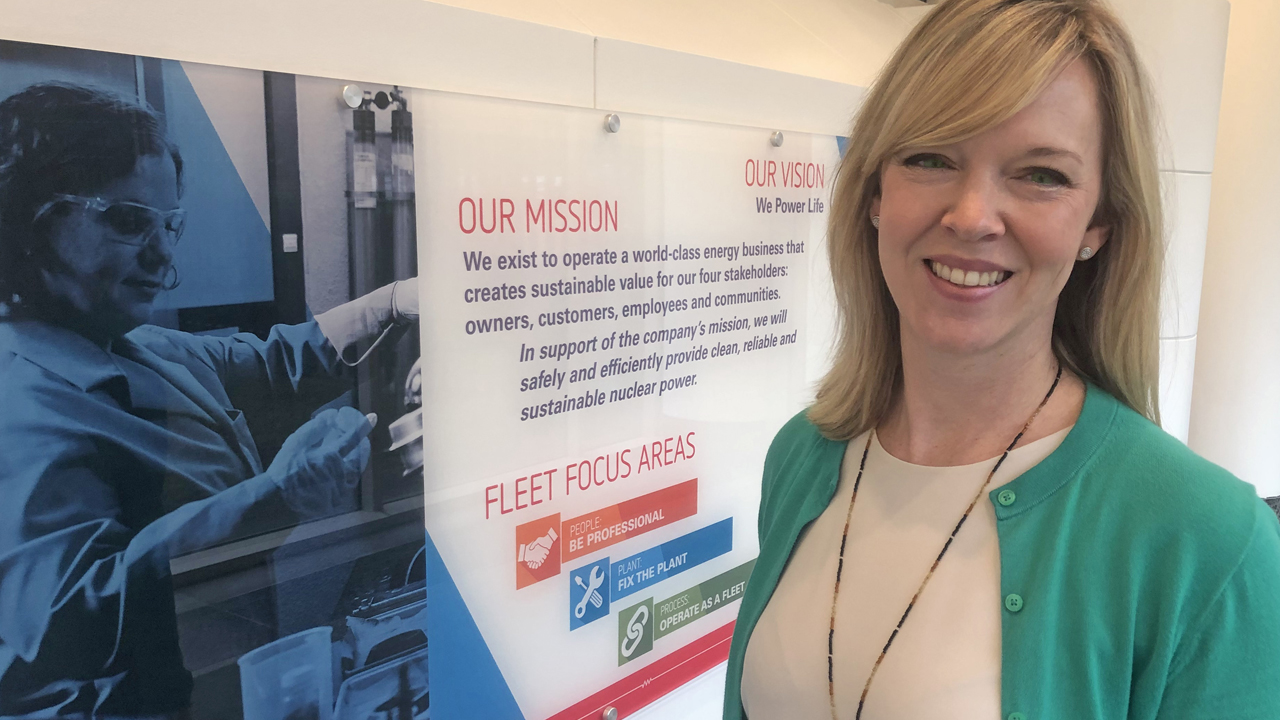 When Mandy Halter took the helm at Entergy Nuclear as vice president of regulatory assurance, she presented each member of her team with a compass. This simple device set an exciting path for the team as Halter expressed that they would be trusted navigators in all things nuclear regulatory: security, emergency preparedness, licensing and Nuclear Regulatory Commission compliance. With a U.S. Navy background, Halter setting the course such as this came as no surprise. 
"I am proud of my team here at Entergy," said Halter. "They are dedicated nuclear professionals who constantly seek excellence. The credit for any of my personal successes go directly to my team and our other colleagues across the nuclear fleet and company."
Halter joined Entergy in 2017 after a career with the U.S. NRC, serving in various areas, including reactor oversight process inspection and performance assessment, Fukushima response, enforcement, and with the Office of the Commission. Before the NRC, Halter drove the largest warships and operated a nuclear reactor onboard an aircraft carrier as an officer in the U.S. Nuclear Navy. 
Chris Bakken, Entergy chief nuclear officer, said, "Mandy's extensive knowledge of the nuclear business, strategic approaches and keen leadership skills are helping us build on our commitment to achieving excellence and becoming the premier nuclear fleet. She is a key member of our leadership team and has worked hard to create strong relationships with our internal and external stakeholders, including nuclear professionals at our plants. Mandy has a vast array of experiences to lead us in these important areas."
Soon after Halter began adjusting to her promotion, she was faced with navigating through something unexpected – an unprecedented global pandemic. Yet, with experience in safety and emergency preparedness, Halter had the tools to navigate the large nuclear team through this challenging time.
As part of the company's pandemic response, the emergency preparedness team led the nuclear group through needed changes that arose from COVID-19. New safety protocols to keep critical infrastructure workers healthy and safe were implemented, temperature readings were taken each day as workers entered the nuclear sites, and the licensing and compliance team worked with the NRC to ensure that all federal regulations and inspections continued in the safest way possible.
Halter comes from a long line of family members enlisted in the navy and stated she "respected the service." While growing up in Maryland, she was recruited to run track and cross country at the U.S. Naval Academy. Eventually, she became a naval officer – the first in her family.
Halter earned a bachelor's degree in chemistry from the U.S. Naval Academy and two masters: one in engineering management from Old Dominion University and one from Villanova University in business administration. 
"Most of the bosses I've had would say that I don't like to be told 'no'," joked Halter. She said that women should have courage and tenacity to go after what they want. "Our nine-year-old daughter talked her way onto her school's football team and wants to be an astronaut. Our six-year-old asked how I make electricity, so I read her a children's book about nuclear power plants and the benefits of clean electricity. I will always work to cultivate their curiosity, especially with math and science."
A few years ago, the United Nations took note of a significant gender gap that persisted throughout the years at all levels of science, technology, engineering and mathematics disciplines worldwide. The UN took heed and established Feb. 11 as the International Day of Women and Girls in Science to overcome stereotypes, gender biases and encourage females to pursue STEM. According to the UN's website, "At present, less than 30 percent of researchers worldwide are women, and only around 30 percent of all female students select STEM-related fields in higher education."
This leads to another subject close to Halter's heart, which embraces Entergy's Diversity, Inclusion and Belonging effort. She believes working with DIB parallels Entergy's vision, which is to "power life" with a diverse, inclusive and engaged culture. It inspires individuals to work together to grow a world-class energy business that creates sustainable value and is considered the premier utility. 
"It's about making people know they are wanted and belong. In our business, it goes beyond race and gender," added Halter. "The Revolutionary War hero John Paul Jones once said that 'men mean more than the guns in the rating of a ship.' Back then, the number of guns on a wooden ship would rate its quality and ability to fight against enemies. It's not the incredible technology we're entrusted with; instead, people are our most treasured asset. Through a foundation of acceptance and trust, our team can achieve anything."
This hits home personally for Halter. She moved from Maryland to be based at Entergy Nuclear headquarters in Jackson, Mississippi. Her husband and children have settled in and are comfortable calling Mississippi home. 
"Central Mississippi is the most hospitable place we have lived – and we've moved a lot in our careers. My husband started a small, veteran-owned business in the area, and our parents moved to Mississippi as well. We're all together and couldn't be happier."
Entergy Nuclear owns, operates, supports and provides management services to a national fleet of eight reactors in seven locations. With approximately 6,000 nuclear employees, Entergy is also recognized globally as a provider of nuclear services to companies in the U.S. and worldwide. 
---