Insights > 'Hoss, you need to go buy some lottery tickets because you're not supposed to survive this.'
'Hoss, you need to go buy some lottery tickets because you're not supposed to survive this.'
10/02/2018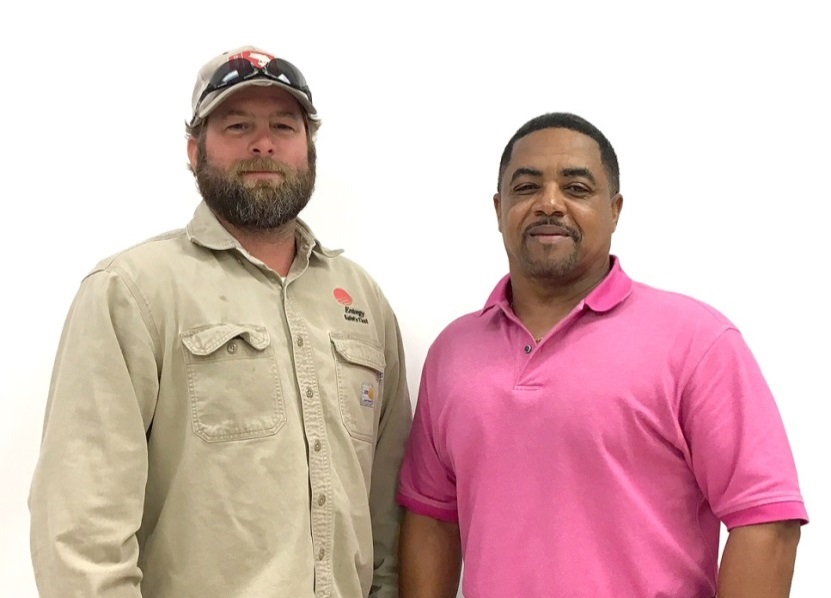 Peavy and Carroll Recount Day Port Allen Crew Rescued a Man Dangling from Power Line
Jesse Peavy's adrenaline was pumping as the Entergy lineman's bucket rose toward a man dangling from a power line.
"When I got up there, I expected to see burn marks on this guy – entry and exit wounds," Peavy said.
"By the grace of God," the man was alive, his fall protection equipment caught on a de-energized line. He was safely rescued thanks to a team effort by Peavy and other linemen from Port Allen.
"When I cut him loose from the harness and started booming down, he told me, 'Thank you.' I said, 'Hoss, you need to go buy some lottery tickets because you're not supposed to survive this,'" Peavy said.
What had started as a routine morning turned into a day unlike any Peavy had experienced in his 18 years as an Entergy Louisiana lineman.
Peavy and other crew members were returning to Port Allen after a routine job in Iberville Parish the morning of July 17 when the call came in from Entergy's distribution operations center about an incident involving two men and a power line along Highway 415.
Fewer than 10 miles away, Peavy and the Port Allen crew accelerated into emergency mode. They were met along the way by West Baton Rouge Sheriff's Office deputies who began clearing traffic for Entergy bucket trucks to travel to the scene.
Line Supervisor Aubrey Carroll had already been alerted and was traveling along Highway 415. He observed functioning traffic lights, signaling the nearby feeder was energized. However, he also noticed several blown fuses on the west side of the highway. In the distance, he could see a man dangling from a power line.
"I didn't know whether this guy was dead or alive and I don't think anyone did because when you look back at the accident and how it took place, it's by the grace of God that he's living today," Carroll said.
Carroll, Peavy and members of the crew arrived within minutes of one another at the scene where the two men had been working on a sign at an old gas station when something went awry.
At the scene, each Entergy employee had a role to play. Some were responsible for placing the truck outriggers. Others gathered equipment. And with little hesitation, Peavy took the lead and climbed into a bucket to retrieve the man.
"As I get closer, I hear him say, 'Help me, please.' At this point, I realize he's alive," Peavy recalled. "He's wrapped around all three phases and the neutral, and he's hung up and hanging from his lanyard."
Peavy told the man to remain calm as he released him from his harness by cutting the equipment with a lineman's skinning knife.
Once at ground level, firefighters and emergency medical services placed the man on a stretcher for transport to a local hospital.
To Peavy and Carrol, the successful rescue was a result of a team effort.
"It wasn't a one-man operation. The whole team was there and where they were supposed to be," Peavy said.
"It worked like clockwork," he added.
---