Insights > Hurricane Season: A Threat to All Louisianians
Hurricane Season: A Threat to All Louisianians
06/11/2018
Whether you live as far south as Cocodrie, as far north as Monroe or in a major city like New Orleans, hurricane season is a threat to all Louisianians. Consider 2008's hurricanes Gustav and Ike, which impacted our state 10 years ago.
Gustav was a wind event that impacted a large geographical area – entering the southeast region of Louisiana and exiting the northwest corner of the state. Ike would impact the southwest region of the state roughly two weeks later.
At the time it hit, Gustav caused the second-largest peak number of outages in the history of Entergy.
Another Busy Hurricane Season
Is Subtropical Storm Alberto, which made landfall along the Florida Panhandle just shy of the 2018 hurricane season, a harbinger of what's to come? Researchers at Colorado State University predict an average season with 14 named storms, six hurricanes and two major hurricanes (category 3 or stronger).
It Only Takes One
While we hope that no tropical weather events threaten our area, it only takes one major hurricane to turn the season into a disastrous one, which means we all need to be prepared for every season, regardless of the predictions.
Here's How We Prepare
We know the chance of being hit by a hurricane in any given year is very real. That's why we have a plan of continuous preparation, training and action called Operation: Storm Ready.
That plan calls for monitoring weather around the clock every day of the year. When weather threatens, Entergy uses forecasts, computer modeling and past experience to form early predictions about potential power outages and how long restoration might take.
We assess our ability to bring in and sustain thousands of restoration workers from around the country, if needed. Assessing damage, deploying personnel to the right place with the right materials and restoring power are all processes that we continually plan and improve.
Here's How You Can Prepare, Too
We have a number of ways to keep you informed before, during and after a storm. As you finalize your personal storm plans, make sure you are aware of all of the ways to receive information from us and send information to us: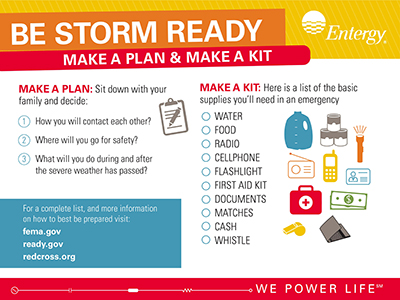 Stay Safe!
While we hope for the best, we plan for the worst. With plans in place, together we should be ready to weather any storm that comes our way.
---