Insights > It Only Takes One…10th Anniversary of Hurricane Gustav a reminder to always be prepared
It Only Takes One…10th Anniversary of Hurricane Gustav a reminder to always be prepared
08/30/2018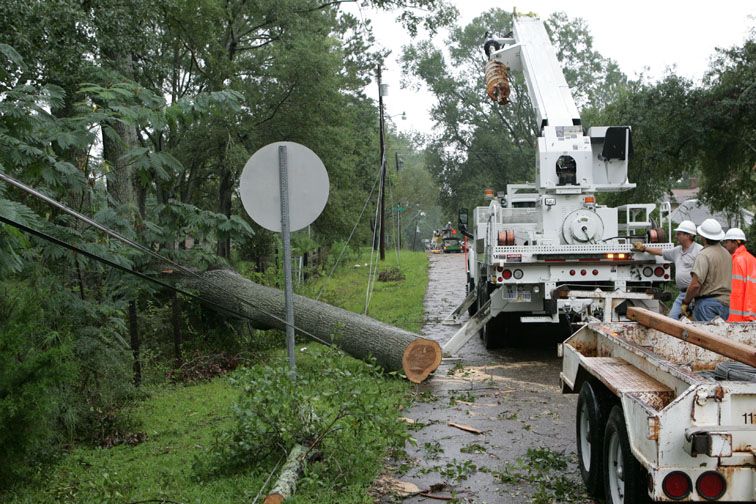 Hurricane Gustav caused outages to more than 38,700 Entergy Mississippi customers when it hit on Labor Day in 2008. Despite extreme damage, inclement weather and rugged terrain, more than 1,100 linemen and vegetation workers restored power in three days. *Note: Entergy's safety standards are much stricter in 2018 than they were in 2008, when these restoration photos were taken.
Do you remember what you were doing on Labor Day 10 years ago?
If you're an Entergy Mississippi customer chances are you do. Because on that fateful Monday--September 1, 2008—tens of thousands of our customers weren't grilling burgers, playing flag football or enjoying an end-of-summer beach trip.
Instead, they were dealing with a blow from a catastrophic storm.
Gustav Gone Wild
Hurricane Gustav made landfall that day near Cocodrie, Louisiana as a strong Category 2, causing outages to more than 38,700 Mississippi customers.
They were part of nearly 964,000 Entergy customers in Louisiana, Mississippi and Arkansas who lost power due to this storm. Only Hurricane Katrina caused more outages. The extent of damage to our equipment made Gustav the second-worst natural disaster in Entergy's 100-plus year history.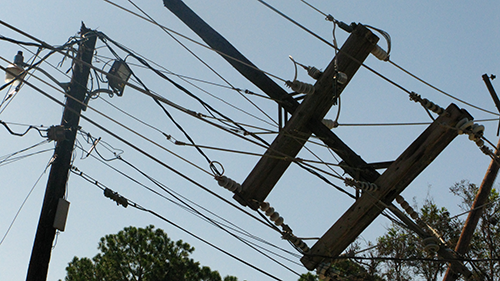 In Mississippi, Gustav required the repair or replacement of:
27 substations
10 transmission lines
174 distribution poles
984 spans of wire
69 transformers
121 cross arms
The hardest hit areas were rural, which made restoring service even more difficult. We used helicopters to patrol lines that traversed through off-road rugged terrain. We had to use bulldozers to pull equipment into a number of locations due to the flooded rights-of-way. We even had to hand-carry equipment and cross arms to several inaccessible locations.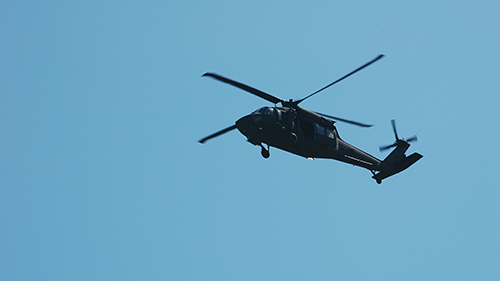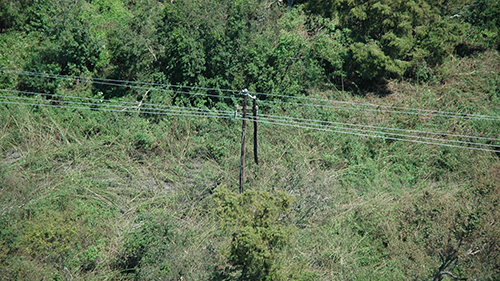 Despite all this--the extreme damage, inclement weather conditions and rugged terrain—1,100 linemen and vegetation workers restored power in three days.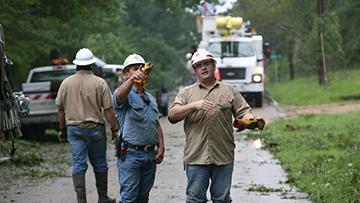 Linemen assess damage after the storm and prepare for restoration. 
It Only Takes One…
There's no guarantee that a major storm won't affect us this year, and it only takes one to make the season disastrous. That is why it is vital that we prepare for every storm season, regardless of the predictions.
…So Let's Stay in Touch
We have many ways to keep you informed while we work to restore your power. As you plan for hurricane season, make sure you know how to communicate with us:
Hope for the Best, Prepare for the Worst
The chance of a hurricane hitting our area in any given year is very real. That's why we have a plan of continuous preparation, training and action. We call it Operation Storm Ready .
We monitor weather around the clock every day of the year. When weather threatens, we use forecasts, computer modeling and past experience to form early predictions about potential power outages and how long restoration might take.
We assess our ability to bring in and sustain thousands of restoration workers from around the country if needed. Assessing damage, deploying personnel to the right place with the right materials and restoring power are all processes that we continually plan and improve.
With our plans in place, together we should be ready to weather any storm that comes our way.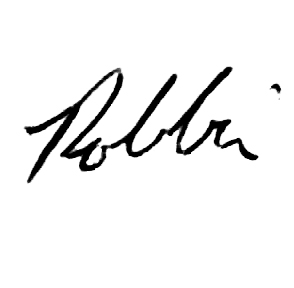 Robbin Jeter
Vice President of Distribution Operations
---