Insights > Kamm recognized as Entergy Lineman of the Game
Kamm recognized as Entergy Lineman of the Game
11/14/2019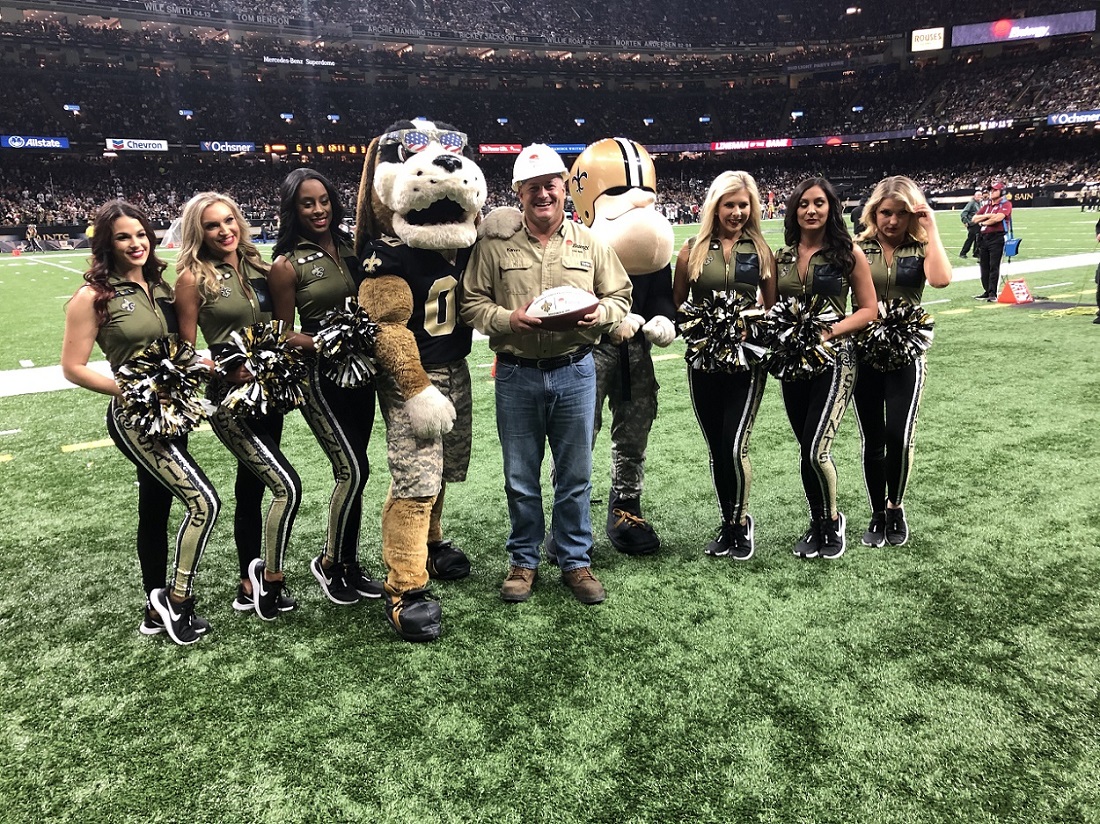 What may have been an upsetting loss for New Orleans Saints fans turned out to be a weekend to remember for senior lineman Wayne Kamm who was recognized as Entergy's Lineman of the Game during the Saints v. Atlanta Falcons match-up. During each New Orleans Saints home game, Entergy and the Saints honor a lineman for outstanding performance on the job and in the community.
Kamm, along with his girlfriend Lisa, enjoyed New Orleans with a two night stay and an all-access pass to pre-game festivities to watch the teams practice before kick-off. Ironically, the Buras, Louisiana raised lineman played high school football in Georgia, but he is a die-hard Saints fan.
"I've always dreamed of playing for the Saints, but supporting my home team is just as rewarding," said Kamm. "I was in The Dome cheering for the guys in the 70's when other fans were too shy to show their face. It felt great sharing the field with the players as a lineman for Entergy New Orleans."
Right before half-time, he watched the game from the sideline while preparing for his big debut. "Please put your hands together for today's Lineman of the Game Wayne Kamm," said the announcer as Kamm waved and smiled from ear-to-ear with the sainsation dancers, and mascots Sir Saint and Gumbo.
For the past 15 years, the senior lineman has been a dedicated worker and leader at Entergy New Orleans. Throughout his career, he has participated on the local safety advisory board and is currently his network's safety chairperson. His positive attitude consistently spills over to those who work around him, and he is a mentor to his younger peers teaching them how to perform safely.
 "One of my favorite parts of the job is seeing our customers relieved and satisfied once their power is safely restored. Fifteen years with the company has been a pleasure and I thank everyone who was involved in recognizing me as the Lineman of the Game," he said.
Kamm is a proud father of a son and daughter, and grandfather of two. He is a committed servant of the community and helps coach youth baseball programs. He enjoys fishing, kayaking, going to Saints games and enjoying life.
Lineman of the Game supports the company's mission to create sustainable value for our customers, employees, communities and owners. Aligning with Entergy's focus on becoming the premier utility of the Gulf South, the recognition supports the many ways we empower employees to work more productively through innovation and efficiency improvements that deliver exceptional customer experiences.
---