Insights > Life on the Road
Life on the Road
12/04/2018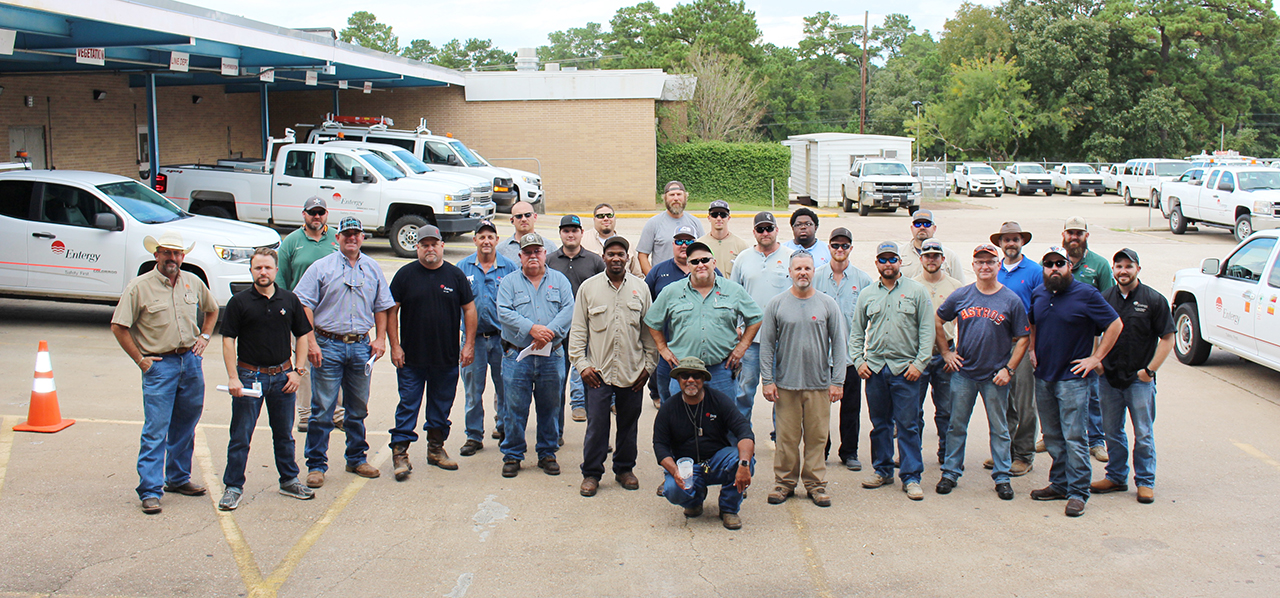 For Brian Scott, a distribution designer for Entergy Texas, Tuesday, Oct. 9 was a typical morning until his boss showed up in his office door at 9 a.m. "Hey, you want to go to Georgia?" he asked.
The next thing Brian knew, he was headed home to pack and back at the Conroe Service Center by noon to hit the road to Georgia.
In total, Entergy Texas sent 150 employees and contractors to help Georgia Power get the lights back on following Hurricane Michael.
Storm duty is part of the job for most Entergy Texas employees. They leave their homes and families during natural disasters and go to work. Mutual assistance agreements with other electric companies allow utilities to increase their workforce by "borrowing" restoration workers to help respond to a major outage event. When storms hit Entergy Texas' service area, mutual assistance agreements are critical to getting the lights back on for our customers.
Storm crews consist of a variety of workers -- linemen, servicemen, scouts, a construction foreman, a line supervisor, a mechanic, a tire man and logistics coordinators – whomever is needed to safely get the lights back on.
It's tough work. The days are long, and accommodations could be the cab of a work truck or in what is known as "tent cities." These crews work in areas that are severely damaged with no power, of course, and few resources.
Hurricane Michael wasn't the first storm for Brian Scott. When called upon, he puts his day job on hold to serve as a scout, working ahead of line crews to determine the cause of outages and what work needs to be done. Follow along with Brian for a first-hand look at what it's like to be on the road offering mutual assistance. 
TRIP JOURNAL, AS DOCUMENTED BY BRIAN SCOTT
Day 1
10/9/18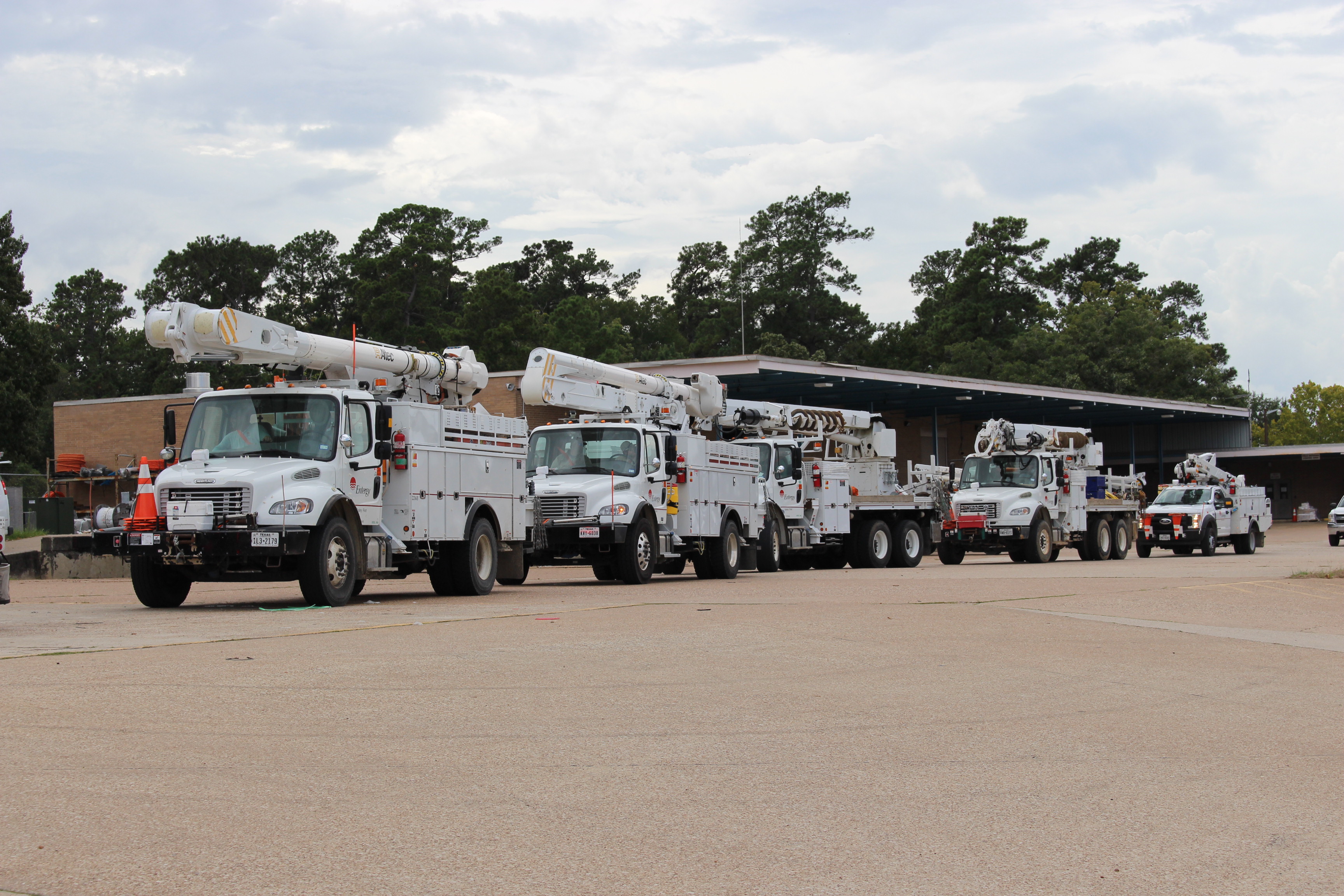 A 19-truck convoy consisting of two digger trucks, four large buckets, four service trucks and nine support vehicles depart the Conroe Service Center destined for Hammond, LA (320 miles). Another identical convoy left from the Beaumont area, headed to Georgia.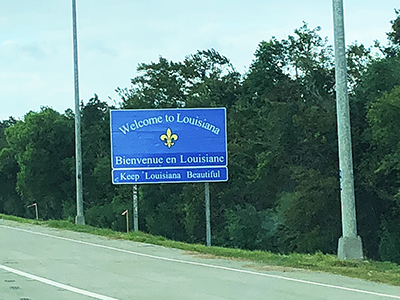 State line #1.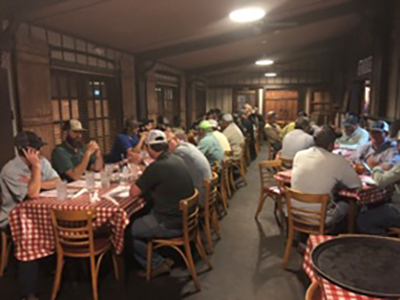 Dinner is a short 30 minutes away. Prejean's Simply Cajun restaurant just north of Lafayette, La.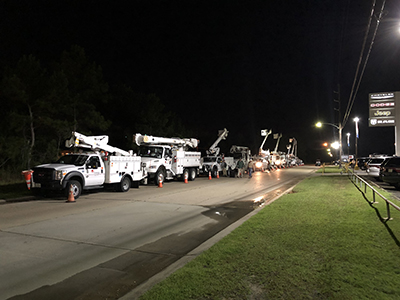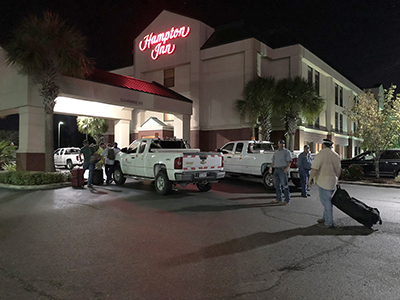 We arrive at our "home" for the evening in Hammond, La. Around 11:30pm. Split up between three hotels.
Day 2
10/10/18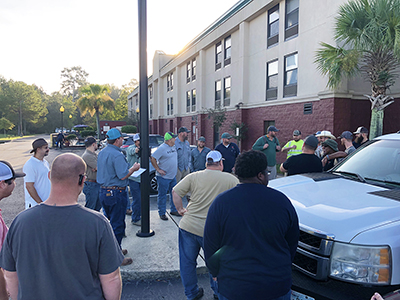 Pre-travel and safety meeting. We're planning to get to Fayetteville, Ga. today - 531 miles away.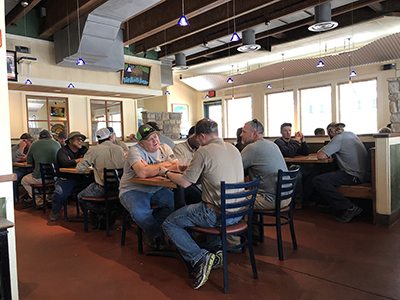 "A table for 36 please". Time to fill our bellies. With this many people we basically took over a Chili's in Meridian, Miss.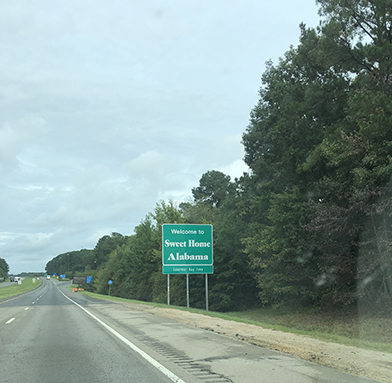 Hello Alabama. Our 3rd state crossing.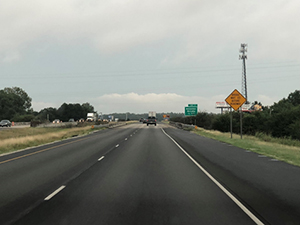 The outer bands of Hurricane Michael become visible as we turn on to I-459 loop around Birmingham, Ala.
Day 3
10/11/18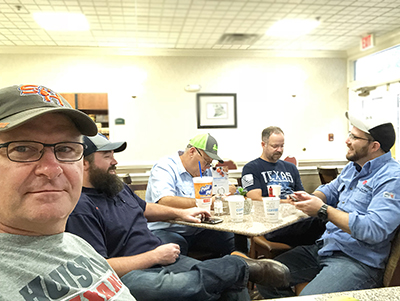 We made it to Fayetteville, GA and are waiting for our marching orders. That's me taking the selfie. Shortly after this we were back on the road to Tifton, Ga, 171 miles away.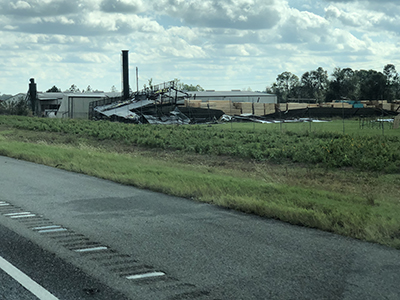 The further south we head, the more storm damage we see.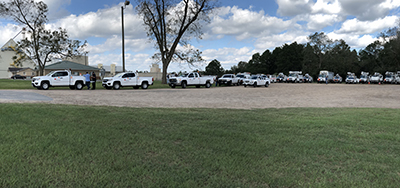 Getting staged and lined out to go to work. It's gonna be a long day.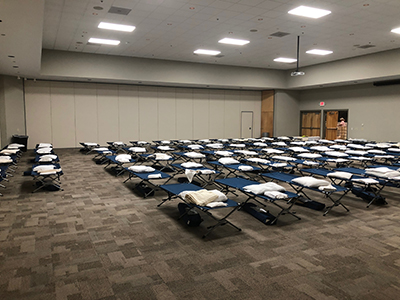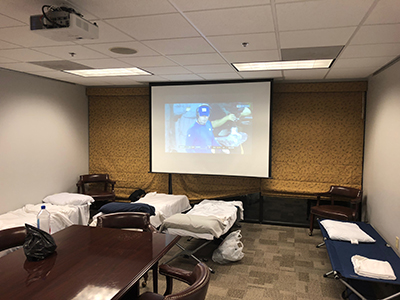 After a full day of work, we headed to "tent city" -- although in this case, it is in the University of Georgia/Tifton Conference Center. But the cots were real, and so was the football. We found a conference room and connected their overhead projector to a TV to watch Thursday Night Football.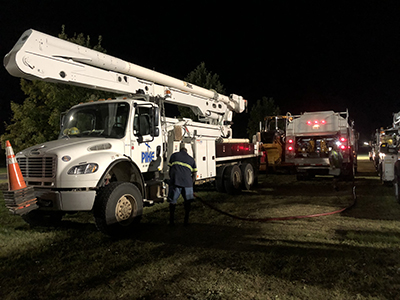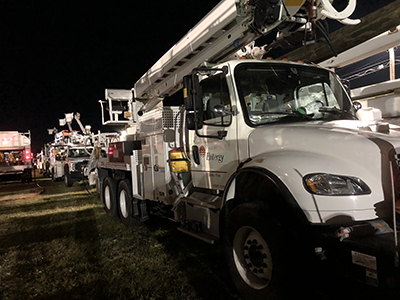 We got our trucks lined up and ready to roll as the fuel truck comes by to fill up all the bucket trucks.
Day 4
10/12/18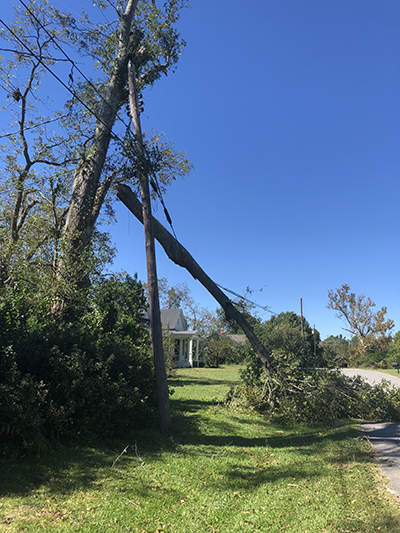 First day of work. We started making good progress and getting more customers on. I saw quite a bit of damage while scouting.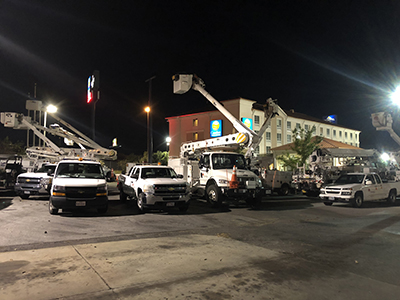 After a good day of work, we head back to Tifton to settle in for the night. We got an upgrade from the cots and will be sleeping the night in a hotel.
Day 5
10/13/18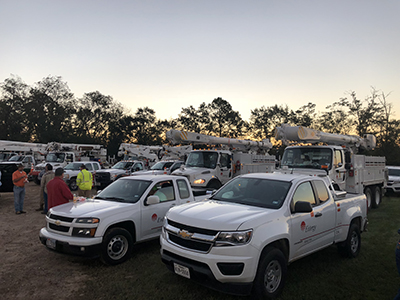 Getting ready to head out for the day. We're going to a new location today - Poulan, Ga.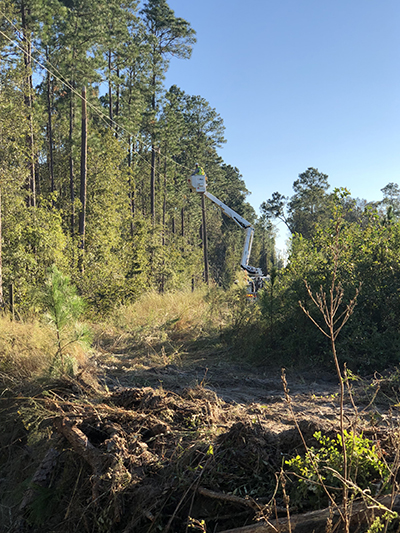 Our crews had to access infrastructure that was located off the road and in hard-to-get-to areas.
 Day 6
10/14/18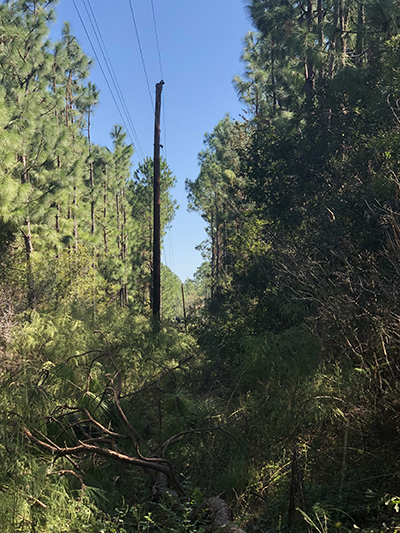 These hard-to-reach spots were even harder to access due to downed limbs. With no truck access, we were hiking these paths and linemen were climbing poles to raise downed power lines.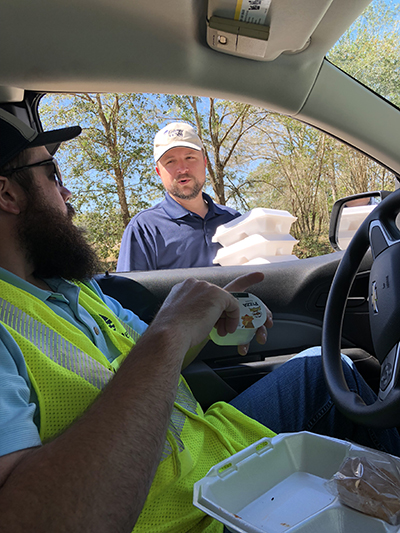 Our logistics gurus Brian and Kelvin did a fantastic job of making sure the trip went as smooth as possible. Whether it was lunch in the woods, finding fueling locations along the road, handling laundry days or making sure we had somewhere to sleep every night, they took care of all our needs while we were working.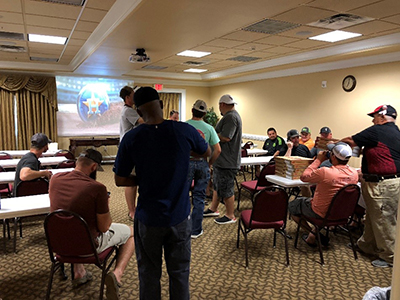 All of Poulan was back online on Sunday, Oct. 14, in the afternoon.
After a good day in the field, we were able to get ready for Astros vs. Red Sox, Game 2.
Day 7
10/15/18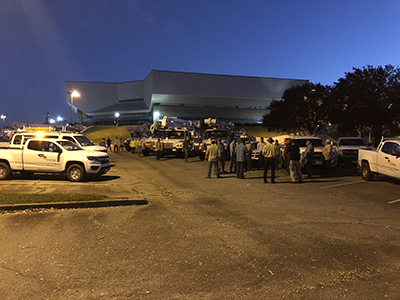 News just came down at 8:00 p.m. that we'd been released from Tifton. This morning we headed east 65 miles to Albany, Ga.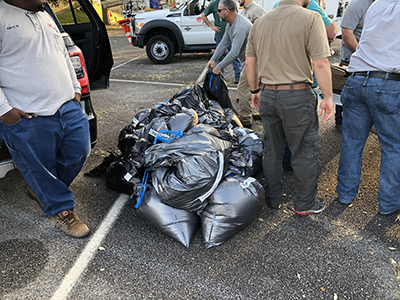 Laundry day has arrived - it's a very important day.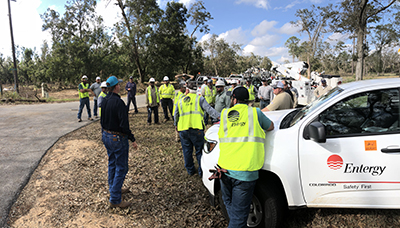 Pre-operation and safety meeting south of Albany.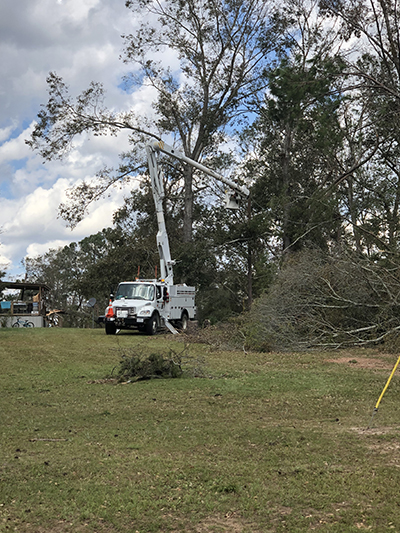 Our linemen are some of the best in the industry.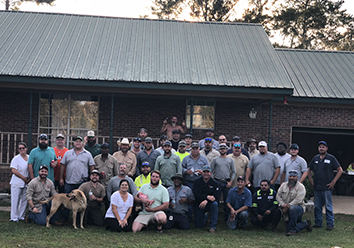 One of the most rewarding parts of storm duty is the appreciation from the customers we help. A Georgia Power customer we helped showed their appreciation for our work by cooking up burgers and hot dogs to feed the crew. We're grateful for the wonderful people we able to meet in Georgia.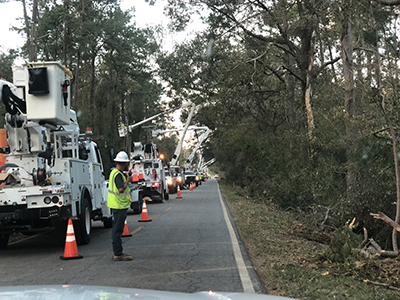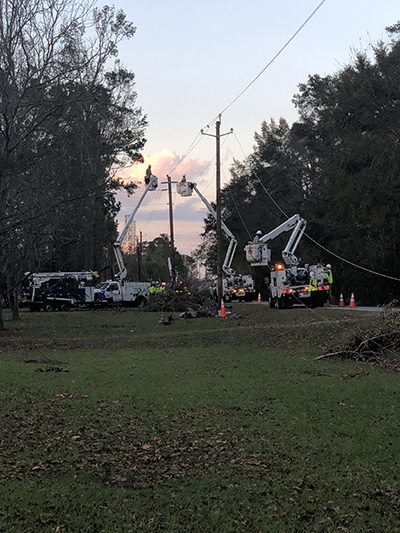 We assisted other out-of-town utility workers to get a three-phase trunk line pulled in to get local customers back on.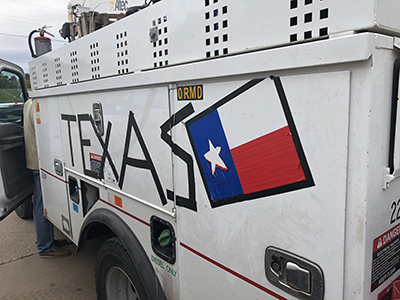 We had to represent Texas while on the road.
Day 8
10/16/18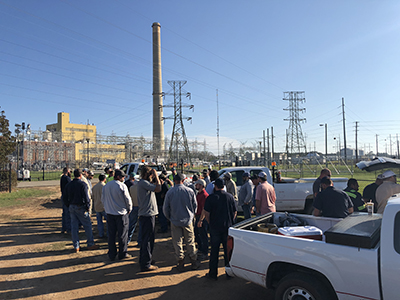 Pre-operations and safety meeting.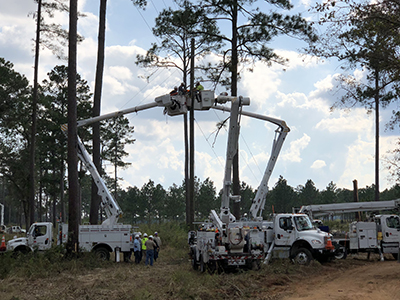 Three-phase pole replacement south of Albany.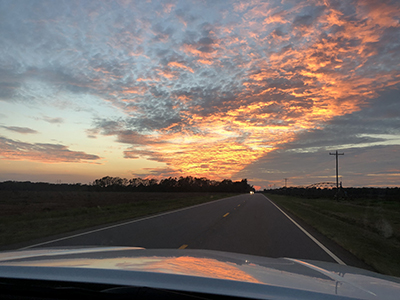 At around 6:00 p.m. we were released by Georgia Power to go home. It was like Texas was leading the way home for us. Grateful for the opportunity to help those in Georgia, but always happy to be heading home.
By the numbers:
10 days
8 state lines crossed.
5 towns assisted.
Approx. 2,300 miles x 19 trucks = 43,700 total safe miles traveled.
A total of 5,580 safe hours worked.
It's good to be home.
- Brian Scott
---