Insights > 'Like a Trip Down Memory Lane'
'Like a Trip Down Memory Lane'
08/05/2019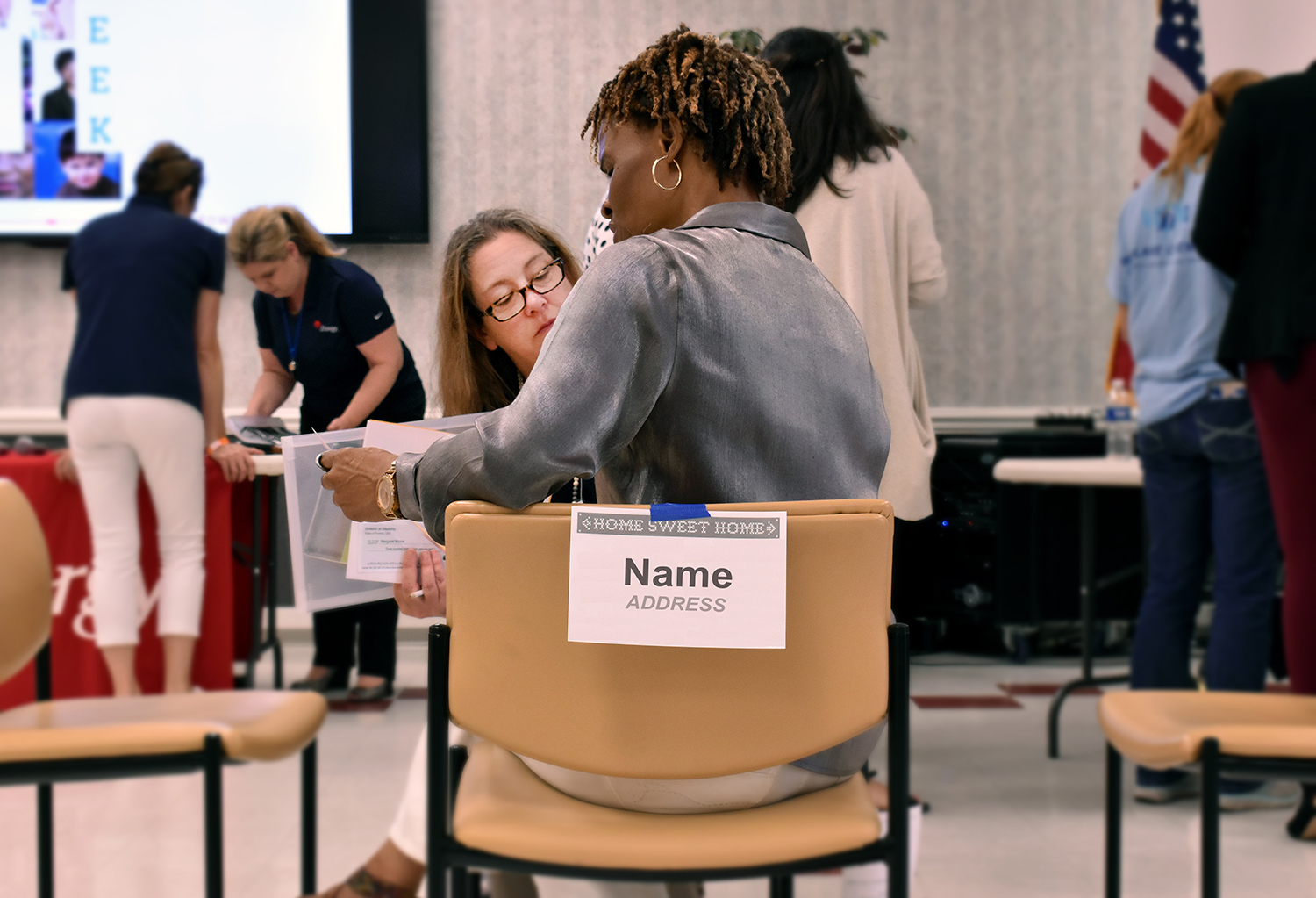 Entergy Louisiana using simulation to raise awareness of poverty and increase collaboration among community agencies providing critical services
A day playing the role of a poor, disabled woman took Dawn Frederick "down memory lane" to a time when living in fear of not making ends meet was her reality.
It also gave her a sense of fulfillment, knowing that her work in the Calcasieu Parish Police Jury accounting department makes a difference.
"Even with the small part that I play here, I feel like I'm helping contribute to bettering the lives of people who are where I was," Frederick said.
She was among some 80 people to take part in a recent Community Action Poverty Simulation organized by Entergy Louisiana that included volunteers with United Way of Southwest Louisiana and Oasis Safe Haven in Lake Charles.
Many of Frederick's coworkers and Westlake Chemical employees, among others, also took part in the exercise while volunteers staffed a dozen resources tables – with signs like "Quick Cash Payday & Title Loan," "Food-A-Rama Super Center & Bank" and "Community Action Agency" – located in the fictional town of Realville.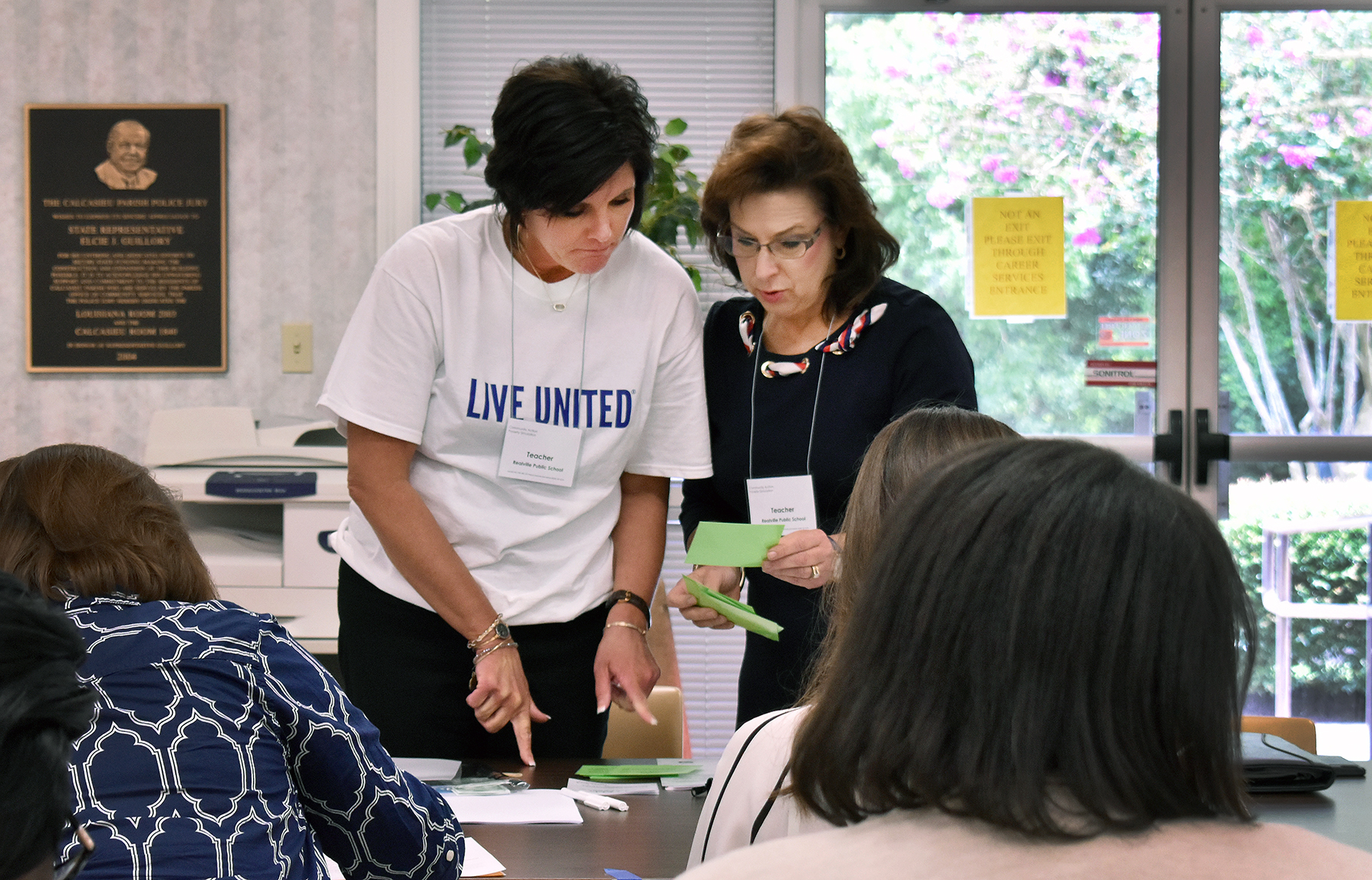 Becky Ainsworth, United Way of Southwest Louisiana director of resource development, and Margaret Harris, Entergy Louisiana customer service representative, help Community Action Poverty Simulation participants seated in the office of "Realville Public School," one of a dozen resource tables at the event. 
"While today's event may seem like a game, there's nothing fun about living in poverty," said Lorena Ceasar, an Entergy Louisiana customer service representative who helped organize the simulation.
ALICE Report
The purpose of the simulation, Ceasar noted, was to allow participants to walk in the shoes of an ALICE family — working families struggling to make ends meet while living paycheck to paycheck. ALICE, an acronym for Asset Limited, Income Constrained, Employed, is the name of a report Entergy helped sponsor as part of the company's low-income initiative.
In fact, the report found that 46% of Calcasieu Parish households are living at or below ALICE level, said Becky Ainsworth, United Way of Southwest Louisiana director of resource development.
For Ceasar, the description is all too familiar. As a young girl, she remembers sleeping on a single bed with her three siblings in her family's four-room home in rural Elton, Louisiana. It was not until her father took a job as a laborer at a local plant that things started looking up for her family.
"We were ALICE," she said.
Organizations that Can Offer a Helping Hand
During the simulation, Frederick's family unit consisted of her as grandmother and others as daughter, son-in-law and 15-year-old granddaughter. Her character was disabled, and her daughter stayed home to care for her. Her granddaughter was in high school and son-in-law held a low-wage job. Money was tight and there was little to spare for food and bills as the mortgage company was knocking on the door.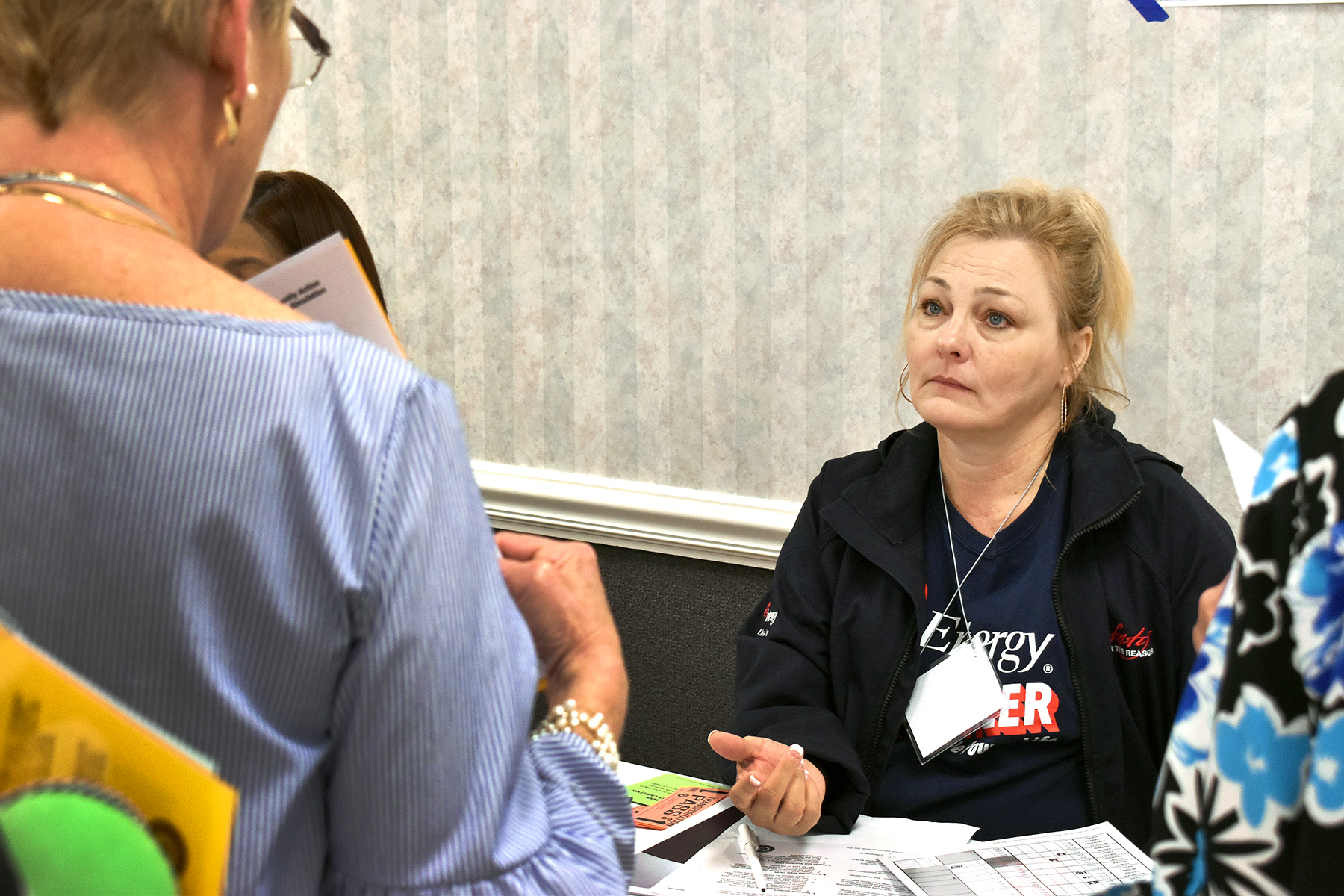 Maxine Landry, Entergy Louisiana administrative assistant, collects money at "Food-A-Rama Super Center and Bank" during a Community Action Poverty Simulation that Entergy Louisiana facilitated recently in Lake Charles.
The family tried and tried again to better their situation and avoid taking out high-interest loans. Frederick recognized the struggle of being denied services at every turn and, at one point during the simulation, kicked into survival mode.
"I was in that moment. I was legitimately frustrated and felt like I was running in circles and getting nowhere, and that was a true to life feeling," Frederick said. "I've been there and done that. It was like a trip down memory lane."
Today, she considers some of the same questions she considered years ago: "What do we need and what can we do without? What is necessary and what is luxury?"
Her experience being a young, single mother and, later, a married woman whose family struggled to stay afloat, helped strengthen her resolve not only in Realville, but also in real life.
In Realville, Frederick's family unit was the only one to complete the simulation with enough money to buy food through the end of the month. In real life and at almost 40 years old, Frederick became the first in her family to earn a college degree, obtaining a bachelor's in accounting and finance from McNeese State University in 2016.
She has even sought ways to give back to her community, including volunteering as site coordinator for the Volunteer Income Tax Assistance program, a program Entergy supports annually in select locations across Louisiana with the help of community partners.
When asked if the simulation was beneficial, Frederick responded, "It makes you more aware of the hardships and would be really eye-opening for anyone who hasn't experienced the struggle firsthand."
"You could be the poster child for needing help, but it doesn't mean you'll get it," she added.
Kristin Masoner, an Entergy Louisiana customer service specialist who helped lead the simulation, said that while poverty knows no boundaries, there are ways organizations can partner to help improve the quality of life in our communities.
"Poverty has no age, it has no color. And while there's no roadmap out of poverty, there are organizations that can offer a helping hand," Masoner said. "It's our hope that the simulation will continue to raise awareness of poverty and increase collaboration among agencies providing critical services to our friends and neighbors facing tough times. Together, we truly can help power life for all Louisianans."
About Community Action Poverty Simulation
The Community Action Poverty Simulation (CAPS) is owned by the Missouri Community Action Network and is an interactive immersion experience designed to sensitize community participants to the realities of poverty. If you are interested in learning more about the Community Action Poverty Simulation or purchasing a CAPS kit license, please visit communityaction.org or povertysimulation.net.
---