Insights > Entergy Workers Continue Restoration Efforts - May 12, 11 a.m. Update
Entergy Workers Continue Restoration Efforts - May 12, 11 a.m. Update
05/12/2019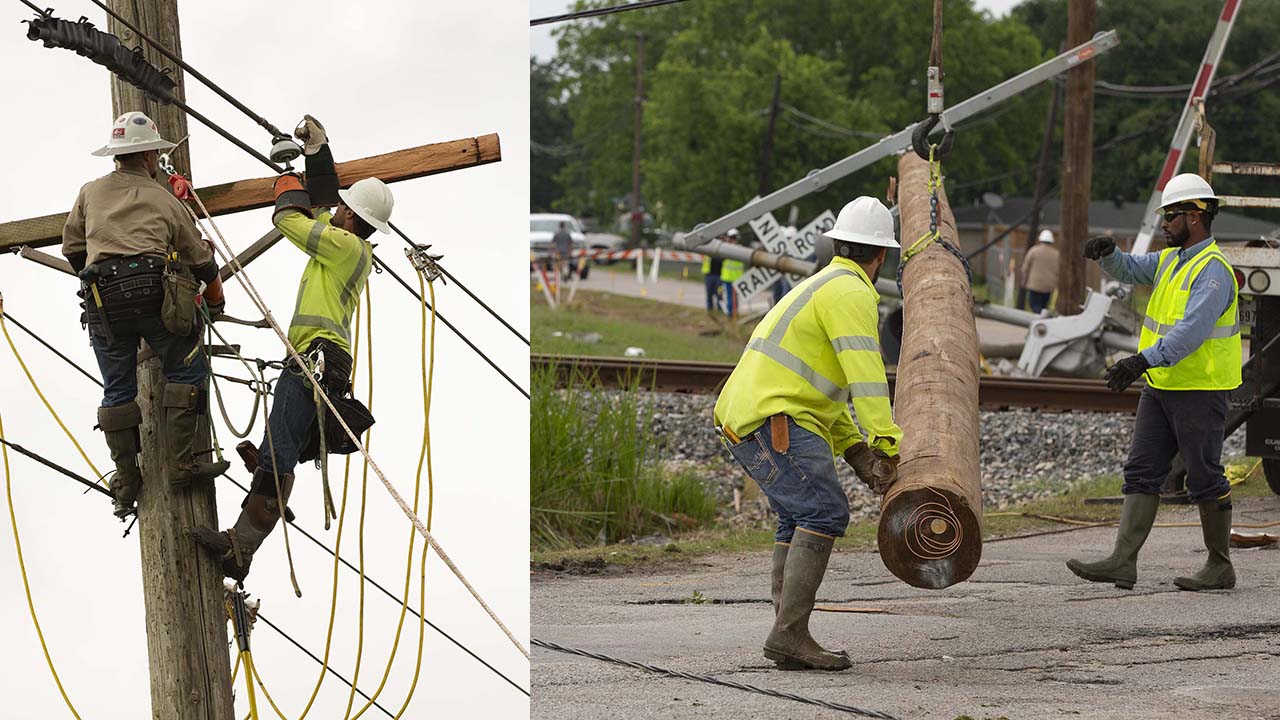 Storms that began on May 9 continue disrupting power to our customers. Even as restoration progresses well from the earlier effects, weather damage to our system in Louisiana has caused new outages for customers.
All customer outages were restored yesterday in Mississippi. But strong thunderstorms with severe lightning and damaging winds moved through Louisiana this morning. The storms brought down multiple poles and damaged facilities, causing additional outages across the southeast area of Louisiana. The largest concentration of outages is in Jefferson, Orleans and St. Charles Parishes. Crews are busy restoring power and assessing damage in Louisiana. We have shifted our workers within the state and moved contract workers from Mississippi to help in Louisiana. We expect to restore all Louisiana customers by late today.
Across our service territory at 10:30 a.m.:
11,100 outages in Louisiana. All customers should be restored by late today.
9,700 outages in Texas. All customers should be restored by late Tuesday.
Even with our expanded workforce and a good restoration plan, it's going to take time to restore all power in every affected area. In Texas, we will focus today in the Winnie and Port Arthur areas. Crews in Texas will be working in rear-lot areas. As these are inaccessible by line trucks, crews work out of pick-up trucks. If you don't see us working near you, keep in mind that we may be working on another part of the system that you can't see but that is needed to get power to you.
Likewise, customers may see a number of vegetation crews working today, but they should be in and out quickly. It can be frustrating for you to see trucks move away from an area before power is restored. Our work, however, has to take place in a certain order. If the trucks leave, they will come back.
Stay Informed
Information remains the best tool to help manage through this difficult time. We're committed to providing you with accurate and timely information about the restoration. 
There are a variety of ways customers can stay informed. Our View Outages tool provides the status of restoration in your area on an almost real-time basis. If you relocated due to the storm and View Outages indicates power is on in your area, verify power is on at your location by checking with friends and neighbors. Power may be restored elsewhere while a problem at your specific location still needs to be addressed.
Two customer information centers are open today where company representatives will be on hand:
Safety First
Safety remains our key value during power outages and severe weather conditions. The greatest danger during and after a storm like this is from downed power lines. If you see a power line on the ground or in the trees or bushes—do not go near! Call 800-9OUTAGE (800-968-8243).
Another danger comes from customers who improperly connect a generator to their home. A registered electrician should connect it to your home to prevent death or injury to our linemen or damage your home's electrical system. Learn more about generator safety.
Here's what you can expect from us during the restoration.
We will provide regular updates on our progress. Stay in touch through the news media, social media, our smartphone app, text messages, outage maps on entergy.com and stormcenter.entergy.com, direct-to-customer outage updates and 800-9OUTAGE (800-968-8243).
If you don't see us working near you, keep in mind that we may be working on another part of the electrical system that you can't see but is needed to get power to you.
Do not approach utility workers at a job site. Our work sites can be dangerous locations and interruptions will slow our workers' progress.
You can make sure your home or business is ready for us to restore your power.
Check outside your home or business for damage to your electrical equipment.
If the meter or any of the piping and wires on the outside wall of your home or business is missing or looks damaged, call an electrician to make repairs.
Entergy Storm Center has information to help you know how to spot damages.
---