Insights > Power Principles: A Conversation with Eugene Butler
Power Principles: A Conversation with Eugene Butler
03/31/2017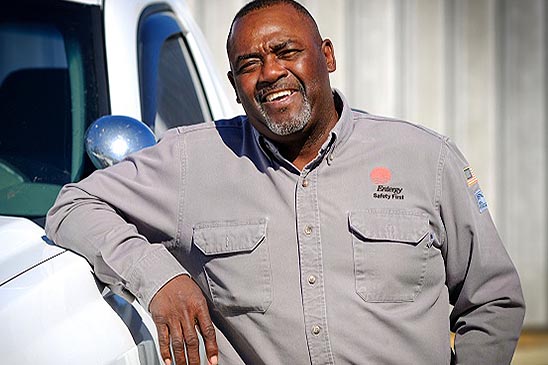 Eugene Butler is a journeyman serviceman and has worked for Entergy Arkansas for 34 years. He and his wife Joyce live in Eudora, Arkansas. They have two grown children.
What's your power principle at work? The customers come first; they pay our salaries and are always right. If you can solve their problems, do it. 
How do you work and live safely? I think it is through good communication with my co-workers, making safety personal and applying the human performance tools to every task.
What's your job like? As a serviceman, I work alone most of the time, performing dozens of routine maintenance tasks in Ashley and Chicot counties. I respond to customer complaints about power outages, repair outdoor lighting and install or remove meters as needed, to name a few.
What's some of the best career advice you've ever been given? Be responsible – starting with being on time. Back when I began as a meter reader in 1983, I had a supervisor who was a stickler for starting work on time. He impressed that upon me, and it has been important to me ever since.
Would you like to join Eugene as he powers lives for customers in the Southeast? Check out career opportunities with Entergy!
---