Insights > Union Power Station Introduces Freshmen to Entergy Power Generation
Union Power Station Introduces Freshmen to Entergy Power Generation
12/12/2018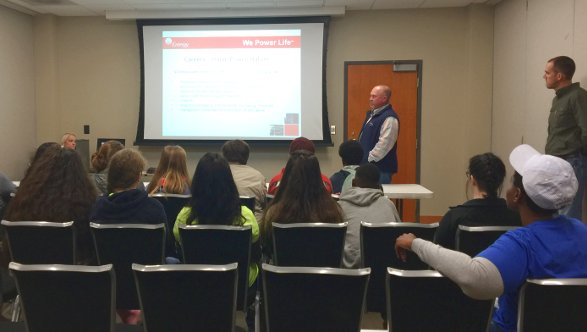 Ninth-grade students from schools in Union County learned about Entergy Arkansas' Union Power Station and careers in power generation during Manufacturing Day in October.
​"A lot of local students from El Dorado don't know what's here when it comes to industry," said Bryon Frederick, team leader, maintenance. "We just want to make them aware that we're here."
Manufacturing Day is a national event geared toward narrowing the skill gap that industries are seeing by inspiring students to consider careers in manufacturing. The goal is to expose local high school freshmen to industrial options in their communities and show them how to prepare for well-paying jobs.
During Manufacturing Day in El Dorado, students went through a general session, breakout sessions and a career fair where they visited booths and interacted with representatives of Entergy and other participating companies. Union Power Station employees were on hand to share information about power plant operations.
"We're looking to develop a workforce," said Matt McCurdy, team leader, maintenance. "We want to reach out to local students and bring in some of the local talent we have in this community."
---