Insights > 'You Bring Light Back to Everyone': Songwriter Befriends Lineman during Northeast Restoration
'You Bring Light Back to Everyone': Songwriter Befriends Lineman during Northeast Restoration
04/09/2018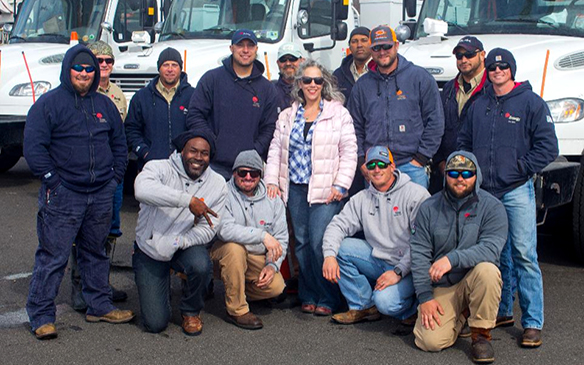 For Entergy crews who've helped restore power in the Northeast, expressions of gratitude have come in many forms — kind words of support, offers of food and water, and thank-you letters and social media posts. But so far, LisaBeth Weber may be the only person who's written a song in their honor.  
"I met LisaBeth when she was out taking photos of utility crews in Carversville, Pennsylvania, where we were working after Hurricane Sandy," said Christian Gioia, senior lineman in New Orleans' Metro Region. "She told me about a song she'd written about linemen and sent me a link." 
Weber said she was inspired to write "Trouble Man" when she saw utility crews from different parts of the country restore service in her area after Hurricane Irene in 2011. The following year when Sandy knocked out power to her home in Bucks County, Pennsylvania, she made an effort to thank utility teams restoring service — and to share her song. 
"I stopped to say hi to a crew from Louisiana, and little did I know it would turn into a friendship," said Weber, a freelance writer and musician whose song includes this chorus:
I know it's no walk in the park
When some feel like they're left in the dark
But I say thanks for all that you have done
You bring light back to everyone 
When he got home, Gioia posted the link to "Trouble Man" on his Facebook page, and it ended up getting thousands of likes and shares, especially by utility workers and their families. A few years later, Weber's song was noticed by a producer of "Life on the Line," a film about linemen released in 2016 starring John Travolta. Weber's song was chosen for the closing credits. 
Weber said the support she received from Gioia and others in the industry has been pivotal in the growing popularity of her song and video, which features photos sent to her by crews restoring power in the Northeast.  
"I wrote the song from my heart," she said. "After more people began discovering 'Trouble Man,' I started getting notes from linemen's families, and that really hit me. My mission in life is to make a difference in the world, and knowing that my song is special to linemen and their families means a lot to me."
Whenever crews arrive to restore power, "there's a feeling that heroes are coming to save the day, and people want to thank them," Weber said. "Most of us can manage for a few days when we lose power, but winter outages like we just experienced are harder, especially for elderly folks when they lose heat." 
In 2014, Weber wrote another song, "Letter to a Lineman," that includes these lyrics: 
When a lineman falls, it's like we all fall down
You are your brother's keeper
I'll keep the lights down low,
And when you get the call to go
I pray it's a day like any other 
This year, Weber and Gioia reconnected when he and his fellow employees returned to Pennsylvania in March to help restore power after a series of nor'easters. 
"We had checked into a campground in Bucks County and were awaiting our next assignment," Gioia said. "LisaBeth's power was out again, and it turned out that she was only ten minutes away. We got to talk and catch up, and I introduced her to my coworkers." 
The reunion also presented an opportunity for a group photo of Weber with her friends from Entergy. 
"I have so much respect for people who do this job, especially when dealing with hazardous conditions," Weber said. "I feel like I have new friends for life, and I feel privileged to be welcomed into the lineman family." 
Photo: LisaBeth Weber (center) is shown with New Orleans' Metro Region employees (kneeling from left) Shelton Hudson, Christian Gioia, Jordan Labat and Dru Richard; and (standing from left) John Dubuisson, Craig Canepa, Chad Gould, Matt Chaisson, Joey Tatman, Clyde Scales, Chris Bowers, Damian Fahr and Aaron Morehead. 
---