News Center > 85 Percent of Entergy Customer Outages Restored After Weekend Storm
For Immediate Release
85 Percent of Entergy Customer Outages Restored After Weekend Storm
04/30/2017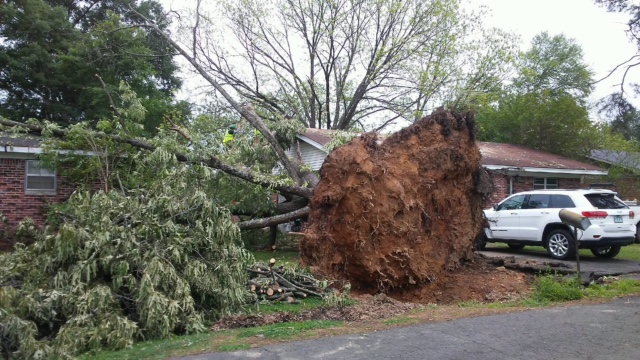 Little Rock, Arkansas – Crews spread across the state have restored power to more than 85 percent of the peak of 71,000 Entergy Arkansas customers hit by severe weather over the weekend.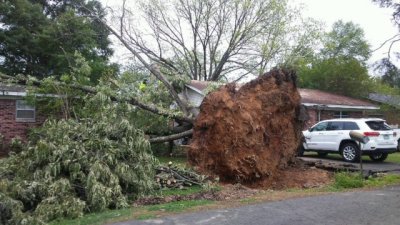 Workers estimate restoration times for the remaining 8,000 customers will be sometime Tuesday with a few especially difficult areas carrying over until Wednesday.
"We brought in about 1,000 workers from out of state to assist getting the power back on as quickly and safely as possible," said Audie Foret, senior manager of operations and safety. "As work progresses in some areas, we are moving resources to other parts of the state."
Scouts reported more than 200 broken poles, 210 spans of wire down and 35 transformers damaged or destroyed by the storm. High winds and flooding made initial progress difficult. Crews continue to monitor rising water for potential danger.
As with any weather event, please be mindful of the following safety tips:
Live wires can be deadly. Stay away from downed power lines. Call 1 800 9OUTAGE or 1 800 968 8243 to report downed or dangling power lines, poles or other damaged equipment.
Do not trim trees or remove debris on or near downed power lines. Only power company crews or their contractors should remove trees or limbs touching power lines.
Keep away from the immediate areas where crews are working. There is always the danger of moving equipment and the possibility of construction materials or limbs or overhead wires falling to the ground.
If you plan on using a generator for temporary power, get a licensed electrician and disconnect from the utility electric system before hooking up to your home main electric panel.
Do not run a generator in a confined space without adequate ventilation.
Entergy Arkansas provides electricity to approximately 700,000 customers in 63 counties. Entergy Corporation is an integrated energy company engaged primarily in electric power production and retail distribution operations. Entergy owns and operates power plants with approximately 30,000 megawatts of electric generating capacity, including nearly 9,000 megawatts of nuclear power. Entergy delivers electricity to 2.9 million utility customers in Arkansas, Louisiana, Mississippi and Texas. Entergy has annual revenues of approximately $10.8 billion and nearly 13,000 employees.
-30-

More information is available on Entergy's website at entergy-arkansas.com
---