News Center > Crews Making Restoration Progress After Tornado Tears Through New Orleans East
For Immediate Release
Crews Making Restoration Progress After Tornado Tears Through New Orleans East
02/08/2017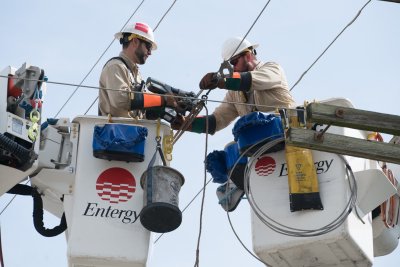 Some 250 Entergy employees and contractors hit New Orleans East streets this morning
NEW ORLEANS – As of noon today, Entergy New Orleans crews have restored power to 6,700 New Orleans East customers who lost electrical service Feb. 7 in the wake of a devastating tornado, down from a peak of 10,415 New Orleans East customers without power at 11 a.m. yesterday. Approximately 3,700 are still without power in the hardest-hit areas.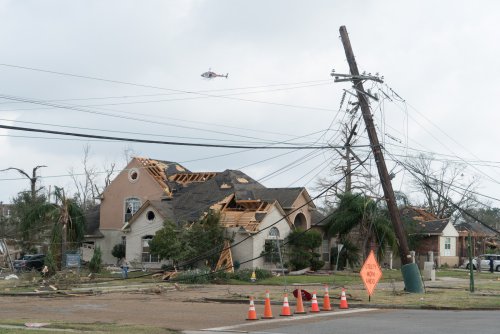 The tornado, which was associated with a severe weather system that swept across the city, caused significant damage to portions of Entergy's electrical system. Preliminary damage reports indicated that 160 damaged and downed poles, 100 damaged transformers, 50 downed transmission lines and 150 spans of downed and damaged wire were in need of replacement, among other repairs.
Although Entergy crews were able to restore power in isolated pockets to 4,000 New Orleans East customers by midnight, contract crews joined company crews this morning and 250 employees and contractors began tackling the hardest-hit areas. Customers in those hardest-hit areas can expect to be without power for three-to-five days.
In addition, following damage to gas equipment, Entergy gas crews responded to 69 leak calls to ensure the safety of those locations. Approximately 200 customers have had their gas service turned off due to leaks or severe structural damage. Entergy will restore gas service to those customers as soon as their property is approved by city inspectors and the structures can pass an Entergy safety check.
"We understand that customers who had rebuilt after losing everything during Hurricane Katrina are devastated and are still trying to make sense of the damage left by a tornado," said Charles Rice, president and CEO of Entergy New Orleans. "Our crews are working to restore power as quickly as they can, but they must keep safety as their first priority as they try to untangle the mess the tornado left in its wake."
To help customers with basic needs, Entergy New Orleans is working with the American Red Cross to assemble and distribute emergency kits to those who lost everything. The kits include a variety of items to make life a little bit easier in a disaster.
"We care about our customers and know many are struggling to deal with the reality of having everything they own destroyed in an instant," said Rice. "We're not immune. We all know friends, family and co-workers who live in New Orleans East. That's why we're glad to do what we can to provide the basics to those who need it most until they can make sense of the devastation."
Customers are urged to make safety a priority, stay away from the many downed power lines and allow crews space to safely repair the damage. Customers also are reminded to keep gas safety a priority and call 1-800-ENTERGY should they smell gas or suspect a leak. If they do smell gas when returning to their property, they should not operate anything that could cause a spark and should leave the location immediately.
To stay up-to-date on the latest restoration information, customers can visit entergy.com/viewoutages, select Entergy New Orleans, and click on the red bar at the top of the screen. They also can sign up for outage texting at entergytext.com or download the free Entergy app at entergyapp.com. Should customers already have outage texting and want to stop it until their homes are rebuilt, they can text STOP to discontinue messaging and re-subscribe when they're ready.
Entergy New Orleans, Inc. is an electric and gas utility that serves Louisiana's Orleans Parish. The company provides electricity to more than 198,000 customers and natural gas to more than 106,000 customers. Entergy New Orleans is a subsidiary of Entergy Corporation.
Entergy Corporation is an integrated energy company engaged primarily in electric power production and retail distribution operations. Entergy owns and operates power plants with approximately 30,000 megawatts of electric generating capacity, including nearly 10,000 megawatts of nuclear power. Entergy delivers electricity to 2.8 million utility customers in Arkansas, Louisiana, Mississippi and Texas. Entergy has annual revenues of approximately $11.5 billion and more than 13,000 employees.
-30-
entergyneworleans.com
facebook.com/EntergyNOLA
Twitter: @EntergyNOLA
---