News Center > Crews Working to Restore Power to Thousands of Customers
For Immediate Release
Crews Working to Restore Power to Thousands of Customers
08/28/2017
Kacee Kirschvink
|
504-576-4132
|
kkirsch@entergy.com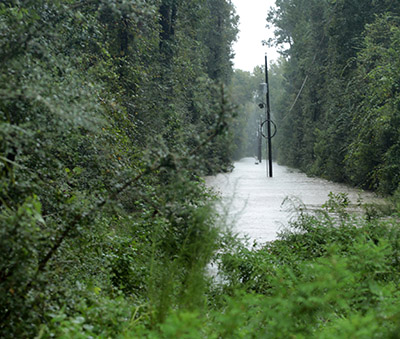 Harvey continues its destruction in Southeast Texas, causing historical flooding and wreaking havoc on the electrical system.
At 1 p.m. just over 29,000 customers were without power - down from a peak of 41,000 customers. Restoration for the majority of the outages is expected to be Saturday evening, if customers can take power at their locations. However, the storm continues to cause problems in Southeast Texas, so it could take longer to restore power in some areas.
"Normally, when a hurricane or tropical storm strikes and causes power outages, it moves on and we are able to steadily reduce the number of outages from the peak," said Vernon Pierce, vice president of customer service for Entergy Texas. "But due to Harvey lingering over the same area for an extended period, it's made restoration efforts a marathon. Each day we'll restore outages and then the weather undoes our work."
Since Friday, Entergy Texas has restored almost 78,000 customers who experienced outages. However, the storms continue to cause new outages.
More than 1,700 restoration workers have been deployed to help restore power. These include company employees, off-site workers from other utility companies and contract workers.
Of those without power in Texas, about 5,800 customers are without power either because flooding prevents Entergy from accessing their location or their power was disconnected due to safety concerns associated with the high water in their areas. This number may rise as heavy rains continue.
"In addition to not being able to get to some areas, we can't use our bucket trucks until sustained winds are less than 30 mph," Pierce said. "But we can still begin restoring service to customers by closing circuit breakers, rerouting power and other actions."           
Customers are urged to stay away from power lines, even if they think the lines are dead. Contact Entergy immediately to report the situation. For more emergency tips and the latest on outages and storm information, visit the Entergy Storm Center.
Entergy Texas, Inc. provides electricity to more than 440,000 customers in 27 counties. It is a subsidiary of Entergy Corporation. Entergy Corporation is an integrated energy company engaged primarily in electric power production and retail distribution operations. Entergy owns and operates power plants with approximately 30,000 megawatts of electric generating capacity, including nearly 9,000 megawatts of nuclear power. Entergy delivers electricity to 2.9 million utility customers in Arkansas, Louisiana, Mississippi and Texas. Entergy has annual revenues of approximately $10.8 billion and nearly 13,000 employees.
-30-
entergytexas.com
Twitter: @EntergyTX
Facebook: Facebook.com/EntergyTX
---