News Center > Entergy Announces Senior Executive Personnel Changes
For Immediate Release
Entergy Announces Senior Executive Personnel Changes
04/10/2016
Kay Jones
Media Relations
(504) 576-4238
cjone22@entergy.com
David Borde
Investor Relations
(504) 576-5668
dborde@entergy.com
Bunting announces plans to retire in 2017; West, Vinci, Brown take on new responsibilities
NEW ORLEANS -- With the planned retirement of one of the company's Utility executives in 2017, Entergy Corporation (NYSE: ETR) today announced a series of leadership changes to support the continued growth of its business.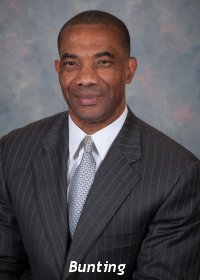 After more than 33 years in the utility business, Theodore (Theo) H. Bunting, Jr., group president, utility operations, has announced his intent to retire in the second quarter of 2017.
Under Bunting's leadership over the last four years, the company has developed and is executing a comprehensive Utility growth strategy. The strategy includes delivering affordable energy with high quality customer service, while strengthening the Utility's infrastructure and driving economic development and job creation in the communities served by the company.
"Theo has made significant contributions to our business and our industry as a leader and strategic advisor," said Leo P. Denault, chairman and chief executive officer of Entergy.  "His depth of knowledge, experience and intuitive understanding of the business has positioned Entergy well to successfully capture growth opportunities. Theo is also a trusted friend with whom I have worked side-by-side for almost two decades solving complex business issues and developing and executing strategies that add value for our four key stakeholders -- owners, customers, employees and the communities we serve. His friendship and counsel have had a lasting impact on me, and our business is better off for having had his leadership and expertise for so many years."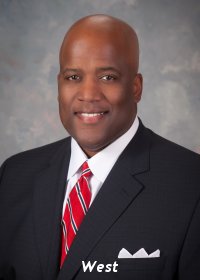 With the announcement of Bunting's retirement and as part of the company's executive succession planning process, Roderick (Rod) K. West, currently executive vice president and chief administrative officer, will move into a role working directly with Bunting. This move will facilitate an orderly transfer of knowledge and support business continuity as part of the company's succession planning for the Utility's leadership role. West will maintain his current title as executive vice president and continue to serve as a member of Entergy's Office of the Chief Executive.
A 17-year veteran of Entergy, West has prior experience working in the Utility business as director of regulatory affairs, director of electric distribution operations, and president and CEO of Entergy New Orleans. West is credited with leading Entergy New Orleans out of its post-Hurricane Katrina bankruptcy and back to profitability, a successful effort to replace more than 850 miles of underground natural gas pipe damaged during Katrina, and overseeing the reconstruction of the electrical infrastructure of New Orleans.
"During Rod's career, he has developed a portfolio of experiences that have prepared him well for a new role in the Utility," said Denault. "I am confident the opportunity to work closely with Theo over the next year will further enhance his business acumen and leadership skills."
West's current responsibilities, which include human resources, shared services, federal policy, regulatory and governmental affairs, and corporate communications, will be reassigned to other senior leaders.
Shared Services & Human Resources Organization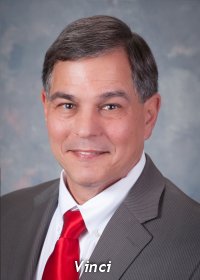 Donald (Don) W. Vinci, currently senior vice president, human resources and chief diversity officer, is being promoted to executive vice president, shared services and human resources, reporting directly to Denault. Vinci will continue to serve as the company's Chief Diversity Officer. A retired captain in the Naval Reserves, Vinci has served in a broad range of leadership roles in addition to human resources, including positions in both the Utility and Nuclear organizations.
Legal, Federal Policy, Regulatory and Governmental Affairs and Corporate Communications
Marcus V. Brown, currently executive vice president and general counsel, will assume additional responsibility for federal policy, regulatory and governmental affairs, and corporate communications.
Aligning these organizations under Brown's leadership will allow for better coordinated action planning and decision-making related to the company's stakeholder engagement efforts in support of its key initiatives.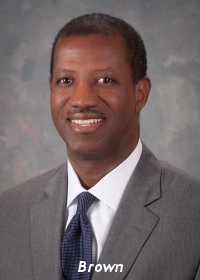 Reporting to Brown will be Kimberly H. Despeaux, senior vice president, federal policy, regulatory and governmental affairs, and Necole J. Merritt, group vice president, corporate communications.
The changes for West, Vinci and Brown are effective May 8.
"We are committed to ensuring the overall success of the business for our four stakeholders," said Denault. "Our goal is to align the business need with the appropriate business leader to ensure we are meeting our objectives. Today's announcement is an example of the effectiveness of our leadership development and internal succession planning processes and an acknowledgment of the diverse skills of our leaders that allow them to take on an expanded portfolio of responsibilities."
Entergy Corporation is an integrated energy company engaged primarily in electric power production and retail distribution operations. Entergy owns and operates power plants with approximately 30,000 megawatts of electric generating capacity, including nearly 10,000 megawatts of nuclear power. Entergy delivers electricity to 2.8 million utility customers in Arkansas, Louisiana, Mississippi and Texas. Entergy has annual revenues of approximately $11.5 billion and more than 13,000 employees.
-30-
Entergy's online address is entergy.com
Facebook.com/entergy
Twitter: @entergy
---