News Center > Entergy Arkansas Increases Assistance Request as Another Winter Storm Crosses Arkansas
For Immediate Release
Entergy Arkansas Increases Assistance Request as Another Winter Storm Crosses Arkansas
03/04/2015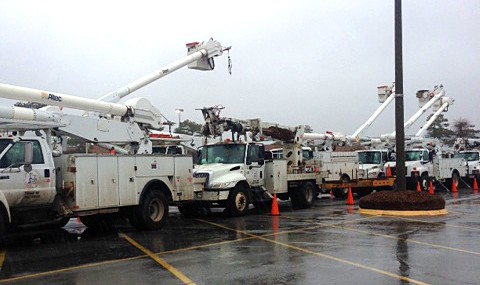 ITTLE ROCK, Ark. – Entergy Arkansas, Inc. has requested an additional 1,000 workers to the 1,000 it requested on Tuesday to be positioned around the state in preparation for possible outages caused by snow, freezing rain and possible wind gusts above 25 mph. Crews are positioned based on where damage is expected to occur. Forecasts call for up to half-inch accumulation of ice in some areas, and up to 3/8-inch elsewhere.
"While each storm is different, what we do know is the combination of ice, wind and wet snow increases the risk of power outages," said Brady Aldy, vice president of customer service for Entergy Arkansas. "In addition to the resources requested we have travel teams of Entergy Arkansas employees packed and ready to be deployed to the more heavily impacted areas, if needed."
Ice is particularly harmful to electrical lines and even at 1/4 inch of freezing rain accumulation, limbs and lines can become coated, causing outages to the distribution system. Even 1/2 inch of ice can be heavy enough to snap power lines. Workers have laid in supplies, topped off fuel tanks and, in some cases, packed to be on the road for several days.
Where to get info
- As you make your own plans, we will keep you informed throughout about our response. Here is how you can get information.
- Download our app for your smartphone at entergy.com/app or visit entergystormcenter.com to stay informed on our restoration progress. Newer-model Android users may have difficulty accessing all of the app's features.
- Sign up for text alerts. From your cellphone, text R-E-G to 368374, or visit entergytext.com.
- Visit our View Outages page at entergystormcenter.com.
- Call us at 800-9OUTAGE (800-968-8243).
Follow updates in your local news media, like radio, television and newspapers.
Entergy Arkansas provides electricity to approximately 700,000 customers in 63 counties. Entergy Arkansas is a subsidiary of Entergy Corporation, an integrated energy company engaged primarily in electric power production and retail distribution operations. Entergy owns and operates power plants with approximately 30,000 megawatts of electric generating capacity, including nearly 10,000 megawatts of nuclear power, making it one of the nation's leading nuclear generators. Entergy delivers electricity to 2.8 million utility customers in Arkansas, Louisiana, Mississippi and Texas. Entergy has annual revenues of more than $12 billion and approximately 13,000 employees.

-30-

More information is available on Entergy's website at entergy-arkansas.com
@entergyark
---