News Center > Entergy Arkansas Mobilizes Workforce as Winter Storm Approaches
For Immediate Release
Entergy Arkansas Mobilizes Workforce as Winter Storm Approaches
02/15/2015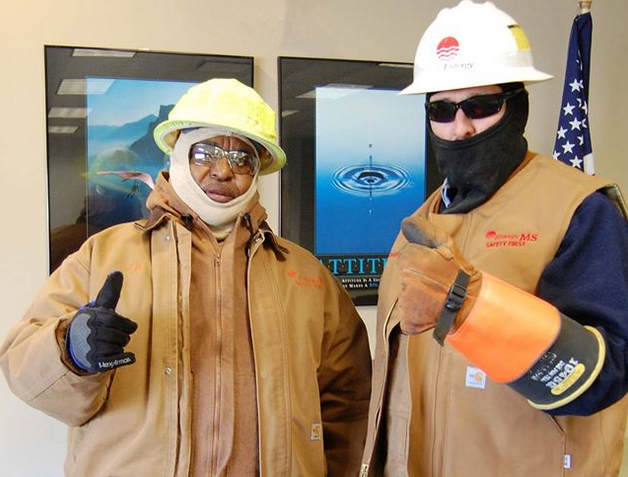 LITTLE ROCK, Ark. – Entergy Arkansas, Inc. crews are preparing to respond to Sunday evening's winter storm by positioning themselves in areas across the state that are expected to be impacted by severe weather. Forecasts call for up to ½-inch accumulation of ice in some areas, and up to 3/8-inch elsewhere. Ice is particularly harmful to electrical lines and even at 1/4 inch of freezing rain accumulation, limbs and lines can become coated, causing outages to the distribution system. Even ½ inch of ice can add 500 extra pounds of weight on to power lines.
"We model our resource needs based on damage prediction associated with the weather forecast, which gets especially challenging in an ice storm," said Brady Aldy, vice president of customer service for Entergy Arkansas. "The line of freezing rain and sleet is a moving target that we track closely to help determine how much damage there will be, how much help we need and where we need it so that we can restore power as safely and quickly as possible."
On Saturday, Entergy Arkansas requested an additional 500 workers to join the response effort and has asked about 500 more to remain on alert to deploy as needed. Contractors and crews from sister operating companies will arrive in the state tonight to receive a safety orientation and await the storm's arrival.
Where to get info
As you make your own plans, we will keep you informed throughout about our response. Here is how you can get information.
Download our app for your smartphone at entergy.com/app or visit entergystormcenter.com to stay informed on our restoration progress. Newer-model Android users may have difficulty accessing all of the app's features.
Sign up for text alerts. From your cellphone, text R-E-G to 368374, or visit entergytext.com.
Visit our View Outages page at entergystormcenter.com.
Follow us on Twitter.com/entergy or Facebook.com/entergy.
Call us at 800-9OUTAGE (800-968-8243).
Follow updates in your local news media, like radio, television and newspapers.
Entergy Arkansas provides electricity to approximately 700,000 customers in 63 counties. Entergy Arkansas is a subsidiary of Entergy Corporation, an integrated energy company engaged primarily in electric power production and retail distribution operations. Entergy owns and operates power plants with approximately 30,000 megawatts of electric generating capacity, including nearly 10,000 megawatts of nuclear power, making it one of the nation's leading nuclear generators. Entergy delivers electricity to 2.8 million utility customers in Arkansas, Louisiana, Mississippi and Texas. Entergy has annual revenues of more than $12 billion and approximately 13,000 employees.
­
-30-

More information is available on Entergy's website at entergy-arkansas.com
@entergyark
---