News Center > Entergy Arkansas Works to Restore Final Outages Friday, Saturday
For Immediate Release
Entergy Arkansas Works to Restore Final Outages Friday, Saturday
04/17/2020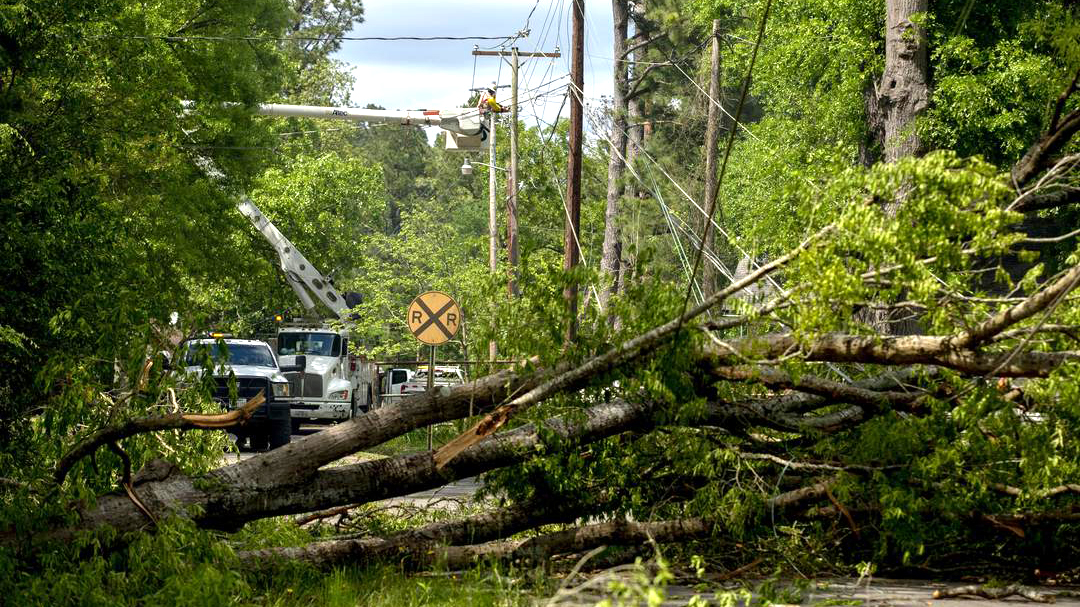 As of Friday morning, a team of 3,308 Entergy Arkansas employees, contractors and workers from other utility companies has restored power to 103,000 of the 128,000 who lost electrical service when violent storms ripped through the state Easter Sunday. The company expects electricity for most of the remainder to be restored today, but some of the most difficult cases will carry over into Saturday.
"It's been a tough week for many of our customers," said Entergy Arkansas President and CEO Laura Landreaux, "and we're grateful for your patience as we repair hundreds of miles of power lines across the state, including replacing nearly 1,375 broken utility poles and all the electrical components that go with them. The amount of damage was remarkable, and the amount of effort and materials required to rebuild has been enormous.
"We know it has been especially stressful to be without power when working from home and caring for family members around the clock due to COVID-19. Many of our employees are dealing with the same challenges, so, truly, we understand.
"We're also thankful for the local hotels, restaurants, service stations and other businesses that have supported a small army of workers since early Monday morning," Landreaux continued. "The pandemic has made getting supplies and rooms more difficult than normal, but we have been shown gracious hospitality and extraordinary service all around. We will return the favor by doing all we can to help rebuild the communities we serve."
Safety remains Entergy's top priority when restoring service after severe weather. The greatest danger during and after a storm is from downed power lines. If you see a power line on the ground or in the trees or bushes, do not go near. Call Entergy at 800-9OUTAGE (800-968-8243).
Do not approach utility workers at a job site. Work sites can be dangerous locations, and interruptions will slow workers' progress. This is especially true regarding social distancing and other aspects of the response to COVID-19.
Most of the remaining damage lies in hard-to-reach areas and places with lots of trees and other vegetation and debris that still needs clearing. Additionally, forecasters are calling for more storms in the state during the upcoming weekend in the previously hard-hit southern part of the state. Customers are encouraged to stay alert and tune into local news sources for weather updates.
Updates on restoration progress can be found by visiting Entergy's Storm Center and the View Outages map. Other information, such as Entergy Arkansas' response to COVID-19 and other valuable resources can be found on the Entergy website.
Entergy Arkansas provides electricity to approximately 700,000 customers in 63 counties. Entergy Arkansas is a subsidiary of Entergy Corporation (NYSE: ETR), an integrated energy company engaged primarily in electric power production and retail distribution operations. Entergy owns and operates power plants with approximately 30,000 megawatts of electric generating capacity, including nearly 9,000 megawatts of nuclear power. Entergy delivers electricity to 2.9 million utility customers in Arkansas, Louisiana, Mississippi and Texas. Entergy has annual revenues of $11 billion and approximately 13,600 employees.
-30-
Twitter: @EntergyARK
Facebook.com/EntergyARK
---