News Center > Entergy Charitable Foundation Awards $25,550 to Arkansas Organizations
For Immediate Release
Entergy Charitable Foundation Awards $25,550 to Arkansas Organizations
01/27/2015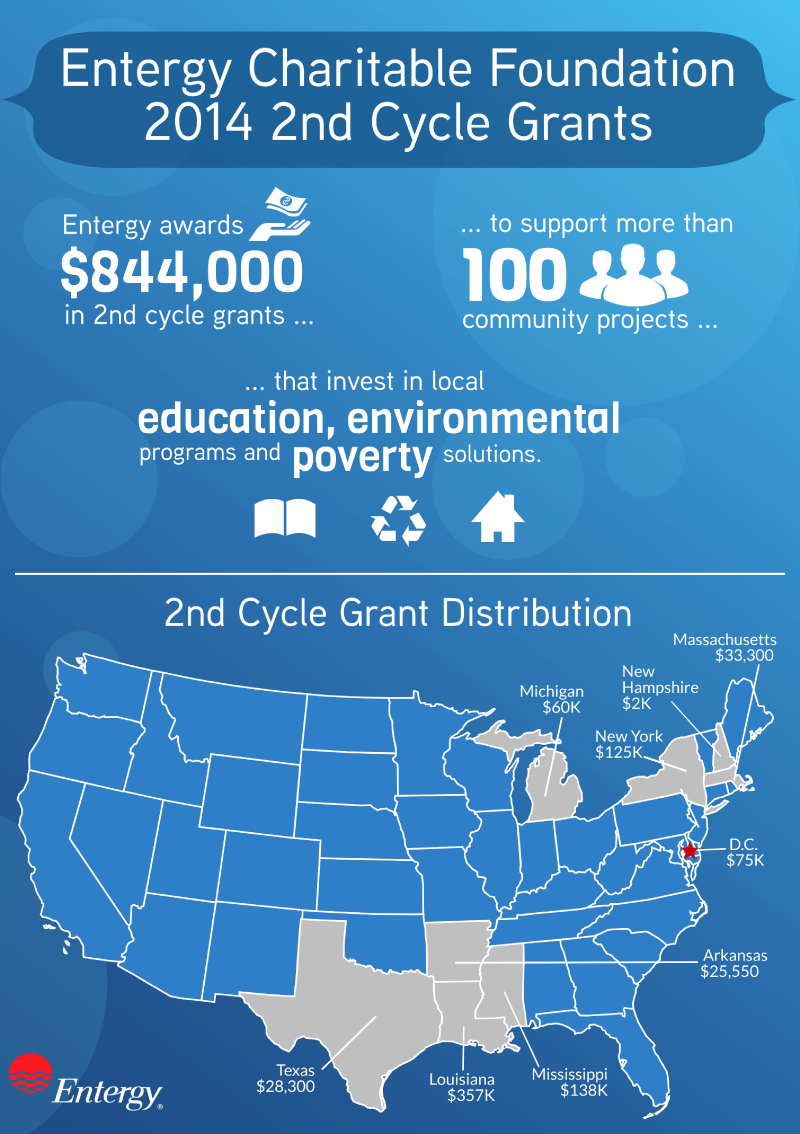 January 28, 2015
Contact: 
Sally Graham
Entergy Arkansas, Inc.
sgraha3@entergy.com
501-377-4382

LITTLE ROCK, Ark. – The Entergy Charitable Foundation recently awarded $25,550 in grants to boost low-income initiatives as well as enhance educational and literacy programs in communities served by Entergy Arkansas. The grants bring the total awarded to nonprofits by Entergy shareholders in 2014 to more than $15 million, including $2.6 million from the Entergy Charitable Foundation.
Local awards in Arkansas included:
· Center for Youth and Families in Little Rock, a $2,500 grant to utilize a trauma informed practitioner to teach and train caregivers, professionals, and therapeutic parents to use Trauma Focused Cognitive Behavioral Therapy to enhance and ensure the safety, well-being and permanency of children in foster care by addressing primary and secondary trauma.
· Arkansas Learning through the Arts in Hot Springs Village, a $2,000 grant to support arts curriculum and an in-school residency project.
· University of Arkansas Community College of Morrilton, a $10,000 grant for a scholarship program and the construction of a Workforce Training Center.
· Grant County Unified Preparedness Council in Sheridan, a $3,550 grant to implement a pre-GED Preparedness Program to build students' skill and confidence to pass the new 2014 online GED test in Arkansas.
· The Fuller Center for Housing, Inc. in Harrison, a $5,000 grant to renovate homes for applicants in need. 
· Lyon College in Batesville, a $2,500 grant to fund a pilot program aimed at transforming low-income, first-generation male students into leader-advocates for Arkansas.
"A healthy, educated, environmentally safe and productive society benefits all stakeholders – our owners, customers, employees and communities," said Tom Kennedy, vice president of public affairs, Entergy Arkansas, Inc. "At the same time, community outreach provides an outward and visible sign of Entergy employees' longtime commitment to providing sustainable value through volunteerism."
Entergy Charitable Foundation grants are offered annually by the foundation through two award cycles. The deadline for grant applications for the first cycle in 2015 is Feb. 1. Applications and additional information are available at entergy.com.
Entergy Arkansas provides electricity to approximately 700,000 customers in 63 counties. Entergy Arkansas is a subsidiary of Entergy Corporation, an integrated energy company engaged primarily in electric power production and retail distribution operations. Entergy owns and operates power plants with approximately 30,000 megawatts of electric generating capacity, including more than 10,000 megawatts of nuclear power, making it one of the nation's leading nuclear generators. Entergy delivers electricity to 2.8 million utility customers in Arkansas, Louisiana, Mississippi and Texas. Entergy has annual revenues of more than $11 billion and approximately 14,000 employees.
-30-
entergyarkansas.com
facebook.com/EntergyARK
twitter.com/EntergyARK
---