News Center > Entergy Charitable Foundation Awards More Than $930,000 in Grants to Community Organizations
For Immediate Release
Entergy Charitable Foundation Awards More Than $930,000 in Grants to Community Organizations
07/24/2015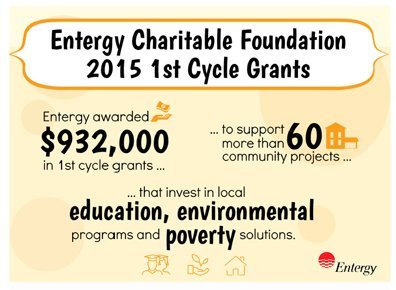 New Grant Applications Being Accepted Until Aug. 1
NEW ORLEANS – The Entergy Charitable Foundation recently awarded more than $930,000 in grants to boost education, expand environmental programs, promote more cultural activities and help create poverty solutions in communities served by Entergy.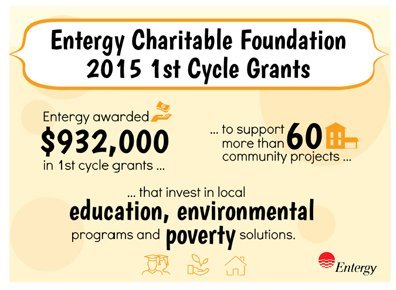 Grant awards include:
$100,000 to the Louisiana Children's Museum in New Orleans for an Early Learning Village in City Park. The village will include a literacy center, parent-teacher resource center, a nature center, early care and learning center, and theater. Hands-on programs and workshops will be offered to parents and childhood professionals on an 8-acre site.
$200,000 to the American Red Cross for disaster relief in Entergy service areas. Red Cross assistance recently has been given to Texas and Mississippi to respond to flooding and tornado damage.
$150,000 to Teach for America in the Greater New Orleans area. Entergy's support will help close the academic achievement gap for students in 40 underserved schools.
$100,000 to support jazz programs and music education at Lincoln Center in New York City. The organization's 2015-2016 season includes jazz and American songbook music by George Gershwin and Irving Berlin. Education programs include WeBop classes, Jazz for Young People, the Middle School Jazz Academy, Swing University and the Essentially Ellington High School Jazz Band.
$35,000 to Kids X-Press Inc. in White Plains, New York, for the Earth Day edition of student-produced magazine focused on climate change and sustainability. The project will engage students from the Bronx and Westchester to create content. KXP will then produce and distribute 20,000 copies of the Earth Day edition to raise awareness of the importance of global warming and sustainability. Students and readers also will be educated on environmental and corporate stewardship issues, nuclear power's role in energy, career opportunities and the true meaning of green industries.
$20,000 to Edison Plaza Museum in Beaumont, Texas, to continue its educational mission for the community. The one-of-a-kind museum offers educational tours to schools and at-risk groups.
Patty Riddlebarger, Entergy's director of corporate social responsibility, said the company targets community investments that contribute to a more vibrant and healthy community.
"All stakeholders -- owners, customers, employees and communities -- benefit from these programs," Riddlebarger said. "The funded initiatives promote a healthier, more educated and environmentally safe society."
Entergy Charitable Foundation grants are offered annually by the foundation through two award cycles. In 2014, Entergy shareholders awarded more than $15 million to local nonprofits, including $2.6 million from the Entergy Charitable Foundation. Learn more in our 2014 integrated report. Applications and additional information for this year's second cycle of Entergy Charitable Foundation grant awards are available at "Our Community" at entergy.com. Applications must be submitted online by Aug. 1.
Entergy Corporation is an integrated energy company engaged primarily in electric power production and retail distribution operations. Entergy owns and operates power plants with approximately 30,000 megawatts of electric generating capacity, including nearly 10,000 megawatts of nuclear power, making it one of the nation's leading nuclear generators. Entergy delivers electricity to 2.8 million utility customers in Arkansas, Louisiana, Mississippi and Texas. Entergy has annual revenues of more than $12 billion and approximately 13,000 employees.
-30-
entergy.com
Twitter: @entergy
---