News Center > Entergy Confirms Lewis Creek Dam Safe and No Threat to the Public
For Immediate Release
Entergy Confirms Lewis Creek Dam Safe and No Threat to the Public
05/31/2015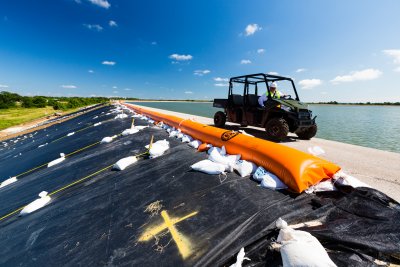 The Woodlands, Texas -- Entergy Texas, Inc. has completed all short-term soil stabilization work at the Lewis Creek reservoir dam. Results from geotechnical experts' analysis show the dam is safe and poses no threat to the public.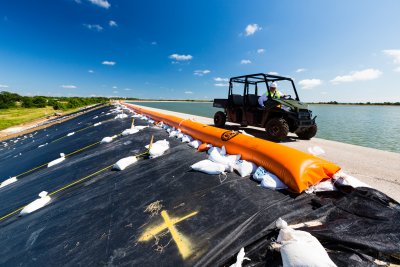 The independent geotechnical experts retained to assess the dam also determined that appropriate measures to protect public safety and the dam are being taken. Additionally, they found that soil movement experienced in recent days has not compromised the structure's overall integrity.
"We want to express our appreciation to our community and its leaders for their vigilance and cooperation," said Sallie Rainer, president and CEO of Entergy Texas. "We want our neighbors to rest easy knowing the dam is safe and not in danger of failure."
The company's efforts will now shift to intermediate soil stabilization work as a proactive means of preventing further soil movement. Specifically, that work will include reworking sections of the dam by using soil mixed with lime to enhance soil stability. Testing and soil analysis will continue as Entergy determines the most effective long term plan.
"The results of the soil analysis have given us a much better understanding of what has occurred," said Rainer. "That combined with our ability to respond promptly to mitigate future soil movement means there should not be cause for concern if they occur."
Entergy Texas, Inc. delivers electricity to more than 430,000 customers in 27 counties. It is a subsidiary of Entergy Corporation. Entergy is an integrated energy company engaged primarily in electric power production and retail distribution operations. Entergy owns and operates power plants with approximately 30,000 megawatts of electric generating capacity, including nearly 10,000 megawatts of nuclear power, making it one of the nation's leading nuclear generators. Entergy delivers electricity to 2.8 million utility customers in Arkansas, Louisiana, Mississippi and Texas.
-30-
entergytexas.com
Twitter: @EntergyTX
Facebook: Facebook.com/EntergyTX
---