News Center > Entergy Crews Continue Restoration Work, But Efforts Hampered by Floodwaters
For Immediate Release
Entergy Crews Continue Restoration Work, But Efforts Hampered by Floodwaters
08/14/2016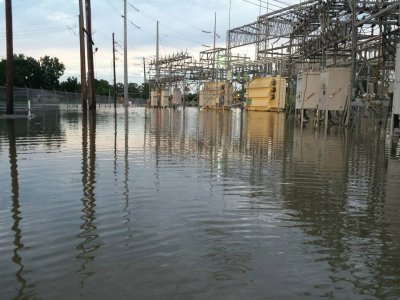 Michael Burns
504-576-4132
mburns@entergy.com
Kacee Kirschvink
504-576-4132
kkirsch@entergy.com
BATON ROUGE, La. – Entergy Louisiana crews expect to restore power to all customers who can accept it by Monday night, but floodwaters are continuing to restrict restoration efforts to thousands of homes and businesses in the hardest hit areas of south Louisiana.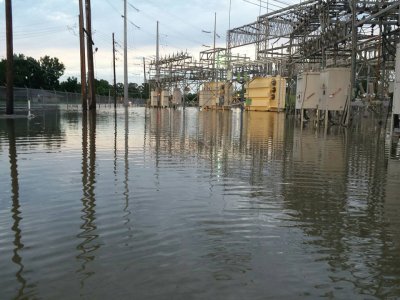 As of noon, approximately 14,000 customers were without power, down from a peak of more than 26,000 reached Sunday night. Entergy Louisiana has assembled a storm team of more than 500, but floodwaters are continuing to prevent them from restoring power to approximately 12,500 customers.  Work in those areas cannot begin until floodwaters recede, so the affected customers should prepare to be without power for an extended period.  In some cases, Entergy Louisiana has had to de-energize electrical equipment at risk from floodwaters to ensure public safety.
Customer outages continue to fluctuate as changing levels of floodwater affect different areas. 
While the storm system and resulting flooding has affected customers across Louisiana, the areas hit hardest by the historic flooding are in northern and eastern East Baton Rouge, Livingston, Tangipahoa and Ascension parishes.
"We continue monitoring areas where floodwaters may become an issue," said Dennis Dawsey, vice president of customer service in Louisiana. "Customers in areas inaccessible due to floodwaters will have to wait for waters to recede before we will be able to restore power. Customers should also be aware that additional work may be required to fully restore service if high water has damaged our equipment and facilities. This could extend the time required to reconnect service after floodwaters recedes.
"In addition, we are monitoring water levels closely in specific areas and have plans in place to notify our customers if service disconnections are necessary if floodwater levels rise," Dawsey added. 
When returning to areas that have been flooded, customers should call 1-800-ENTERGY (1-800-368-3749) to request service reconnections.
If water gets into electrical systems, customers may be required to have an inspection performed by the local governmental authority before Entergy Louisiana can reconnect service. This is to ensure that their electrical system is capable of having power restored.
Entergy reminds customers to stay away from downed power lines. Report them by calling 1-800-9OUTAGE.
"We remind customers to remain safe and stay away from flooded areas. Please do not walk in standing water or venture into areas of debris, since energized and dangerous power lines may not be visible," Dawsey said. "We also urge customers to use extreme caution when navigating boats in flooded areas around power lines to ensure the boats and their occupants do not come into contact with energized lines."
Customers are encouraged to download Entergy's mobile app to access maps and information. For real-time progress on restoration work see the View Outages feature at entergy.com. In addition, online services are available to customers through "Entergy Storm Center," and "myAccount." Through myAccount, customers can sign up to send and receive text information about power outages at their homes and businesses through their cellphones. Registration is easy.
Entergy Louisiana, LLC provides electric service to more than 1 million customers and natural gas service to approximately 93,000 customers in the greater Baton Rouge area. With operations in southern, central and northeastern Louisiana, the company is a subsidiary of Entergy Corporation.
Entergy Corporation is an integrated energy company engaged primarily in electric power production and retail distribution operations. Entergy owns and operates power plants with approximately 30,000 megawatts of electric generating capacity, including nearly 10,000 megawatts of nuclear power. Entergy delivers electricity to 2.8 million utility customers in Arkansas, Louisiana, Mississippi and Texas. Entergy has annual revenues of approximately $11.5 billion and more than 13,000 employees
-30-
entergylouisiana.com
facebook.com/EntergyLA
Twitter: @EntergyLA
---