News Center > Entergy Grants Create Stronger, Healthier Communities in Capital Region
For Immediate Release
Entergy Grants Create Stronger, Healthier Communities in Capital Region
04/09/2021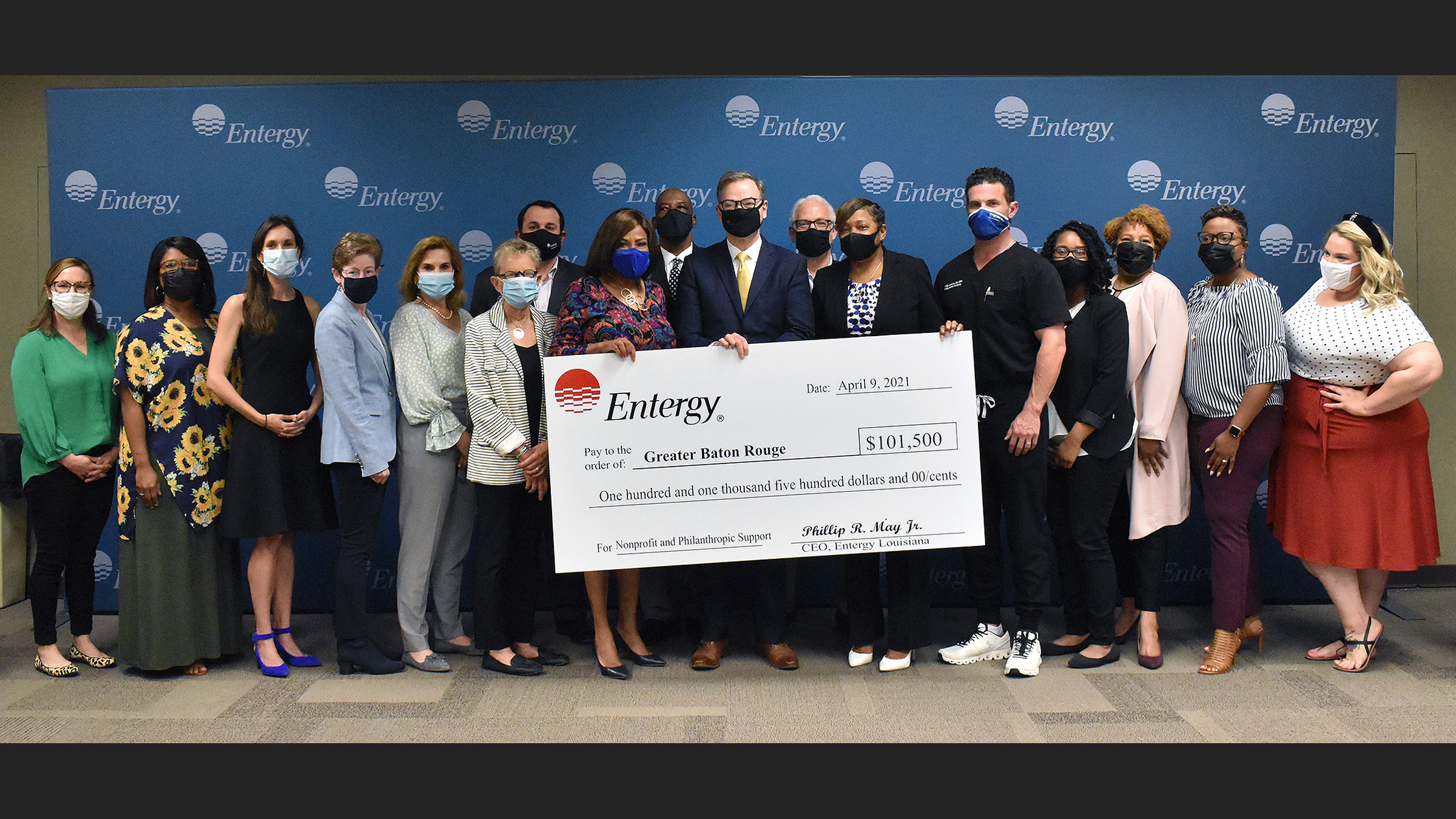 BATON ROUGE — Entergy Louisiana and its employees, along with the Entergy Charitable Foundation, have a long history of supporting the communities they serve, and this year will be no different. Among the company's contributions through the first quarter of the year will be $101,500 to 15 nonprofits to create stronger, healthier communities in the Capital Region.
"Providing support to our communities is at the heart of our vision to power life," said Phillip May, Entergy Louisiana president and CEO. "Our philanthropic contributions, along with our dedication to volunteerism, are helping our community partners provide essential and critical services to our neighbors, something that was much needed in 2020 and something we'll continue to support this year and in the years to come."
"Strong partnerships make for strong communities. Entergy has demonstrated their commitment to Baton Rouge through their ongoing support of local charities and nonprofits. Our partnership is another great example of how a Whole Community Approach is central to our effort to bring peace, prosperity and progress to our residents," said Sharon Weston Broome, mayor-president of Baton Rouge.
Entergy grants are going toward improving education, lifting those in need from economic hardships, protecting the environment and other key philanthropic causes.
Organizations receiving Entergy grants include:
Arts Council of Greater Baton Rouge
Baton Rouge Green Association
Emerge Center
Epilepsy Alliance Louisiana
Faith House
Friends of the Baton Rouge Zoo
Iberville Foundation for Academic Excellence
Junior League's Women's Leadership Conference
March of Dimes
New Schools for Baton Rouge
Susan G Komen Breast Cancer Foundation
The Life of a Single Mom
Volunteer Ascension
We Are the Difference
Young Entrepreneurs Academy of Baton Rouge
"It takes all of us working together to make a difference in our communities," said Jody Montelaro, Entergy Louisiana vice president of public affairs. "The city of Baton Rouge, our local partners, we can't thank them enough. They're vital to helping us achieve the shared goal of bettering our state, including areas like the Capital Region that many of us call home."
In 2020, Entergy provided approximately $7.9 million to Louisiana organizations that provide essential and critical services to our communities. In addition to awarding grants, Entergy employees and retirees throughout Louisiana engaged in more than 43,000 hours of volunteer service in 2020, valued at approximately $1.2 million, to a variety of charitable causes.
For more information about the Entergy Charitable Foundation grants, including application, deadline and eligibility details, visit the Entergy website.
For more than 100 years, Entergy has powered life in our communities through strategic philanthropy, volunteerism and advocacy. Entergy's corporate social responsibility initiatives help create and sustain thriving communities, position the company for sustainable growth and are aligned with the United Nations Sustainable Development Goals. Our top CSR priorities are education/workforce development, poverty solutions/social services and environmental programs. Entergy annually contributes $16-$18 million in shareholder-funded grants to approximately 2,000 nonprofit organizations in the communities where we operate.
About Entergy Louisiana:
Entergy Louisiana, LLC provides electric service to more than 1 million customers and natural gas service to more than 93,000 customers in the greater Baton Rouge area. It has operations in southern, central and northern Louisiana. Both companies are subsidiaries of Entergy Corporation.
About Entergy Corporation:
Entergy Corporation (NYSE: ETR) is an integrated energy company engaged in electric power production, transmission and retail distribution operations. Entergy delivers electricity to 3 million utility customers in Arkansas, Louisiana, Mississippi and Texas. Entergy owns and operates one of the cleanest large-scale U.S. power generating fleets with approximately 30,000 megawatts of electric generating capacity, including 8,000 megawatts of nuclear power. Headquartered in New Orleans, Louisiana, Entergy has annual revenues of $10 billion and more than 13,000 employees. Learn more at entergy.com and follow @Entergy on social media.
-30-
entergylouisiana.com
facebook.com/EntergyLA
Twitter: @EntergyLA 
###
---