News Center > Entergy Louisiana Celebrates Capital Region with We Power Life Event
For Immediate Release
Entergy Louisiana Celebrates Capital Region with We Power Life Event
11/03/2017
David Freese
|
504-576-4132
|
dfreese@entergy.com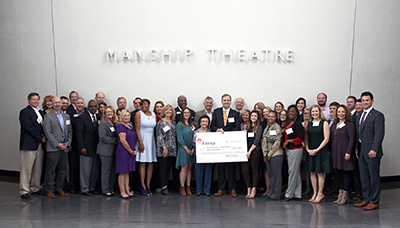 BATON ROUGE, La. – Entergy Louisiana celebrated local organizations and nonprofit agencies Friday during the We Power Life – Capital Region event at Hartley Vey Studio at the Shaw Center for the Arts.

"Today, we are celebrating invaluable partnerships," said Phillip May, president and CEO of Entergy Louisiana. "In order for our organization to be successful, our communities must be successful. Local agencies like these help us achieve the shared goal of finding lasting solutions for our customers in need by providing critical services and resources that help make our communities great places to work and live. Together, we really can power life."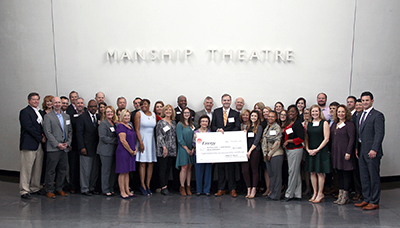 Entergy shareholders invested more than $10.9 million in charitable contributions to Louisiana nonprofits and community partners in 2016. In the past year, Entergy awarded just over 100 grants in the Capital Region totaling around $830,000. The monies have gone toward projects that range from education and anti-poverty initiatives to economic development and the environment.

"At Entergy, we see it as our responsibility to give back to our communities," said Jody Montelaro, Entergy Louisiana vice president of public affairs. "We know that we can only be as successful as the communities that we serve. It is why we focus our philanthropic giving around education, poverty solutions, environmental programs and economic development initiatives that improve quality of life."

As a special thank you, agencies were invited to enter a drawing to win additional partner appreciation grants. To win an additional grant, agencies had to submit a photo of one of the events that Entergy helped sponsor. Agencies that won additional grants included Coalition to Restore Coastal Louisiana, Foundation for Woman's, Baton Rouge Community College Foundation Inc., The JL Foundation and Louisiana Department of Wildlife and Fisheries.

Entergy Louisiana, LLC provides electric service to more than 1 million customers and natural gas service to nearly 93,000 customers in the greater Baton Rouge area. The company has operations in southern, central and northeastern Louisiana.

Entergy Corporation is an integrated energy company engaged primarily in electric power production and retail distribution operations. Entergy owns and operates power plants with approximately 30,000 megawatts of electric generating capacity, including nearly 9,000 megawatts of nuclear power. Entergy delivers electricity to 2.9 million utility customers in Arkansas, Louisiana, Mississippi and Texas. Entergy has annual revenues of approximately $10.8 billion and nearly 13,000 employees.
                                                               -30-
                                                 Twitter: @EntergyLA
---