News Center > Entergy Louisiana Celebrates Opening of New Lockport Service Center
For Immediate Release
Entergy Louisiana Celebrates Opening of New Lockport Service Center
12/14/2017
Michael Burns
|
504-576-4132
|
mburns@entergy.com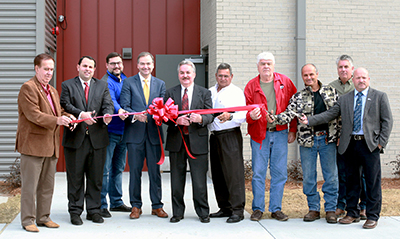 BATON ROUGE, La. – Entergy Louisiana officials Thursday unveiled the new Lockport Service Center, an $8.4 million investment aimed at providing more efficient customer service to Lafourche Parish residents.

State and local officials joined company representatives at the ribbon-cutting ceremony.

The 9,700-square-foot facility is located on more than 10 acres which will allow the company to centralize functions and materials currently spread over three locations.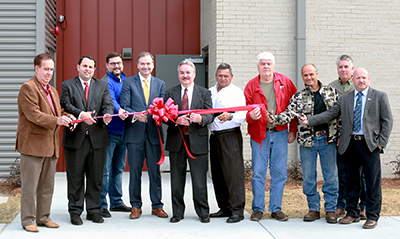 "Centralizing operations and supplies at this new facility will increase our productivity so we can better serve Lafourche Parish customers. It also will help us decrease our safety risk by eliminating the need to travel between different locations to pick up needed materials," said Phillip May, president and CEO of Entergy Louisiana.

Along with efficiency gains, the facility's location at the intersection of Highway 308 and Highway 90 improves access to transportation.

The new facility, which was completed in a year, also features a storm-hardened safe room that will serve as the operations center when severe weather hits the region. Additional space at the site also can be used as a staging site to house workers from other areas when they are brought in to help restore power following major storms.

Entergy Louisiana, LLC provides electric service to more than 1 million customers and natural gas service to nearly 93,000 customers in the greater Baton Rouge area. With operations in southern, central and northeastern Louisiana, the company is a subsidiary of Entergy Corporation.

Entergy Corporation is an integrated energy company engaged primarily in electric power production and retail distribution operations. Entergy owns and operates power plants with approximately 30,000 megawatts of electric generating capacity, including nearly 9,000 megawatts of nuclear power. Entergy delivers electricity to 2.9 million utility customers in Arkansas, Louisiana, Mississippi and Texas. Entergy has annual revenues of approximately $10.8 billion and nearly 13,000 employees.    
                                                                -30-
                                                    Twitter: @EntergyLA
---