News Center > Entergy Louisiana Honors Agencies That Assist with The Power to Care Program
For Immediate Release
Entergy Louisiana Honors Agencies That Assist with The Power to Care Program
09/26/2018
David Freese
|
504-576-4132
|
dfreese@entergy.com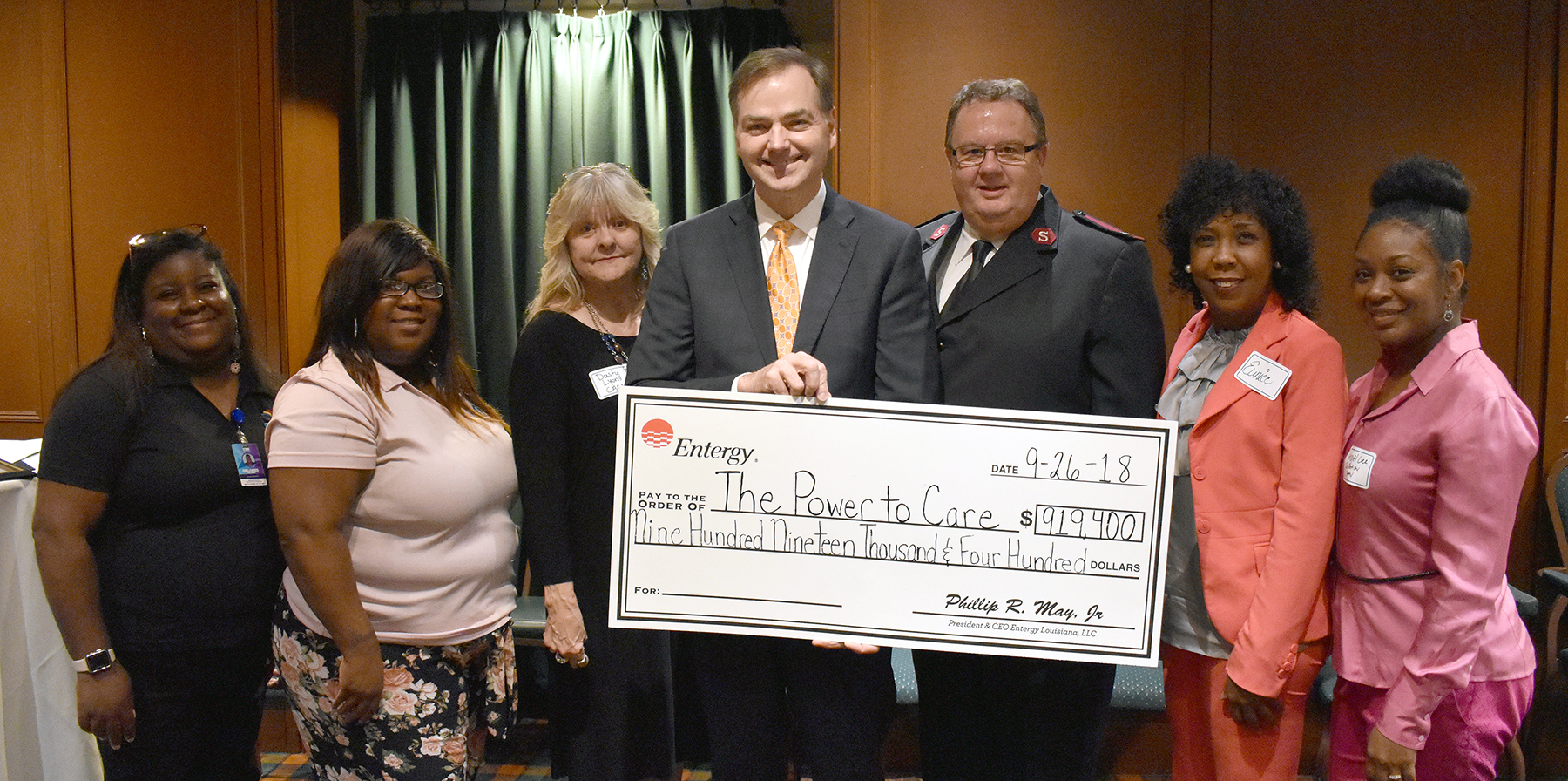 BATON ROUGE, La. – Nonprofit agencies from throughout the Greater Baton Rouge area were honored Wednesday by Entergy Louisiana for assisting customers in need through The Power to Care program.
Agencies are able to provide emergency utility bill payment assistance to seniors and disabled individuals in crisis through The Power to Care program. Wednesday's event was held at the City Club of Baton Rouge.
"At Entergy, one of the foundations of our mission and our vision is straightforward – to offer a hand to our friends and neighbors in need," said Phillip May, Entergy Louisiana president and CEO. "The elderly and disabled face extraordinary circumstances, and too many have had to choose whether to pay their utility bills or buy food or medicine. Today, we are here to recognize and thank agencies like these for helping us provide a better path forward for some of the most vulnerable members of our communities through The Power to Care."
In 2017, The Power to Care provided approximately $2.6 million in assistance to roughly 13,200 elderly and disabled customers across its four-state service territory to keep the lights on and stay comfortable during extreme weather. And donations to The Power to Care from Entergy Louisiana customers and employees in 2017 were recently matched by shareholders for a total of approximately $919,400.
Entergy Louisiana, LLC provides electric service to more than 1 million customers and natural gas service to nearly 93,000 customers in the greater Baton Rouge area. With operations in southern, central and northeastern Louisiana, the company is a subsidiary of Entergy Corporation.
Entergy Corporation is an integrated energy company engaged primarily in electric power production and retail distribution operations. Entergy owns and operates power plants with approximately 30,000 megawatts of electric generating capacity, including nearly 9,000 megawatts of nuclear power. Entergy delivers electricity to 2.9 million utility customers in Arkansas, Louisiana, Mississippi and Texas. Entergy has annual revenues of approximately $11 billion and more than 13,000 employees.
###
Twitter: @EntergyLA
-30-
---