News Center > Entergy Making Steady Progress at Power Restoration
For Immediate Release
Entergy Making Steady Progress at Power Restoration
09/01/2017
Kacee Kirschvink
|
504-576-4132
|
kkirsch@entergy.com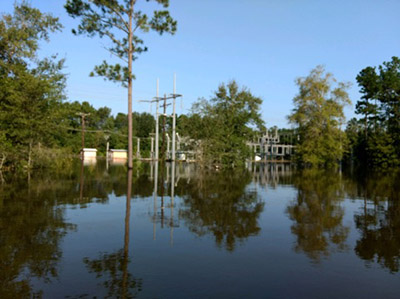 As floodwaters recede, Entergy Texas, Inc. will be able to access transmission lines and substations that were once under water. This will allow crews to assess the damage to the system and what it will take to restore power to thousands of customers.
At this time, 17 substations are affected by water, although it is expected that crews will be able to get to most of them today.
As of 11:30 a.m., 55,000 customers were without power. So far, more than 231,600 Texas outages have been restored since Hurricane Harvey made landfall.
A team of about 3,000 people from four states are working to restore power. Two staging areas have been set up in the Beaumont and Moss Lake areas to feed, house and supply materials to crews while they work to restore power.
"We ask all of our customers – those who have had power restored and those still waiting – to be patient as we rebuild and restore. With extensive damage to poles, wires, substations and major lines, we have a lot of rebuilding ahead of us," said Vernon Pierce, vice president of customer service for Entergy Texas.
As floodwaters recede and large transmission lines are repaired, estimated times of restoration will become clearer. Entergy Texas expects to be able to inform customers by Sunday night when they will receive power.
For specific information about damage and restoration information for the various locations, visit entergystormcenter.com or visit http://www.etrviewoutage.com/external/tx.aspx
Entergy Texas, Inc. provides electricity to more than 440,000 customers in 27 counties. It is a subsidiary of Entergy Corporation. Entergy Corporation is an integrated energy company engaged primarily in electric power production and retail distribution operations. Entergy owns and operates power plants with approximately 30,000 megawatts of electric generating capacity, including nearly 9,000 megawatts of nuclear power. Entergy delivers electricity to 2.9 million utility customers in Arkansas, Louisiana, Mississippi and Texas. Entergy has annual revenues of approximately $10.8 billion and nearly 13,000 employees.
-30-
Twitter: @EntergyTX
---