News Center > Entergy Mississippi Donates 26,000 Compact Fluorescent Lightbulbs to Mississippi Food Network
For Immediate Release
Entergy Mississippi Donates 26,000 Compact Fluorescent Lightbulbs to Mississippi Food Network
08/24/2015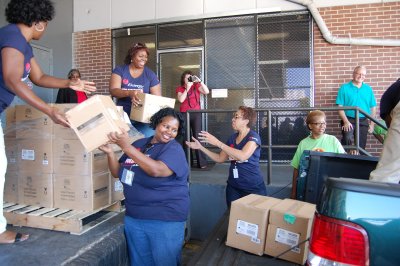 Energy-efficient bulbs help low-income customers save on bills
JACKSON, Miss. -- It was a lightbulb moment---Entergy Mississippi volunteers joined Mississippi Food Network representatives to pack 26,000 ENERGY STAR ®-certified compact fluorescent bulbs into food boxes destined for 85 food pantries.
The bulbs, donated by the utility through its Entergy Solutions energy-efficiency program, will light about 6,500 low-income Mississippi homes, reducing those families' energy costs and freeing up limited resources for other necessities.
"Entergy has a long history of support for the entire community, and unfortunately we know some of our customers face hardships each month in paying their bills," said Lawrence Johnson, Entergy Mississippi energy efficiency manager. "Giving CFLs to these customers will help them reduce their electricity usage, which reduces electricity costs. CFLs last up to 10 times longer than incandescent bulbs and use about 75 percent less energy. Changing just one bulb can save customers about $55 in electricity costs over the life of the bulb."
"This is just the beginning of our effort to educate customers on how they can save energy, and more importantly, lower their monthly bill."
Entergy Mississippi's donation of the CFLs is the start of a new partnership with MFN.
"We're pleased to partner with Entergy Mississippi on the distribution of these bulbs to our member agencies for their clients," said Charles H. Beady, Jr., Mississippi Food Network CEO. "We're particularly pleased to be a part of Entergy's food bank initiative targeting the sometimes harder-to-reach customers in Mississippi through local food pantries. Anytime we can help the people we serve it is a positive day for us.  We appreciate our partnership with Entergy and their commitment to help their customers save energy and money every day."
Entergy Mississippi's Entergy Solutions Residential Lighting program also offers instant discounts on select ENERGY STAR certified CFL and LED lighting to all customers at local retailers. Customers can save up to $1.50 on select CFLs and up to $4 on select LEDs. A list of participating retailers can be found at EntergySolutionsMS.com/Lighting.
Entergy Mississippi's Entergy Solutions program also offers the following:
· READI Program -- Customers can receive a home audit and energy efficiency tips along with energy-saving measures installed at no additional cost.
· Residential Heating and Cooling Program -- Customers can get rebates up to $500 on high-efficiency air conditioners and heat pumps.
· Residential A/C Tune-up Program -- Customers can get a discount on their air conditioner tune-up and start saving money immediately.
For more information on Entergy Solution programs, visit EntergySolutionsMS.com or call 844-523-9980.
Entergy Mississippi, Inc. provides electricity to approximately 442,000 customers in 45 counties. It is a subsidiary of Entergy Corporation. Entergy Corporation is an integrated energy company engaged primarily in electric power production and retail distribution operations. Entergy owns and operates power plants with approximately 30,000 megawatts of electric generating capacity, including nearly 10,000 megawatts of nuclear power, making it one of the nation's leading nuclear generators. Entergy delivers electricity to 2.8 million utility customers in Arkansas, Louisiana, Mississippi and Texas. Entergy has annual revenues of more than $12 billion and approximately 13,000 employees.
-30-
entergy-mississippi.com
twitter.com/EntergyMS
facebook.com/EntergyMS
---