News Center > Entergy Mississippi: Help is On the Way!
For Immediate Release
Entergy Mississippi: Help is On the Way!
04/28/2015
Restoration workers head to Louisiana to help restore power after storm
JACKSON, Miss. -- Some 180 linemen and support crews left at daybreak this morning, headed towards New Orleans to help restore power to those left without in the wake of yesterday's devastating storms.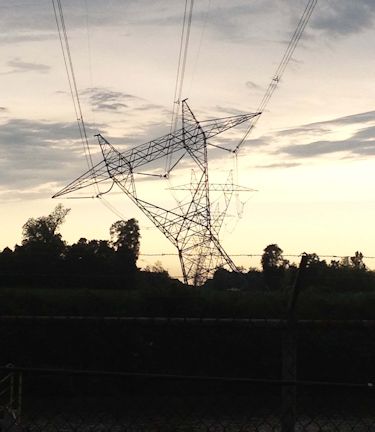 At the peak of the storm, more than 176,000 Entergy customers in Louisiana lost power and another 40,000 were without in Texas. The storm lost strength as it entered the state, largely sparing Entergy Mississippi customers.
"Once we realized our customers were going to be okay, we were able to release our crews to help our sister utility in Louisiana," said Robbin Jeter, Entergy Mississippi vice president of customer service. "They left around 6 o'clock this morning from all parts of our service area and will stay as long as they are needed, unless we need them back here."
Early Tuesday morning, some 78,000 Entergy customers in Louisiana were still without power and nearly 10,000 in Texas. High winds downed numerous trees and power lines across a broad geographical area, with the Baton Rouge and New Orleans metro areas among the hardest hit regions. In Louisiana, more than 300 utility poles were damaged and will have to be replaced and 19 substations and 82 transmission line segments were impacted by the storm. The storm packed numerous tornadoes, large hail, frequent lightning strikes and wind gusts reported to be over 100 miles per hour.
Entergy Mississippi, Inc. provides electricity to approximately 442,000 customers in 45 counties. It is a subsidiary of Entergy Corporation. Entergy Corporation is an integrated energy company engaged primarily in electric power production and retail distribution operations. Entergy owns and operates power plants with approximately 30,000 megawatts of electric generating capacity, including nearly 10,000 megawatts of nuclear power, making it one of the nation's leading nuclear generators. Entergy delivers electricity to 2.8 million utility customers in Arkansas, Louisiana, Mississippi and Texas. Entergy has annual revenues of more than $12 billion and approximately 13,000 employees.
-30-
entergy-mississippi.com
Twitter: @EntergyMS
facebook.com/EntergyMS
---