News Center > Entergy Mississippi Helps Mississippi Farmers Go Green, Save Green
For Immediate Release
Entergy Mississippi Helps Mississippi Farmers Go Green, Save Green
03/02/2015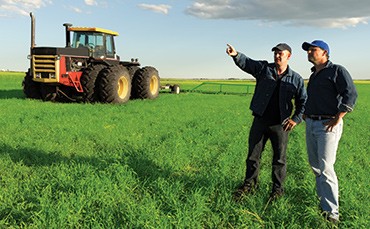 Converting irrigation pumps from diesel to electric can save thousands of dollars
JACKSON, Miss. -- Mississippi farmers can save thousands of dollars annually and improve their energy efficiency by converting their diesel-powered irrigation pumps to electric ones.
"Electric pumps operate at about half of the cost of diesel pumps, plus they're cleaner, safer, quieter, easier to operate and more reliable," said Darryl Daves, Entergy Mississippi northern regional customer service manager. "A farmer who spent $50,000 last year on diesel to power his irrigation system could have saved more than $25,000 with an electric-powered irrigation system."
In the last five years the price of electricity for an Entergy Mississippi commercial customer has remained stable, while diesel prices have been volatile, making electricity a very economical choice.
"Electric pumps also have lower operating costs - there are no oil changes, filters or fuel storage costs, and they require substantially less maintenance."
Other benefits of using electricity instead of diesel include:
Electricity is more efficient. A typical diesel engine is between 15 percent and 20 percent energy efficient, while an electrical equivalent is approximately 85 percent efficient, according to a study by the Louisiana State University AgCenter.
With a reliable energy source and diverse electrical fuel mix, prices are more stable than diesel.
Electric pumps are quiet and convenient compared to diesel engines. Farmers can push a button to start electric motors, start them remotely or even put them on a timer.
Electricity is environmentally friendly. There are no fuel tanks needed for electric motors and no potential for spills or emissions to worry about.
To learn more about Entergy's Electric Conversion Program, visit entergy.com/convertwell or call 1-844-44WELLS (1-844-449-3557).
Entergy Mississippi, Inc. provides electricity to approximately 442,000 customers in 45 counties. It is a subsidiary of Entergy Corporation. Entergy Corporation is an integrated energy company engaged primarily in electric power production and retail distribution operations. Entergy owns and operates power plants with approximately 30,000 megawatts of electric generating capacity, including nearly 10,000 megawatts of nuclear power, making it one of the nation's leading nuclear generators. Entergy delivers electricity to 2.8 million utility customers in Arkansas, Louisiana, Mississippi and Texas. Entergy has annual revenues of more than $12 billion and approximately 13,000 employees.
-30-
Twitter: @EntergyMS
---