News Center > Entergy Mississippi Invests More Than $1 Million in Workforce Pipeline
For Immediate Release
Entergy Mississippi Invests More Than $1 Million in Workforce Pipeline
04/27/2016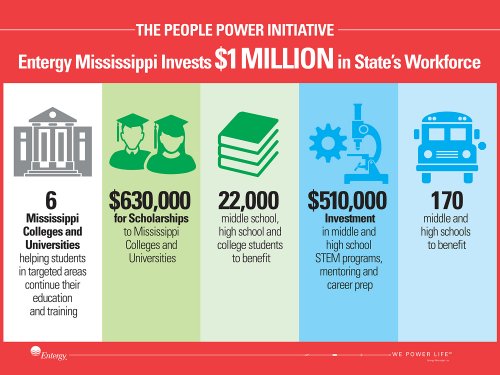 Joey Lee
(601) 969-2329
jlee14@entergy.com
Mara Hartmann
(601) 969-2520
mhartma@entergy.com
'People Power Initiative' to make state more competitive in growing and attracting industry' 
JACKSON, Mississippi– Entergy Mississippi, Inc. will make a multi-year investment of more than $1 million from shareholders to help prepare the state's workforce and raise its competitive level to attract business and industry.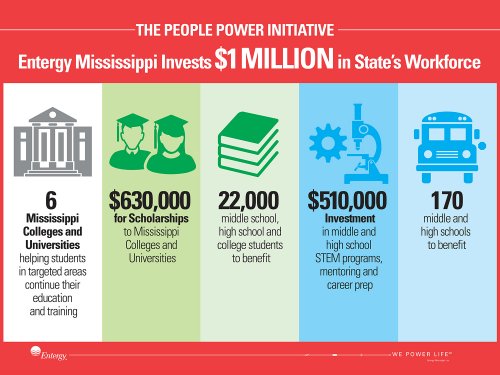 The People Power Initiative, announced at the Mississippi Economic Council's annual meeting, comes on the heels of a $250,000 commitment Entergy Corporation recently made to support Jobs for America's Graduates. That commitment includes $75,000 for Jobs for Mississippi's Graduates, a program that fits with the state's other workforce efforts.
"We're dedicated to partnering with organizations like MEC and its members to increase economic development in the state," said Haley Fisackerly, Entergy Mississippi president and CEO. "To do that, it's imperative that we have a trained and ready workforce."
The focus of the investment is to engage and inspire middle- and high school students through innovative, hands-on STEM programs, and let them hear first-hand from professionals about career opportunities. Counselors will be trained and equipped to help guide students in career preparation.
The programs target schools where potential economic growth is tied to existing, certified industrial sites in Entergy's service area.
"We currently don't have enough qualified technical workers to meet the needs of industry," said Ed Gardner, Entergy Mississippi director of economic development. "We believe this investment will support programs that will help students make informed decisions about their future education and career opportunities.
"Education is key to economic success."
The People Power Initiative will also fund scholarships that will be awarded to outstanding students who might not otherwise be able to attend college.
"Too many of our students don't have the financial means to attend college," said Fisackerly. "These programs and awards will help remove that barrier for students who excel and are motivated to further their education."
The $1 million-plus grant will:
*provide $630,000 in scholarships,
* benefit 22,000 middle school, high school and college students,
* invest $510,000 in middle and high school STEM programs, mentoring and career prep,
* benefit 170 middle schools and high schools,
* give $75,000 to Public Education Forum of Mississippi for MEC's Mississippi Scholars Tech Master Program and
* allow six Mississippi colleges and universities to help students in targeted areas continue their education and training.
Entergy Mississippi, Inc. provides electricity to approximately 445,000 customers in 45 counties. It is a subsidiary of Entergy Corporation. Entergy Corporation is an integrated energy company engaged primarily in electric power production and retail distribution operations. Entergy owns and operates power plants with approximately 30,000 megawatts of electric generating capacity, including nearly 10,000 megawatts of nuclear power. Entergy delivers electricity to 2.8 million utility customers in Arkansas, Louisiana, Mississippi and Texas. Entergy has annual revenues of more than $11.5 billion and more than 13,000 employees.
-30-
entergy-mississippi.com
Twitter: @EntergyMS
facebook.com/EntergyMS
---