News Center > Entergy Mississippi, The Salvation Army Help Seniors 'Beat the Heat'
For Immediate Release
Entergy Mississippi, The Salvation Army Help Seniors 'Beat the Heat'
08/20/2015
Partners team up to distribute free fans to elderly, low-income and disabled customers
JACKSON, Miss. -- Some 400 elderly, disabled and low-income customers have received free fans and free advice, courtesy of a partnership between Entergy Mississippi, Inc. and The Salvation Army.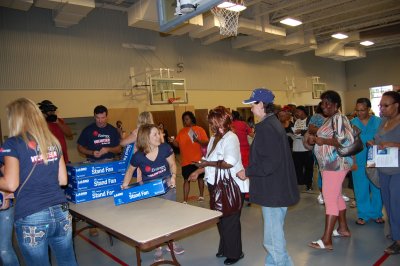 The longtime partners teamed up for the annual Beat the Heat event to give fans to recipients of The Power to Care fund, an Entergy bill payment assistance program that is administered by The Salvation Army. Events were held in Jackson, Greenville and McComb.
"When they showed up to get help paying their electric bill, we surprised them with a free fan," said Amy Davidson, Entergy Mississippi public affairs specialist. "Fans use very little energy and help you feel about four degrees cooler, so they're a great way to stay comfortable when it's hot without lowering your air conditioning thermostat, which can raise your bill quite a bit."
Using fans to keep cool was just one of the tips given to the Power to Care recipients. They also were invited to an energy-efficiency presentation given by a company representative.
"We knew this group of people was already having difficulty paying their bills, so we decided to take the 'teach a man to fish' approach," explained Davidson. "We didn't just help them pay their bill, we taught them ways to use less energy."
This is the 17th year of Beat the Heat and the first time Entergy Mississippi has partnered with The Salvation Army to give away the fans.
"Through our partnership with Entergy, we're able to assist numerous families with the funds that are generated for the Power to Care program," said Rosalind Yarber, The Salvation Army's director of social services. "It is with humble hearts and an attitude of gratitude in which we strive to do the most good every day.
"Thank you, Entergy, for helping us help others! Together we are 'Doing The Most Good'!"
Statewide, Entergy has given away 400 fans this year, 200 in Jackson. More than 9,200 fans and 700 air conditioners have been donated to low-income, elderly and disabled Mississippians since the program began in 1998.
The Power to Care fund is a bill payment assistance program funded by Entergy Mississippi customers and employees. Shareholders match the donations dollar-for-dollar up to $500,000 per year. This year, Entergy employees presented a check for nearly $370,000 to The Salvation Army in June for the Power to Care fund.
Entergy Mississippi, Inc. provides electricity to approximately 442,000 customers in 45 counties. It is a subsidiary of Entergy Corporation. Entergy Corporation is an integrated energy company engaged primarily in electric power production and retail distribution operations. Entergy owns and operates power plants with approximately 30,000 megawatts of electric generating capacity, including nearly 10,000 megawatts of nuclear power, making it one of the nation's leading nuclear generators. Entergy delivers electricity to 2.8 million utility customers in Arkansas, Louisiana, Mississippi and Texas. Entergy has annual revenues of more than $12 billion and approximately 13,000 employees.
-30-
entergy-mississippi.com
Twitter: @EntergyMS
facebook.com/EntergyMS
---